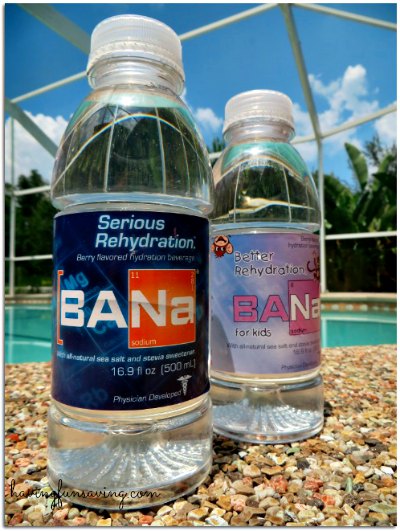 I live in Florida and I enjoy working out. That means I really need to make sure that I am keeping my body hydrated. Especially if I take my run outside! 3 miles when it's over 90 degrees outside will really wear you out 😉
So, when I had the opportunity to review BANa, I was definitely interested. What is BANa?
Well, it's the new hydration beverage with the sole aim of naturally replenishing the body with the liquid it needs to perform at its max.
My first concern was the taste. I mean how am I supposed to stay hydrated if I don't like what I am drinking? I was surprised by the light berry flavor – it was subtle but just enough to give it a great taste. Now that I know I like it…my next concern is the calories. I have no desire to drink all the calories I just lost!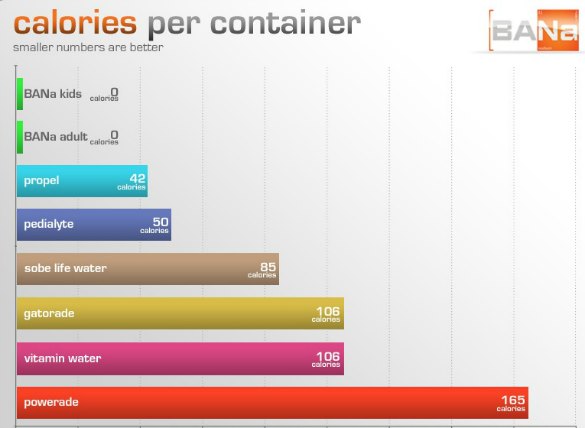 Unlike the hundreds of other drinks that claim to rehydrate, BANa capitalizes on the scientifically proven hydrating property of sodium, while also replenishing the body's store of other electrolytes all without loading you up with calories and sugar. Perfect 🙂
Now that we have taste and calories covered…is it actually good for me?
H2o + NaClDeveloped by a physician working in the ER, BANa is modeled after normal saline IVs. By capitalizing on the hydrating properties of sodium, BANa not only works to replace the liquids your body's lost, but also helps your body retain those liquids. In addition, BANa replenishes the body with other electrolytes, such as potassium, chloride and bicarbonate, which are all essential for the normal function of cells and organs.
So if you are looking for a drink that keeps you hydrated, tastes good, has no calories, and is good for you – I definitely recommend giving BANa a try! Oh, and make sure check out the option for kids too! I know my kids never drink enough water – this way I can be confident that they are hydrated. BANa for kids is perfect for the days we are at a park, theme park, the pool, and especially when they are playing sports 🙂
Where do you get BANa? Right online! You can also check your local grocer – I am hoping to see it here at Publix and Target soon 🙂
Make sure to check out BANa on Facebook and Twitter to stay social and up to date with deals and specials!
Be sure to stay up to date with me too 🙂 Find Food Wine Sunshine on Facebook, Twitter, Pinterest, and Google +.
Disclosure: I received the products listed about for review. My love of exercising, staying fit and staying hydrated, and all opinions are 100% my own!