(Last Updated On: September 1, 2020)
Calling all Star Wars fans! Don't miss the opportunity to get your collectible Cosmic Shells at Winn-Dixie and BI-LO stores, they are available for a limited time only. While this post is sponsored, all opinions are my own.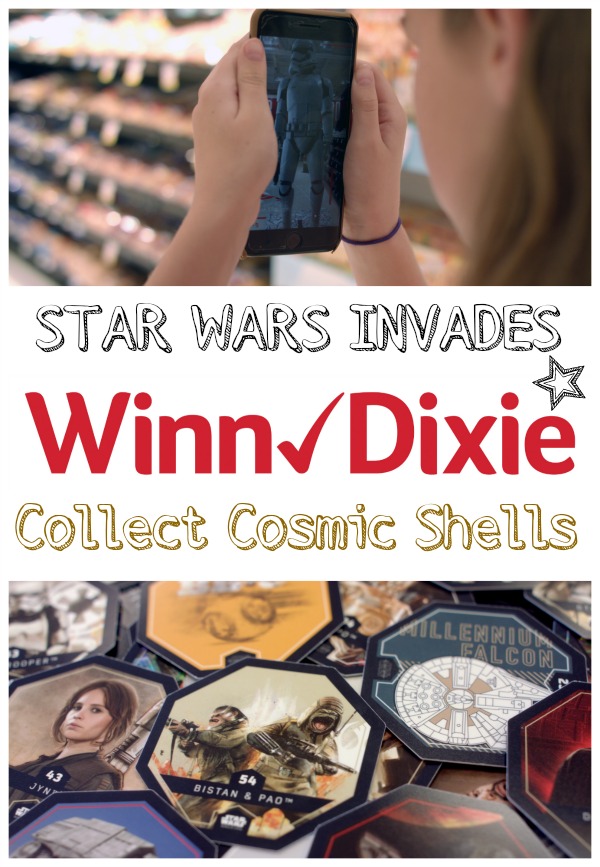 Star Wars Invades Winn-Dixie! Get Your Collectible Cosmic Shells
Star Wars characters, including some from the new movie, will be invading Winn-Dixie stores on collectible Cosmic Shells beginning November 24! This is perfect timing to get everyone ready for the release of the new movie, "Star Wars: The Last Jedi," which will be in theatres Dec. 15.
The 72 exclusive Cosmic Shells will feature Star Wars characters designed for kids and fans to collect and trade. You will receive a free pack of two Cosmic Shells with every $20 qualifying purchase or with purchase of 5 participating items from Nov. 24 through Jan. 16.
You can download the VRgogglesWinnDixie app to stand side-by-side with augmented reality Stormtroopers and other Star Wars characters in stores. Plus, you can pretend to fly a Millennium Falcon, and more, through the use of Virtual Reality Goggles, available in stores for $3.99, while supplies last. My kids are going to love this! And if I am being honest…my husband will too! Okay…maybe me too 😉
Download the VRgogglesWinnDixie app
Download the VRgogglesBiLo app
I also wanted to let you guys know about an out-of-this-galaxy event where families have the opportunity to take photos with real Star Wars Stormtroopers, have their faces painted, enjoy music and delicious samples – and win prizes! My local Tampa readers have to head to the Hyde Park store located at 2100 W. Swann Ave. on Friday, Nov. 24 from 3 p.m. to 5 p.m. to get in on all the fun!
Not local? There are several events going on across Florida and one in South Carolina. All events are on Friday from 3 – 5 pm.
Winn-Dixie:
10915 Baymeadows Road, Jacksonville, FL 32256
2100 W Swann Ave., Tampa, FL 33606
951 W. State Road 434, Longwood, FL 32750
11290 State Road 84, Davie, FL 33325
401 North Carrolton, New Orleans, LA 70119
BI-LO:
101 Verdae Blvd., Suite 1200, Greenville, SC 29607
College football fans? Headed to a local game? Football fans will receive their first free pack of Cosmic Shells and take pictures with real Star Wars Stormtroopers at both the University of Florida vs. Florida State University football game in Gainesville, Florida and the University of South Carolina vs. Clemson University football game in Columbia, S.C. on Saturday, Nov. 25.
May the force be with you! Have fun collecting your Cosmic Shells at Winn-Dixie this holiday season!
Follow Winn-Dixie Ad on Facebook, Twitter, Pinterest, and Instagram for more recipes, savings, and more.
(you can browse current: Publix ad, Meijer Ad and Target Ad.)
In fact, be sure to check out all the recipes on Food Wine Sunshine and follow me on Facebook, Twitter, Pinterest, Google + and Instagram