(Last Updated On: June 7, 2019)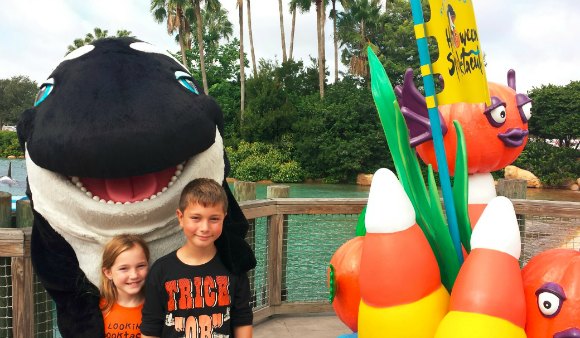 SeaWorld Spooktacular – Halloween Fun For All Ages
I know I told you guys that the SeaWorld Spooktacular Event is taking place on weekends through the month of October, and this past weekend the kids and I got to go for a Media Day Event for some family fun! We have never been to a Halloween Party at SeaWorld, but since we already love SeaWorld we knew that this would be a blast. Honestly, all I had to do was tell the kids there would be candy and they were hooked 😉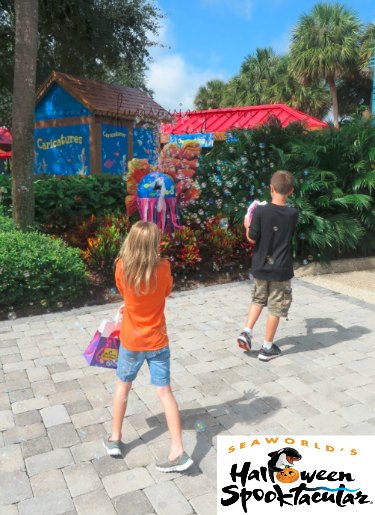 We started with walking down the special path that is strictly for the Halloween Spooktacular Event. We found LOTS of bubbles 🙂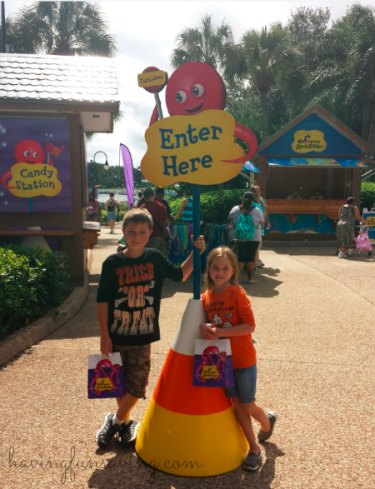 We found lots of places to go Trick-or-Treating….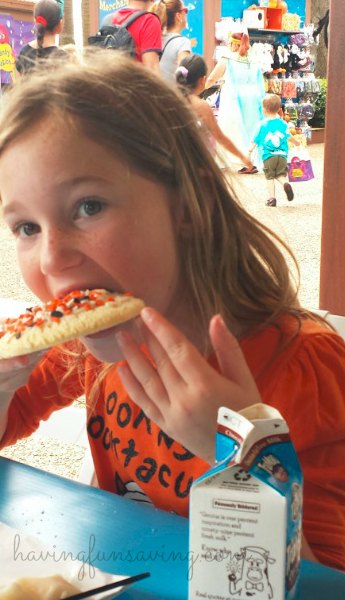 We found a fun spot to stop and make your own sweet treat….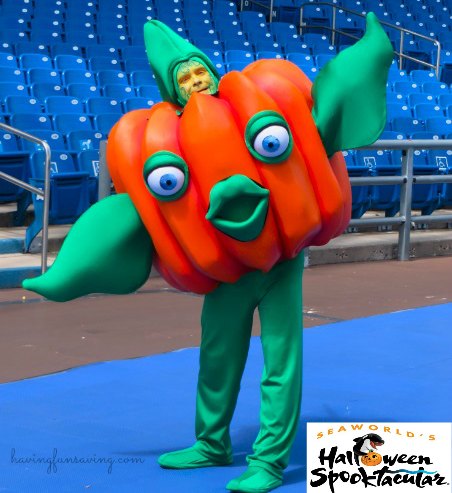 Pumpkin Fish? Yes, we even found the coolest pumpkin fish 🙂 Actually, make sure to keep your eye peeled for lots of fun characters! You will see them all over the pathway.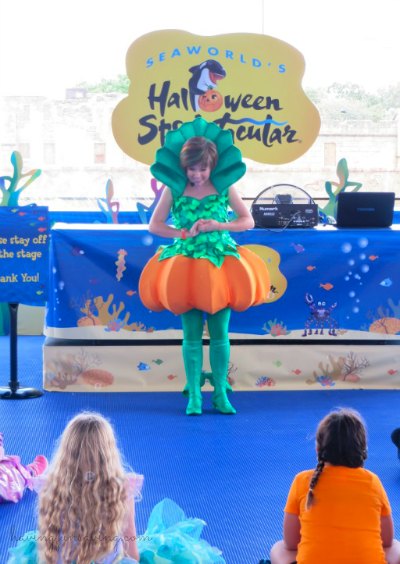 And at the end of the Halloween trail we even found fun things for the kids to do. They made a pumpkin craft, listened to story time, and of course got more candy 😉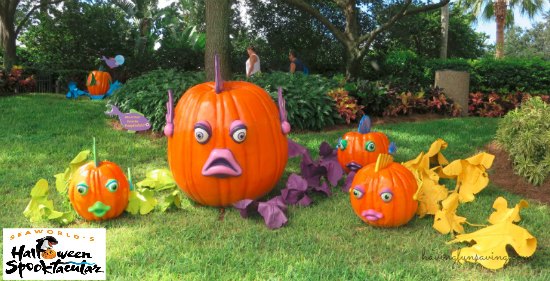 One of our favorite things about the SeaWorld Halloween Spooktacular Event was that the fun didn't stop on that special Halloween pathway. We found lots of fun Halloween things all over the park!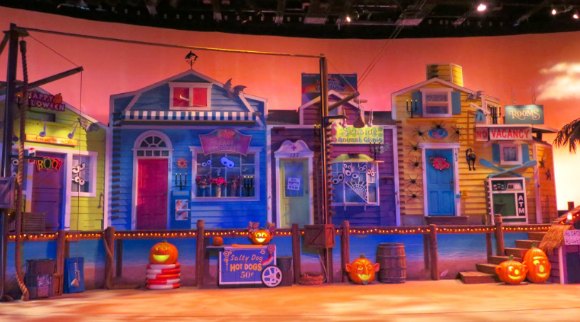 If you have a child that loves Sesame Street, then you definitely don't want to miss the Sesame Street's Countdown to Halloween. It is a fun, non-stop counting Halloween Show!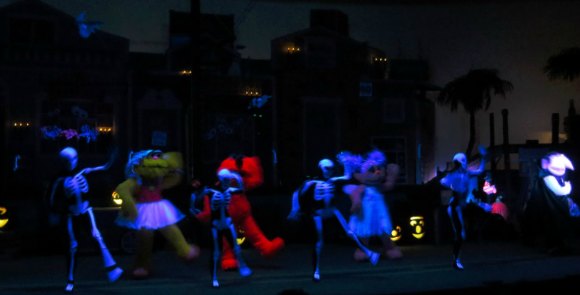 It does get dark at one point, but it is so much fun watching the characters GLOW!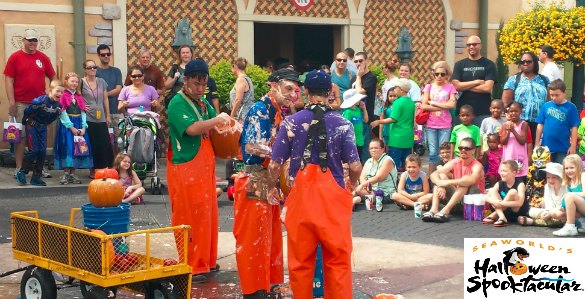 We also caught the Halloween version of the Seaworld Longshoremen show. These guys are so FUNNY! This was actually the first time we have seen the Longshoremen and we are officially fans for life! These three guys will delight and entertain all ages as they play with some pumpkin guts 🙂 I know they had us cracking up!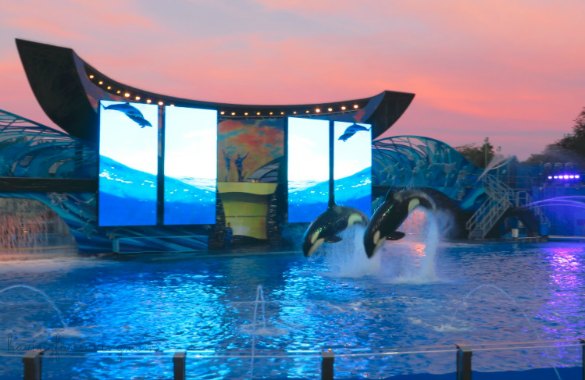 Of course, there is no better way to end the day at SeaWorld than with the spectacular One Ocean Show. The whales were beautiful and absolutely amazing. Of course, my kiddos had to sit front row center again and get soaked. They love it!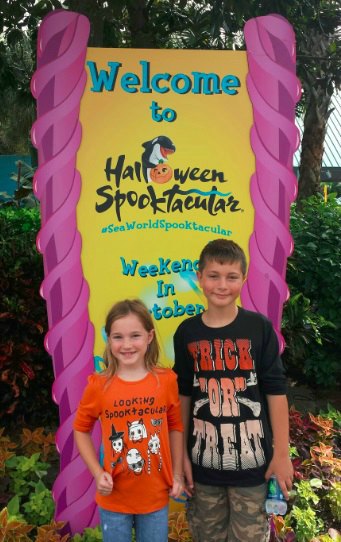 Will you be going to check out the Halloween Fun at SeaWorld this October? Remember, the cost is INCLUDED in your park ticket! No extra funds needed 🙂 I know this mom appreciates that!
SeaWorld's Halloween Spooktacular takes place from 12 to 8 p.m. October: 11-12, 18-19 and 25-26, leaving the littlest of trick-or-treaters wide-eyed for all of the activities.
Want to see even more fun SeaWorld Spooktacular pictures? I posted a BUNCH on Instagram – head over and check them out!
Check out SeaWorld on Facebook and Twitter to stay social.
While you are at it – stay up to date with me too 🙂 Find Food Wine Sunshine on Facebook, Twitter, Pinterest, and Google +.
Disclosure – My family and I got to attend this event for free. Our love for SeaWorld and All opinions are 100% our own!