(Last Updated On: June 7, 2019)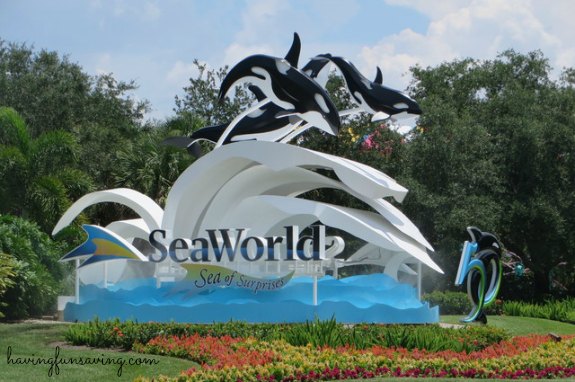 SeaWorld Orlando – Two NEW Shows To Celebrate Summer
Summer is HERE and one of my favorite places to celebrate is at SeaWorld over in Orlando. In fact, they are helping us celebrate with TWO new shows for us to enjoy!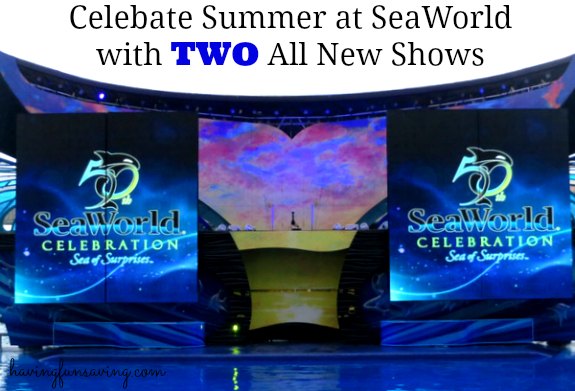 I actually had the opportunity to take the kids on the preview night for a Media Event to check them out and we had an absolutely amazing time!
The two shows that you must see are Generation Nature LIVE and Shamu's Celebration: Light Up The Night.
They started last weekend and are going on through August 10!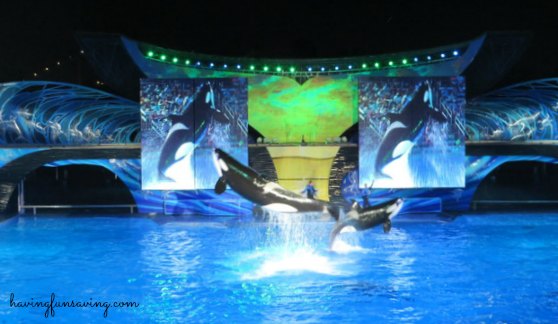 The nighttime show, Shamu's Celebration: Light Up The Night, is a high-energy show featuring new, original music and production elements, as well as new killer whale behaviors. Shamu Stadium is transformed with stylistic lighting and colorful backdrops to create a social and celebratory atmosphere, guided by a host each night, and ending with a fireworks finale.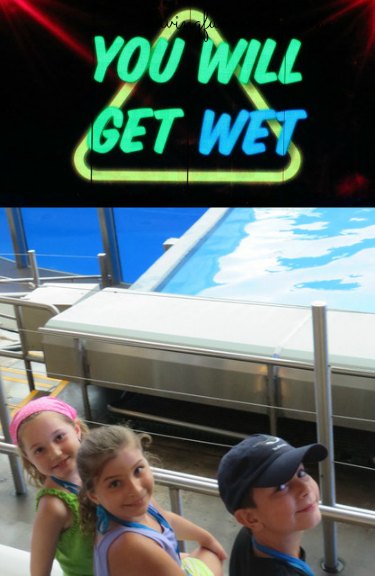 My kiddos actually sat front row center for this one and were completely in awe the whole time. To be able to be that close to the magic of Shamu's Celebration was amazing. I sat a bit higher (I didn't necessarily want to be wet 😉 ) and was still able to catch all the magic!
The performance was like no other!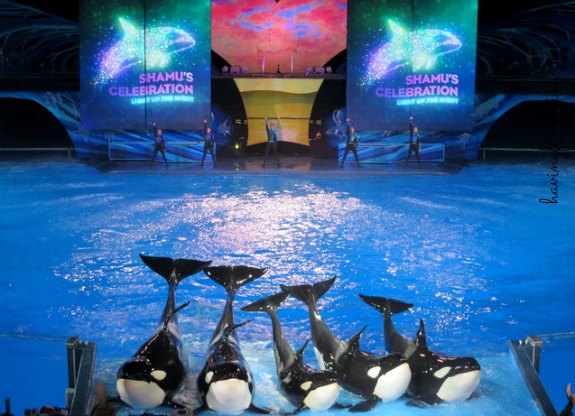 We saw 5 killer whales and each one had their own personality. It was amazing to watch.

After spending the day enjoying the rides, the sites, the animals, and the various shows that SeaWorld has to offer, there is no better way to finish off the day than with Shamu's Celebration: Light Up The Night.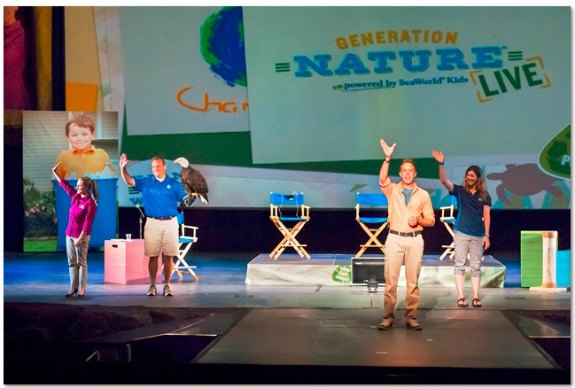 The other show that you must see is actually a daytime show – Generation Nature Live. Generation Nature LIVE, connects guests with animals, explores nature and helps guests discover how they can protect wildlife and their habitats. During each show, you will have the opportunity to meet the SeaWorld leaders in animal rescue, rehabilitation and preservation as they share their unique stories about a variety of rescued animals they care for. The Generation Nature program is all about inspiring kids to be Game Changers for nature.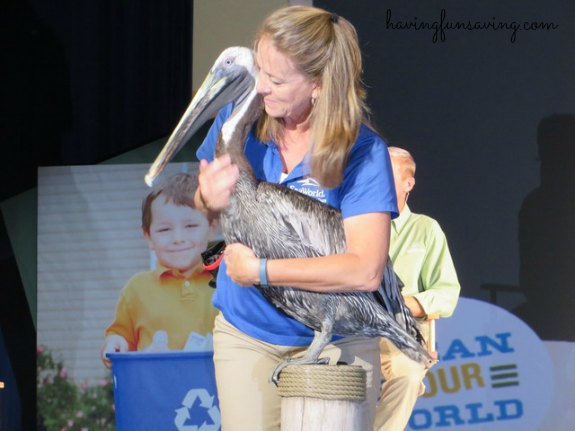 SeaWorld actually partnered with Bindi Irwin to make Generation Nature Live! She was in the welcome video and I must say – her enthusiasm and love for nature and the animals is definitely contagious 🙂 It just takes ONE person to be a game changer…will that person be YOU? I hope so!
While this show is geared towards the kids, it is educational, fun, and enjoyable for all ages. After the show, you can meet animals up close at the all-new SEA Garden.

The Sea Garden is another must see, there were several animals out for the kids to see – and some they could even pet! They loved collecting the informational cards on the animals too.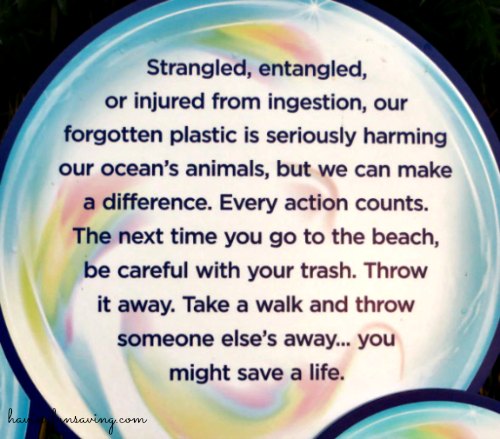 While we walked around they took notice of the unique sculptures and the kids asked me what they were made of. When I explained that they were made from the trash and debris that was found in the ocean they were in awe and appalled at the same time.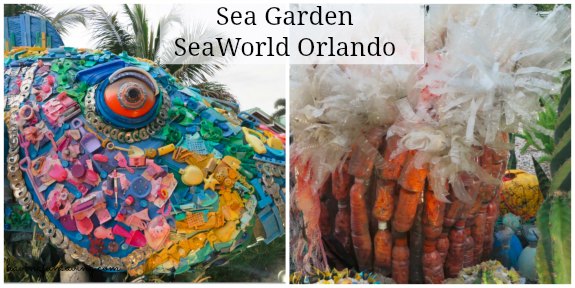 In fact, I kept trying to take Sadie's picture by one and she kept putting her thumb down. When I asked why she was doing that she simply replied "Because it's sad that people put all this in the water, don't people know that it's bad?" What a beautiful statement from a 6 year old. While I completely agree with her I explained that we are fortunate that there are places like SeaWorld out there that CARE. We are fortunate that places like SeaWorld that help clean up the trash and waterways and care for the animals that so many people tend to forget exist in our waters.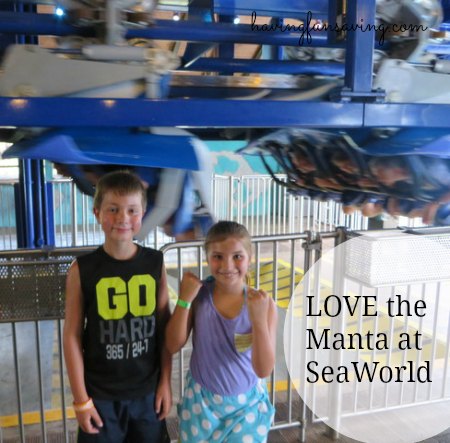 Of course while we were at SeaWorld the kids also rode some of their favorite rides. Steven LOVES roller coasters and my Sadie does not – so I was thrilled that the buddy we brought with us loves her thrill rides too!
First up was Manta, and they were thrilled that the wait time us just 5 minutes and they got off all smiles 🙂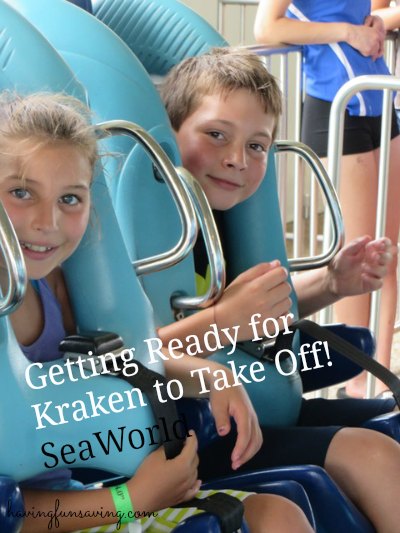 Steven also did Kraken for the 1st time – he really liked that one too! I tell ya, I have no idea how I am going to keep up with him as he gets older!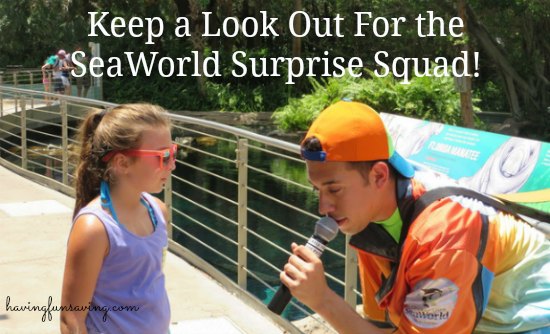 Make sure to keep a look out for the Surprise Squad while you are enjoying your day too! We were actually SURPRISED by them when we were checking out the Sea Turtles and our friend actually won an adorable purse with Shamu in it! She was beyond excited! Want to know more about the SeaWorld 50th Celebration and the Sea Of Surprises? Make sure to check out my review.
On your way out of the park – get ready for a party! Shamu's Dance Party that is! Shamu and his friends at the Village Square located at the front of the park. The party begins every night one hour prior to park closing and continues 30 minutes afterwards. With countless bubbles floating overhead and crazy lights illuminating the square, line-dancing, and fun music this summer's celebration is sure to provide non-stop fun for all ages.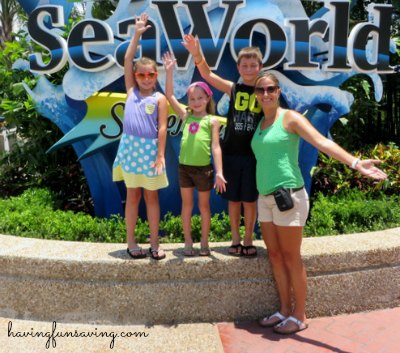 The best way to experience SeaWorld and these amazing new shows this summer is with an all-new ticket offer, Your Day, Priced Your Way, where guests can save $15 on a ticket valid any day of the week. If schedules are flexible, guests can save $30 on a weekday ticket. This new offer allows for great family time while spending less family money. Plus, planning in advance and buying tickets online allows guests the convenience of printing at home and going straight through the turnstiles. This special ticket offer is available to U.S. residents for advance purchase only at SeaWorldOrlando.com or by calling (888) 800-5447. Your Day, Priced Your Way tickets are valid for one day's admission to SeaWorld Orlando and must be used within one year of purchase.
Check out SeaWorld on Facebook and Twitter to stay social.
While you are at it – stay up to date with me too 🙂 Find Food Wine Sunshine on Facebook, Twitter, Pinterest, and Google +.
SeaWorld will be also having a 4th of July Celebration that you will want to check out!
Disclosure – My family and I were able to attend SeaWorld for free – while my opinions and all the FUN we had was 100% our own!