(Last Updated On: July 3, 2019)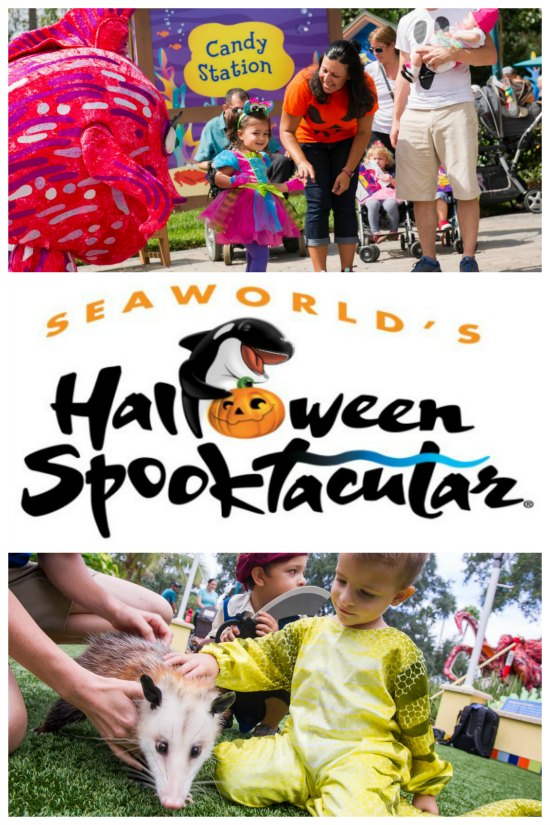 SeaWorld Orlando Halloween Spooktacular 2016
It's Fall here in Florida, and while the weather may not have cooled down yet, we still like to celebrate! And SeaWorld is celebrating Halloween the entire month of October! Spooktacular begins on October 1st and you will find an underwater fantasea every weekend until October 30th.
My family and I have been to SeaWorld's Halloween Spooktacular for the last several years and have always had a great time. You can't go wrong with trick-or-treating, whimsical pumpkin fish, sea-themed arts and crafts, and up-close animal encounters.
SeaWorld's Halloween Spooktacular takes place from 12 p.m. to park close every weekend, October 1-30. Like all special events at SeaWorld, Halloween Spooktacular is included with park admission.
What You Will Find at SeaWorld's Halloween Spooktacular:
Waves of Trick-or-Treat Fun – Costumed youngsters can trick-or-treat for ghoulish goodies. Each sea-themed, trick-or-treat station features an assortment of candy favorites including Tootsie Roll and SunRype Fruit To Go, just to name a few.
Penelope's Garden Party – This dynamic "underwater" environment comes to life each weekend with a live DJ, animal interactions, a variety of craft opportunities, bubbles floating overhead and whimsical sea-themed characters.
Sesame Street's Countdown to Halloween – Celebrate a Spooktacular Halloween at SeaWorld with The Count, Elmo, Abby, and the rest of everyone's Sesame Street friends! The Count is feeling lonely this Halloween, and it's up to you and the loveable monsters from Sesame Street to get him into the Halloween spirit. Batty bats and spooky skeletons join the fun in a song filled stage show that invites you and your family to dance, play and sing along.
Spooktacular Dance Party – Children join Princess Penelope and her under-the-sea friends for a Spooktacular Dance Party where they can participate in line-dancing favorites as clouds of bubbles fill the evening air. The party will kick off at the Village Square in the front of the park every event night one hour before park closing.
Spectacular Spooky Add-Ons available at SeaWorldOrlando.com:
Dine With Shamu Halloween Spooktacular Brunch – Guests can celebrate with an immersive and memorable brunch experience at Dine With Shamu. They will enjoy seasonal items and reserved tables that bring them up close to majestic killer whales. There also are some Halloween surprises including a family photo in a decorative frame and a free cookie decorating kit. Prices begin at $28 plus tax for adults and $16 plus tax for kids. Pass Members receive a 10% discount.
Meet and Greet with Cookie Monster at SeaWorld's Halloween Spooktacular – Meet Cookie Monster from Sesame Street during SeaWorld Orlando's Halloween Spooktacular. For just $19 per person, guests can meet the character at SeaFire Grill and enjoy his favorite treat: a cookie! Plus, every guest receives a printed photo of their meet-and-greet to take home. Pass Members receive a 10% discount.
Reserved Seating: Sesame Street's Countdown to Halloween – Enjoy a reserved seat at a showtime of your choice for Sesame Street's Countdown to Halloween show at SeaWorld Orlando. Priced at $19 per person, guarantee a seat for a showtime of your choice.
To learn more about all of SeaWorld's ticket offers and events, visit SeaWorldOrlando.com.
Events and times are subject to change. Follow SeaWorld on Facebook, Twitter and Instagram for the latest special event information.
While you are at it make sure to check out Food Wine Sunshine on Facebook, Twitter, Pinterest, Google + and Instagram for more fun things to do in Florida, recipes, and more.