(Last Updated On: September 4, 2020)

SeaWorld Bands, Brews and BBQ 2016
Orlando get ready for the SeaWorld Bands, Brews, and BBQ! It's time again to eat, drink and rock every Saturday and Sunday, February 13 through March 6. This amazing event is in partnership with USO Central Florida and honors America's heroes. There will be live concerts from top classic rock and country musical artists, tasty BBQ and thirst-quenching brews, and special discounts for active duty military and veterans.
SeaWorld's chef experts fire up the grill with a bold array of BBQ options beyond the ordinary. From smoky and spicy to sweet and tangy, there are options for every craving, plus guests can match menu items with specific craft brews or a flight of wine. In addition to the signature acts and festivities, the event also will feature a secondary stage to showcase local bands, and a DJ spinning music for guests to show off their line dancing and boot scootin' skills.
**Now through March 6, in celebration of SeaWorld Orlando's popular Bands, Brew & BBQ Festival, the park is offering a special discount of $20 off SeaWorld single-day tickets purchased in advance, and a FREE ice-cold 5-ounce craft brew served on tap alongside a warm sample of pretzel bites at SeaWorld Orlando. The discounted price for the single-day tickets is $79.**
The offer also is available to active SeaWorld annual Pass Members who register online. Beer and pretzel nuggets should be redeemed at Mama's Pretzel Kitchen at the park. Guests must be 21 years of age and a valid photo ID is required. For more information about this special offer, guests can visit our website at SeaWorldOrlando.com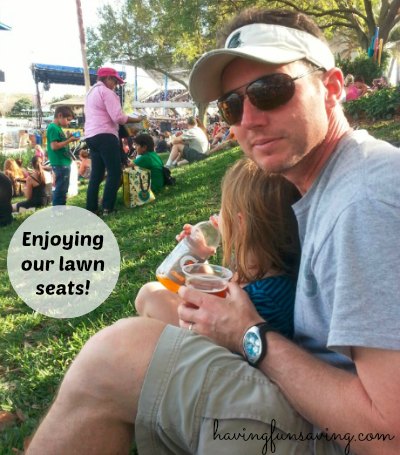 SeaWorld Bands, Brews, and BBQ Concert Line-Up
Saturday, February 13 – Smash Mouth
Sunday, February 14 – R&B legend, Gladys Knight, fondly known as the "Empress of Soul"
Saturday, February 20 – Scotty McCreery
Sunday, February 21 – Dennis DeYoung
Saturday, February 27 – ALABAMA
Sunday, February 28 – Foreigner
Saturday, March 5 – Steve Miller Band
Sunday, March 6 – Daughtry
* Event festivities begin at 12 p.m. each weekend, with concerts at 4 p.m.*
New this year, connoisseurs of BBQ and craft brews can delight in sizzling sampler packages sure to elevate the taste buds.
SPECIAL BANDS, BREW & BBQ PACKAGES INCLUDE:
BBQ Tasting Sampler – You can choose up to five menu items from SeaWorld's sampler selections at any of the Bands, Brew & BBQ food locations for just $20.
Craft Brew Sampler – You can sample 10 ice-cold craft beers from a selection of more than 30 brews – for just $30.
BBQ Tasting and Craft Brew Sampler (Best Value) – This sampler includes five menu items and five craft brew samples along the Bands, Brew & BBQ Pathway – all for only $35.
SeaWorld Orlando also is proud to offer a special discount for enlisted men and women and veterans during this event, including 50% off the standard price of the 2016 Fun Card, which allows unlimited admission to SeaWorld all year for the price of a single-day ticket. Military also get 10% off special sampler Bands, Brew & BBQ packages. For more details, visit wavesofhonor.com.
The best way to experience this year's Bands, Brew & BBQ is with an Annual Pass. For more information and to purchase tickets, visit SeaWorldOrlando.com. Pay for less than a day Fun Card must be redeemed in-park by March 6, 2016. Taxes, shipping, and service fees not included.
If you have a little one, don't forget that they can get in for FREE with the SeaWorld Preschool Pass.
Check out SeaWorld on Facebook and Twitter to stay social. Join the conversation with #SeaWorld and #BandsBrewBBQ.
While you are at it – stay up to date with me too 🙂 Find Food Wine Sunshine on Facebook, Twitter, Pinterest.
Have fun at SeaWorld Bands Brews & BBQ!