(Last Updated On: September 4, 2019)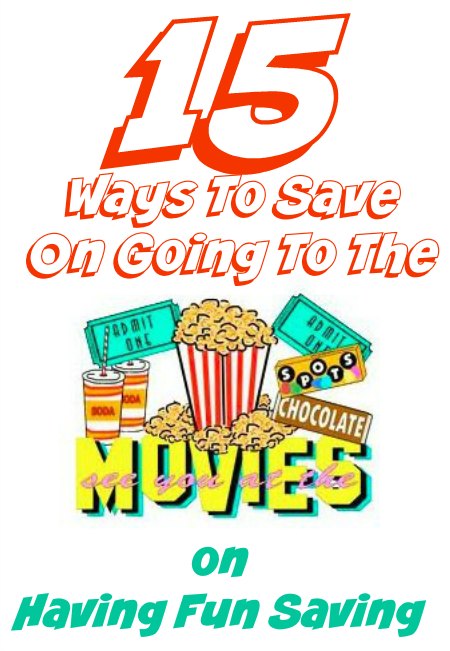 15 Ways To Save On Going To The Movies
If your kids aren't out of school yet, they will be soon – are you planning your summer activities? I know my kids…actually my whole family…love to go to the movies!
Before you head out to enjoy the show – I gathered some FUN information to help you save! Movie prices here are $10-$14 per ticket and concessions are REALLY expensive, so here are some ways to help you save 🙂
Here are 15 tips to help you from blowing your movie budget.
1. Join AAA
The automobile club offers $8 tickets to Regal, United Artists and Edwards movie theaters. You do usually have to go to one of their offices to buy them, not a bad deal if you have one close! I have heard that they will ship them as well…for a small fee.
2. Buy Movie Packs
You can buy a four-pack of tickets from Costco, good for a variety of theaters, for as low as $31.99. There's no expiration date and you can use the tickets seven days a week. BulkTix.com also saves you an average of $2 to $3 off a ticket's face value for seven different chains.
3. Angie's List
If you belong to Angie's List they sell discount movie tickets. As a member, you can purchase discounted tickets to local theaters and theme parks. You also get exclusive discounts for food and dining, shopping, and travel.
4. Attend Second-Run Theatres
There are several chains that show movies a bit past their prime. If you can wait to see the latest flicks, you'll pay anywhere from $3 to $6 for the same movie – that's over 50% off!
5. Ask for Senior Discount
If you're 60 or over, you'll get a discount from select locations of AMC Theatres. And Cinemark offers Seniors Day every Monday at some locations for seniors 62 and older, they also offer Early Bird Discounts. Be prepared to show your ID. My mom loves this discount – she says she's never embarrassed to tell her age to save some extra $$ 😉
6. Go For FREE
Many of the theaters have FREE (o2 $1-$2) movies all summer long during the week. These movies are always kid-friendly and they usually have a cost-effective kid concession option too. Contact your favorite establishment and see if they participate and what times the shows are. Ours start the 2nd week in June.
7. Skip the Concession Stand
Eat before you head out to the movies, or go at a non-eating time 🙂 That way you won't be tempted by all the treats when you walk thru the door.
8. Use Discount Gift Cards
Save 10 to 30 percent by purchasing discount movie theater gift cards from such sites as GiftCardGranny. In addition to saving instantly on ticket prices, you can cut the cost of concessions if the smell of popcorn is too tempting to overcome.
9. Use Your Credit Card
Credit card companies and banks have increased their reward perks over the last few years and some of those include free passes to the movies. Visa Signature offers their credit card holders two-for-one movie tickets via Fandango on Fridays. Deutsche Bank Debit Card users can get one free pass for every one ticket purchased through BookMyShow.com. Make sure you call your credit card or bank about such reward perks and take advantage of the discount.
10. Be Loyal
AMC Theaters offers points toward discounts, concession upgrades and more if you join their Stubs Rewards Program. Regal Cinemas has the Regal Crown Club (free to join!) Check with your local theaters to see if they provide similar deals for loyal customers.
11. Grab a Daily Deal
Sites like Groupon and Eversave have featured deals (like Hollywood Movie Money or Fandango) which will give you a savings of up to 50 percent. These are usually one of my favorite deals – so I usually post it when I see it! Always look at the fine print and expiration date of any deal before you purchase.
12. Go Early
Matinees (usually between 4 and 6 pm) can save you anywhere from 30 to 50 percent off prime-time ticket price. This is actually when we usually go with the kids – it's also less crowded.
13. Speak Up
Have you ever watched a movie where the sound system was off enough to drive you crazy? Or you could hear the movie in the next door better than your own? Or maybe a bunch of excited teenagers chatted thru the whole movie. Don't be afraid to ask for a voucher or your money back if you have a bad experience. You may be surprised how often theaters will accommodate a polite request.
14. Give Blood
Reader Susan commented when they donate blood at their local blood bank during a blood drive they sometimes offer free movie tickets for donating. This is a great way to help your community by donating blood, and go to the movies for free!
15. Go to Screenings
See movies before they come out, you may have to write review but then again that's not bad for a free night out. Try sites like gofobo or Advanced Screenings to find out more.
Have fun saving at the movies!
Be sure to check out Food Wine Sunshine on Facebook, Twitter, Pinterest, Google + and Instagram for more Frugal Family fun tips, healthy recipes, and more.