(Last Updated On: September 1, 2020)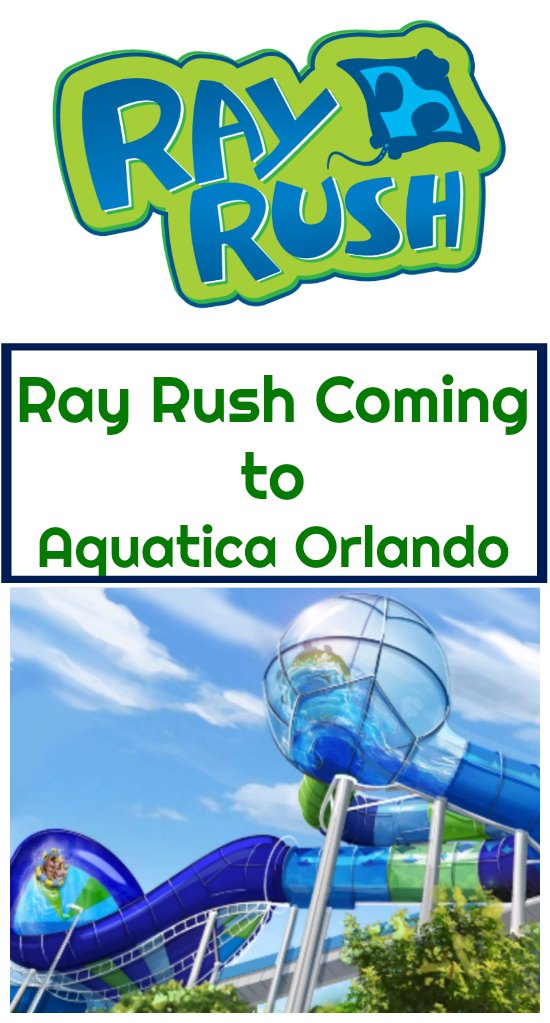 Ray Rush Aquatica Orlando
New Family Raft Ride
There is brand-new family raft slide is splashed into Aquatica, SeaWorld's Waterpark in spring 2018. I love raft rides and this one is AMAZING! Ray Rush is a fully-loaded water adventure which will combine three unique slide elements, never before seen at Aquatica, into one action-packed attraction the entire family can enjoy together.
At nearly 60 feet tall, Ray Rush is where family and friends can take on three exciting thrills as they slide, splash and soar like never before. First, riders will be launched at 33 feet per second with water jets designed to propel rafts into the first of several enclosed tube sections. Next, riders will swirl into a colossal translucent sphere which spins the raft around the slide walls before entering another enclosed tube section. Finally, riders will drop into an open-air halfpipe that resembles the shape of a manta ray. Rafts will soar back and forth on the wings of the manta before entering the final enclosed tube section that ends with a splash.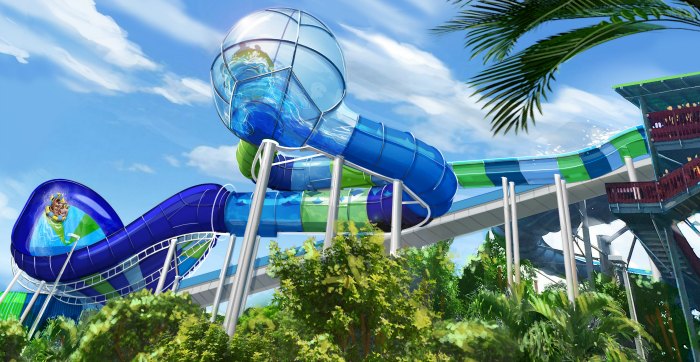 Ray Rush has a height requirement of 42" to appeal to families with children and will accommodate up to four riders per raft. The new slide will be located on the north side of the park next to Walkabout Waters.
In order to make way for the new attraction, HooRoo Run closed permanently on October 31, 2017.
The best way to experience Aquatica is with an Aquatica Orlando Annual Pass. For a limited-time, Florida residents can purchase an Aquatica Orlando Annual Pass for only $10 per month with EZpay. Aquatica Pass Members enjoy unlimited admission and free parking as well as discounts and the opportunity to be among the first to ride Ray Rush when it opens in spring 2018. For more information, visit AquaticaOrlando.com.
From high-speed water slides and exhilarating wave pools, to tranquil beaches, Aquatica, SeaWorld's Waterpark® Orlando, delights all ages and interests. This one-of-a-kind waterpark is home to some of the world's most thrilling water rides, featuring 42 slides, rivers and lagoons and 84,000 square feet of sparkling white, sandy beaches. Get ready to brave a watery free-fall on Ihu's Breakaway Falls™ – the steepest and only multi-drop tower slide of its kind in Orlando. Aquatica, SeaWorld's Waterpark, offers exclusive attractions that promise unlimited fun, sending guests on amazing undersea adventures.
Follow SeaWorld on Facebook, Twitter and Instagram.
Be sure to check out Food Wine Sunshine on Facebook, Twitter, Pinterest, Google + and Instagram for more things to do in Florida, healthy recipes, and more.
Looking for more fun things to do in Florida?
(you can browse current: Publix ad, Meijer Ad and Target Ad.)