(Last Updated On: June 7, 2019)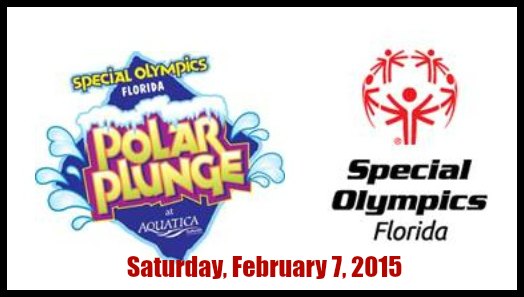 Polar Plunge at Aquatica To Support Special Olympics
The Polar Plunge is coming back to Orlando for it's 6th year to support the Special Olympics. And where else would you find a "plunge" but at Aquatica, SeaWorld's Waterpark!
What is the Polar Plunge?
The Special Olympics Florida's Polar Plunge® at Aquatica Orlando is a statewide fundraiser during which individuals and teams alongside Special Olympics athletes raise money for the privilege of plunging into the chilled down wave pool. But only the wave pool is chilled down, the rest of the slides and attractions are heated and ready for splashin'. After freezin' for a reason, Plunge participants have access to the entire park for the day.
Why Plunge?
Everyone deserves a chance at a happy and purposeful life. Yet people with intellectual disabilities face doubt, barriers and low expectations. For many, Special Olympics is the only place where they find an opportunity to participate in their communities, develop confidence in themselves, and feel like champions. By participating in the Polar Plunge, you're helping athletes to learn new skills, make new friends, and improve their health and confidence.
When is the Polar Plunge?
Saturday, February 7, 2015 – Registration starts at 9:30 a.m. Official Plunge start time is 11:00 a.m.
Where is this awesome event?
Aquatica, SeaWorld's Waterpark – 5800 Waterplay Way Orlando, Fla. 32821
How do you register?
You register online at PlungeFL.org
Last year, more than 1,100 people took the Plunge to benefit Special Olympics. Plungers who raise $100 can also earn extra incentives, including Aquatica, SeaWorld, and Discovery Cove admission.
Take the Polar Plunge at

Aquatica

and support

Special Olympics

!
Check out SeaWorld on Facebook and Twitter to stay social.
While you are at it – stay up to date with me too 🙂 Find Food Wine Sunshine on Facebook, Twitter, Pinterest, and Google +.