(Last Updated On: September 5, 2019)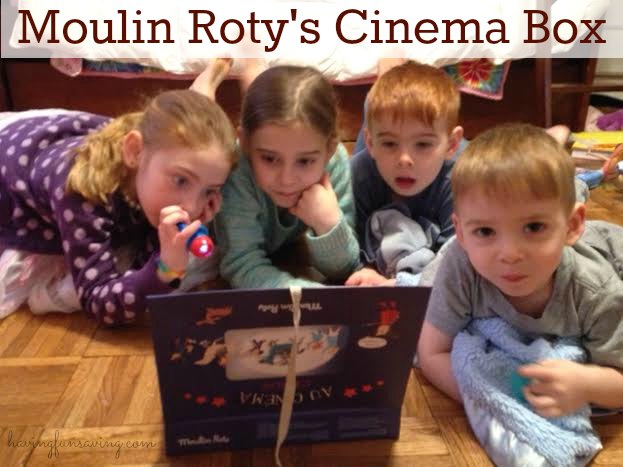 Plan A Movie Night at Home With Moulin Roty's Cinema Box
We love going to the movies, but it can be expensive!! That's why we have movie night at home on a regular basis, the family bonding time is priceless 🙂 Well, I have a new way for your little ones to experience Movie Night – at home – on their own even!
Food Wine Sunshine received Moulin Roty's Cinema Box for review and Heidi's kids had a blast checking it out. Moulin Roty's Cinema Box is Imported from France by Magicforest, the enchanting lets-show-a-movie kit is designed for kids ages 3 and older. Young theatre-goers can pass out tickets, view several stories illuminated by a flashlight, and then narrate what they see on the "screen." A little movie lover can even design a marquee on the "Now Showing" pad and invite dolls and stuffed animals to sit in the front row!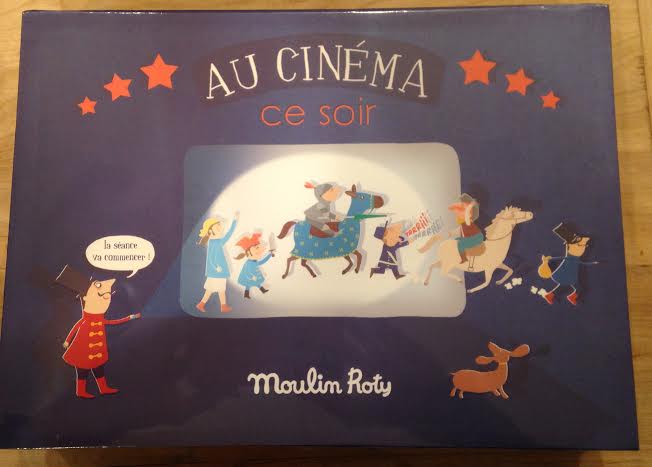 Spring has been trying to make its way up north, and with that comes the old adage, " April Showers, bring May Flowers." We have started to get our fair share of rain up this way in Michigan, and we are admittedly a bit antsy. I've got 5 kiddos with a bad case of spring fever and the idea of many more "inside days" has been a bit daunting. Thankfully, I was able to pull off a fun surprise today- the Moulin Roty's Cinema Box. My kids were thrilled to have something to do that wasn't, "boring," and they went right to work setting up the perfect movie experience.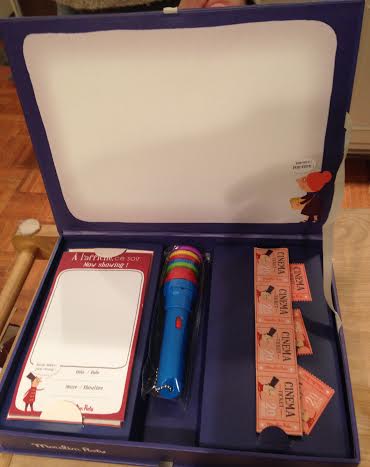 The Cinema Box is a kit containing a mini View-MasterTM mounted on a flashlight, five story disks to load, tickets to distribute and a mini marquee to design for the movie. My oldest son (4 years) quickly went to work handing out tickets for the day's feature film. My daughters discussed which disk they wanted to show first (the way an 8 and 6 year old discuss) and my 2 year old son sat down and waited patiently for them to get everything set up. Okay, well maybe he didn't exactly wait patiently—there might have been some screeching involved, but he sat still-that counts for something doesn't it?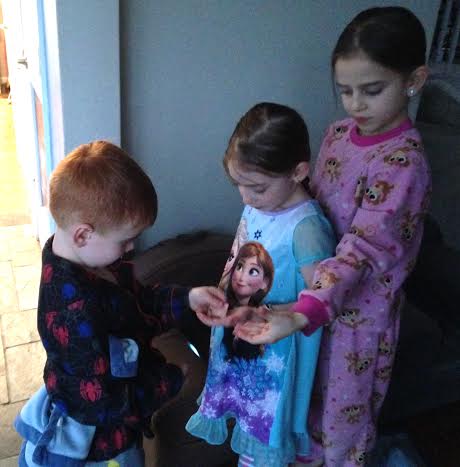 In no time, they had everything set up, the shades drawn in the ENTIRE house and then they promptly disappeared. I wasn't sure where to look for them until I heard some banter coming from the bathroom. Yes, the bathroom—apparently it was the darkest room in the house. After some "discussions" in the dark and a little crying from those that were afraid of the dark, they agreed to come out to the living room, where they quickly went through the 5 feature films. Popcorn was of course required, and hot chocolate, because hot chocolate is a year-round beverage in this household. Did I mention Spring is coming?!
Overall, Moulin Roty's Cinema Box was a hit with my kids and helped them pass the time in a creative way. What Mom wouldn't love that? Enjoy the Show!
Where do you get Moulin Roty's Cinema Box? You can buy it online at Shop Tantrum
Be sure to check out Magicforest on Facebook and follow them on Twitter. While you are at it, check out Food Wine Sunshine on Facebook, Twitter, Pinterest, Google + and Instagram for more tips, recipes, family fun and more.
Now, how about a chance to WIN your very own Moulin Roty's Cinema Box?
Here's how to enter:
Disclaimer: Food Wine Sunshine did receive the products listed above for review. No other compensation was received. All opinions are 100% our own.
The participating bloggers were not compensated for this post. We are not associated with any of the companies named above. No purchase is necessary to enter. Void where prohibited by law. The odds of winning are based on the number of entries received. Confirmed Winner(s) (by Random.org) will be contacted by email. Winner(s) have 24 hours to respond before a new winner is chosen. No purchase necessary. Void where prohibited by law. The sponsor(s) will be responsible for product shipment to winner(s) of this giveaway. My blog is not responsible for product shipment/delivery. This event is in no way administered, sponsored, or endorsed by, or associated with, Facebook and/or Twitter, Google, Pinterest. This disclosure is done in accordance with the Federal Trade Commission 10 CFR, Part 255 Guides Concerning the Use of Endorsements and Testimonials in Advertising.