(Last Updated On: September 5, 2019)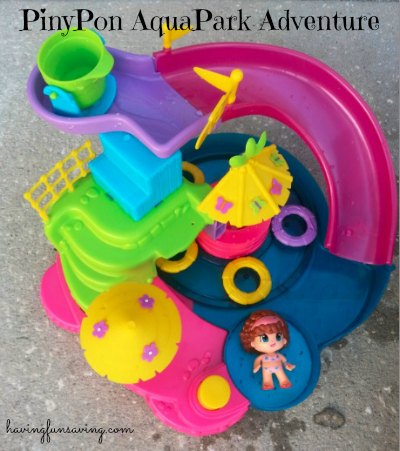 PinyPon AquaPark Adventure Review – Get Ready For Some Summer Fun
I know I am ready to be outside and enjoy this warmer weather…and I know that my kids are too! And better better way to enjoy being outside than with a fun new toy that is all about fun, sun, and water?
Sadie had the chance to review the PinyPon AquaPark Adventure and we love it! This set is New for Spring 2014 and has a working water slide, jacuzzi and lazy river ride sure to keep little ones (and not so little ones!) busy for hours.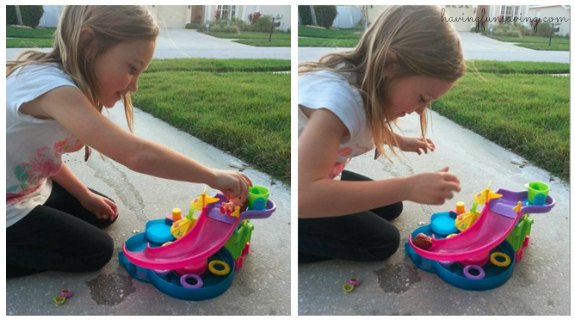 Once we worked together to get the set together we actually headed outside with a few cups of water and started our waterpark fun. The dolls can slide down the slide, hang out in the jacuzzi, or just splish-splash 🙂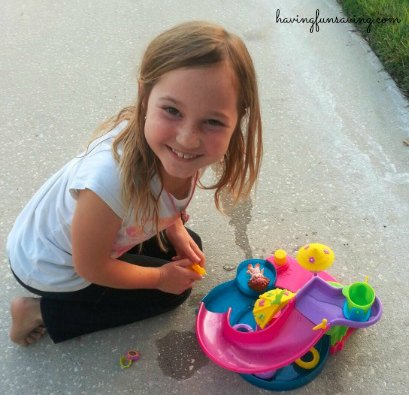 So much action is packed into a small wonderland that kids build themselves (with some help from older siblings or Dad). I love these sets because they encourage Sadie's imagination too – she comes up with all sorts of fun ways to play with her cute PinyPon dolls…and I love that this set is perfect for the outdoors! We love getting wet and playing outside here in Florida 🙂 And if you don't want to play outside – this set is fun for the indoors too!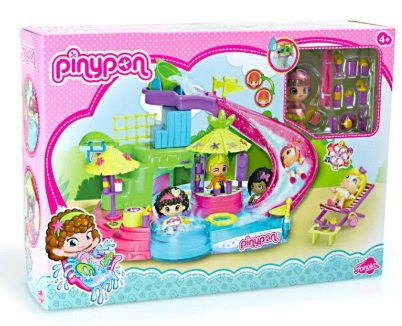 As with all Pinypon sets, the characters' faces can be turned for a second look, and hair, clothes, bodies and heads can easily be mixed and matched for a whole new look and story. But, know what makes this one really – this one has an adorable color changing doll!
Yep, this set comes with the rare curly haired PinyPon that changes color in the water! When ready to get out of the water, take your favorite PinyPon to the poolside bar for a snack. What a delicious way to spend the day.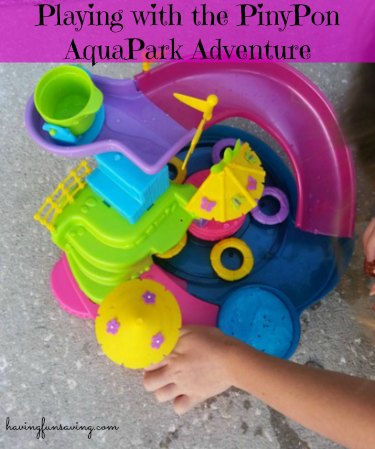 Pinypon AquaPark Adventure is perfect for ages 3 to 8 and is priced at $24.99 on Amazon. If you are ready for some Spring and Summer fun – make sure to check this one out 🙂
Make sure to stay up to date on all the latest amazing products and ideas from PinyPon by being a fan on Facebook!
While you are at it – stay up to date with me too 🙂 Find Food Wine Sunshine on Facebook, Twitter, Pinterest, and Google +.
Disclosure: I received no compensation for this publication. I did receive products from review from the above company. My opinions are my own and may differ from those of your own.