(Last Updated On: July 1, 2019)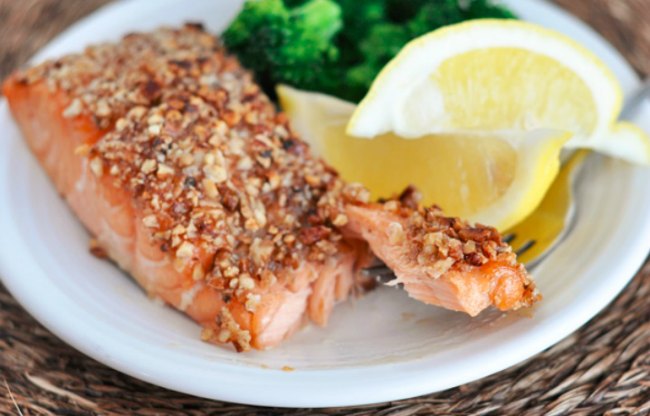 Pecan Maple Crusted Salmon Recipe
This Pecan Maple Crusted Salmon recipe looks fantastic. One of my favorite salmon recipes is my Maple Glazed Salmon, and this recipe is similar, but has a delicious twist! The folks at Pearson Farm's sent me this recipe and I knew I wanted to share it with you too! It's actually on my menu to try here real soon. I have some salmon from Anderson Seafoods that is just begging to be cooked up sooner than later 🙂
This Pecan Maple Crusted Salmon would go perfectly with steamed broccoli, green beans or cauliflower and oven roasted potatoes.
Now, here is Pearson Farm's Pecan Maple Crusted Salmon Recipe. Be sure to Print It and Pin It so that you can make it again and again.
Pecan Maple Crusted Salmon Recipe
Author:
Prep time:
Cook time:
Total time:
Pecans and maple encrust a beautiful filet of salmon making this Pecan Maple Crusted Salmon Recipe crunchy, sweet, and magnificent.
Ingredients
2 to 2 ½ lbs. fresh salmon fillets
2 Tbsp butter
1/3 cup dark amber maple syrup
1 tsp Worcestershire
½ tsp salt
¼ tsp pepper
½ tsp ground mustard
½ cup Pearson pecan pieces or chopped pecans
Extra salt, for the table
Lemon wedges, as a garnish
Instructions
Melt the butter in a saucepan over medium-low heat.
Add the maple syrup, Worcestershire, ground mustard, salt and pepper.
Let the sauce melt together until warm, about 3-4 minutes.
Set aside and let cool.
Once the marinade has reach room temperature, place salmon in a gallon Ziploc bag and pour marinade over salmon.
Seal Ziploc bag and marinate in the refrigerator for 30 minutes to 4 hours.
Pour chopped pecans in a dry skillet over medium heat.
Toast pecans until they are warm and nutty.
Set aside and let cool.
Once the pecans have reached room temperature, chop them finely by hand or in a food processor.
Preheat the oven to 325 degrees F.
Line a baking sheet with foil. Spray a light, even layer of nonstick cooking spray.
Once the salmon is finished marinating, place pecans in a flat, shallow dish.
Press the top side the salmon fillets into the pecans, and place fillets on baking sheet. Sprinkle the fillets with just a little bit of salt.
Bake for 20 minutes or until tender and cooked all the way through.
Serve immediately with lemon wedges and fresh veggies!
Enjoy!
I hope you enjoy this Pecan Maple Crusted Salmon Recipe, I know I can't wait to try it!
Looking for more Salmon Recipes?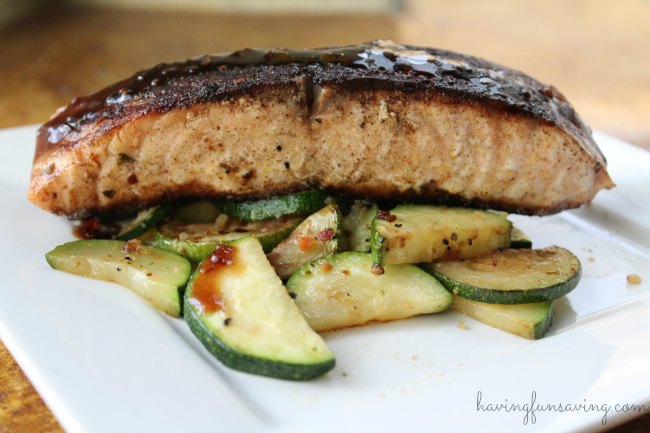 Blackened Salmon with a Maple Reduction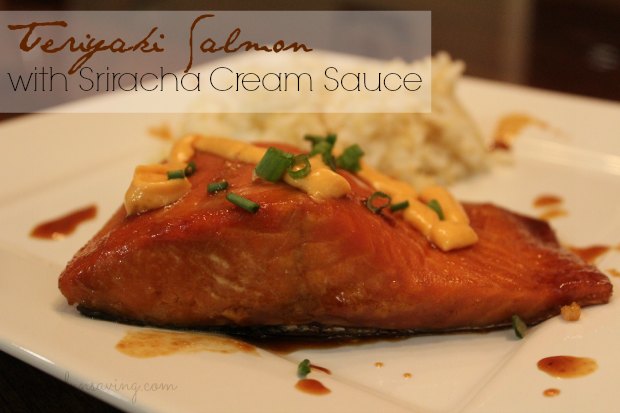 Teriyaki Salmon with Sriracha Cream Sauce
Pecan Maple Crusted Salmon Photo/recipe courtesy of: Mel's Kitchen Café
Be sure to check out Pearson's Farm online, Twitter, and Facebook to stay social and get more delicious recipe inspiration.
In fact, be sure to check out all the delicious recipes on Food Wine Sunshine and follow me on Facebook, Twitter, Pinterest, Google + and Instagram.