(Last Updated On: September 5, 2019)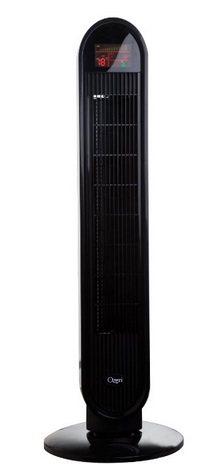 Ozeri 360 Oscillation Tower Fan Review
I recently had the opportunity to review the Ozeri 360 Oscillation Tower Fan with Micro-Blade Noise Reduction Technology. Actually, I should say that m,y whole family has reviewed it now 😉
The Ozeri 360 Tower Fan oscillates at 60, 90, 120, or 360 degrees for partial to complete air circulation with 3 whisper quiet speed settings. Utilizing advanced cylindrical motion technology with over 200 noise-reducing micro-blades, the 360 Tower Fan achieves remarkable airflow velocity while remaining impressively quiet. I also love that The 360 Tower fan offers 3 fan whisper quiet speed settings for customized airflow.
This fab started off in my bedroom – my husband and I like to sleep with a fan on – the wind noise and cool breeze is calming 🙂 But after the first night my son keep hinting at that his room could really use some extra air flow and that he gets out at night time. So, then the fan went into Steven's room. Well, my daughter Sadie was now jealous…SO whenever she wants to watch TV upstairs – the fan now goes into the loft!
The Ozeri fan is actually very light and easy to use, so the kids can move it around by themselves. I think they love it as much as us parents do 😉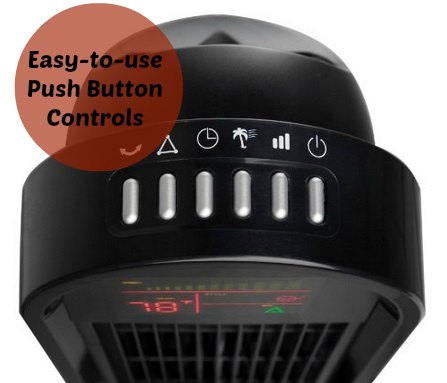 It also features 3 preprogrammed airflow patterns designed to foster sleep, relaxation and comfort with up to 360 degree complete oscillation for timely relief on a sweltering summer day or for refreshing circulation all year long.

The Ozeri 360 Tower Fan features an 8-hour timer that can be programmed in 30 minute increments with ease, and a multi-colored LCD that displays all fan functions and the room temperature. That way I don't have to worry about the fan being on when no one is in the room – I love the timer!
All of the Fan's features, including programmable timer, are easily controlled via the included extended-range remote or via the fan's front control buttons. The 360 Tower fan features a dismountable design that only requires the hand assembly of fan base using 3 included screws, with no special tools required.
In short, the Ozeri 360 Oscillation Tower Fan is easy to put together, easy to use, easy to control…and easy to ENJOY!
Where do you find it? Right on Amazon.com! They are out of stock right now, but the company assured me that more will be in this week 🙂
As with all Ozeri products – satisfaction is guaranteed. I LOVE working with companies that stand behind their products!
Disclosure: I received no compensation for this publication. I did receive products from review from Ozeri/The PR Company. My opinions are my own and may differ from those of your own.