One Step Ahead – Innovative Baby Products Review #HolidayGiftGuide
If you have kids in your life, you are probably familiar with One Step Ahead. If you aren't, you should be 🙂 They make quality, unique, innovative products for babies and kids.
Unlike other baby companies, they pre-test everything we sell, from state-of-the-art strollers and car seats to medical-grade breast pumps and proven potty training aids. They only bring you the best baby gear and accessories all approved by our real-life Parents Panel.
I recently had the opportunity to review some of the most adorable products!
Look at these precious Flash cards…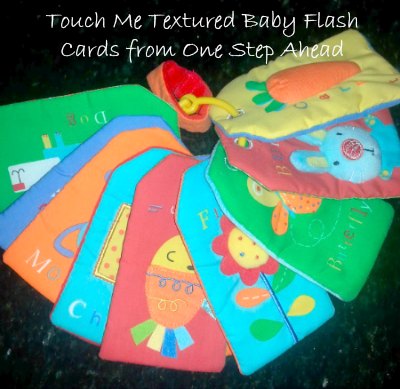 These are the Touch Me Textured Baby Flash Cards.
Look at the amazing colors and textures in the cards…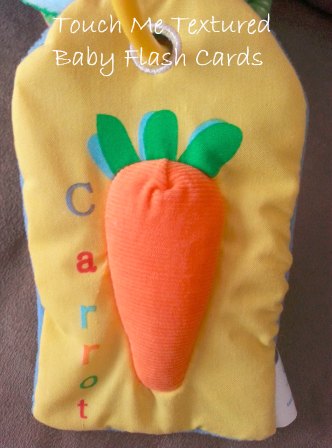 These are all precious cards, for your baby to use. They are bright and colorful with different textures, fabrics and sounds on each Flash Card. They are all unique….for example, the carrot card makes a fun noise and the bunny makes a squeaking sound. My favorite is the fish because it has several textures on it and is very vibrant. They each have a word on them, so there easy to learn and point out to your child.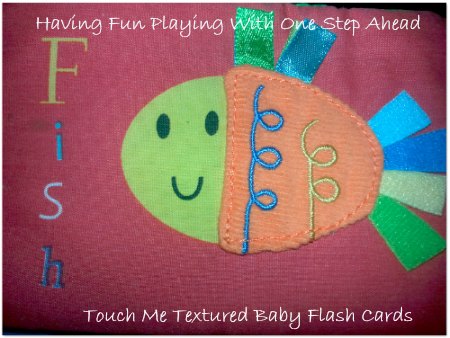 This is a great toy because it attaches to the stroller easily and it will keep your little one entertained.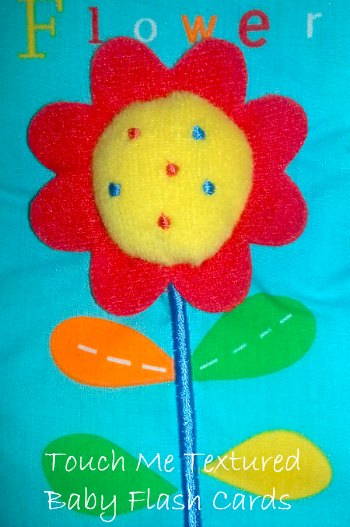 This Baby sensory toy includes 10 tactile, removable flash cards on a ring, plus a Velcro ® strap that tethers to your stroller or gear. Great travel toy; bring all the flashcards along, or just a few at a time. This one is for newborns and up.
Ready to make some noise and have some FUN? Then you have to check out the 2 in 1 Pounding Xylophone. This has vivid colors and stands on a sturdy natural bench. Kids have their choice of holding three balls and put them back in the hole to listen to the chime, or hold the light hammer and just make music. Personally, I like holding the hammer and making all kinds of
music. This is great for kids to show them their music and physical ability!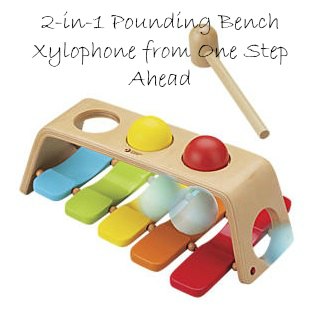 It's a coordination-building hammer toy…it's a fun first xylophone that gives kids the joy of making music. Parents will love its rugged wood construction, curved bentwood design, and pleasant chiming sounds. This one is good for ages 12 months and up.
If you have a little handy man at home, they will love the Soft Toy Tool Box.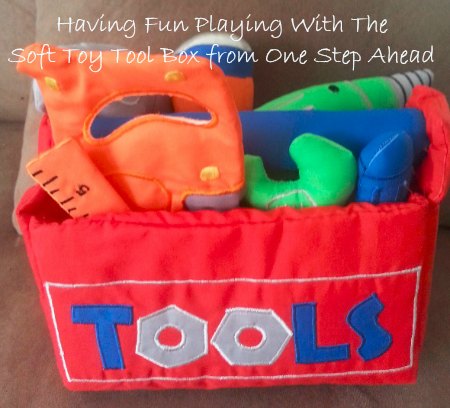 The Tool Kit is so adorable if you have a little boy or little girl that likes to help out around the house. It makes them handy early on in life. It is bright colors and light to hold and pick up. It has big letters of the word TOOLS on the box, so toddlers can recognize what each one is. There are no sharp corners on this tool box, it's perfect for little ones. It comes with seven tools (hammer, wrench, screwdriver, flashlight, ruler, saw and a drill) that those are detailed and colorful…and even make noises!
This set is Machine washable, too. It's perfect for ages 6 months and up.
I don't know about you, but it completely amazes me how young kids can get a handle on technology now-a-days. Give your little one their own iLol Tablet.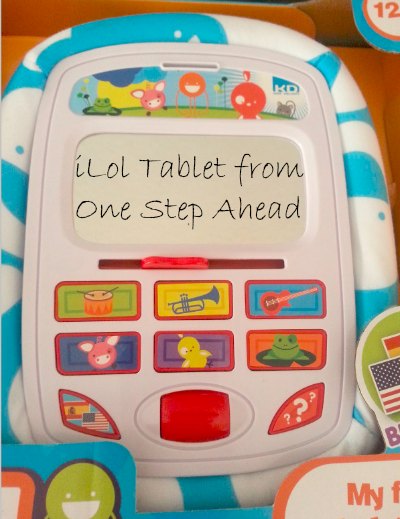 The tablet is easy to hold and has all soft corners, so you don't have to worry about sharp/hard corners. In fact, babies can chew on it during teething time. It has a mirror, so they can see themselves in…I know my kids loved mirrors when they were little. It also has six buttons on it, which recognizes the animals, musical instruments, numbers and letters. It is also bilingual! Also, it has fabric that is removable to wash, so it's fantastic because the germs stay off.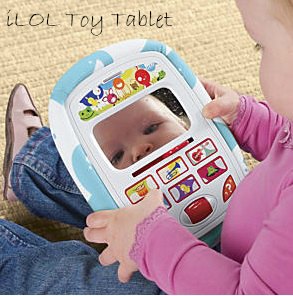 This tablet is packed with learning fun; teaches letters, numbers, colors, vocabulary, and musical instruments. Each press of the button triggers lights, sound, speech, and learning. With quiz mode, ABCs, numbers, songs, and English/Spanish toggle this is sure to keep your little one happy for years to come. This one is good for ages 12 months and up.
Disclosure: I received these items free of charge.No monetary compensation was received or offered, nor was I under any obligation to write about this product. All opinions expressed are my honest thoughts on this product. I am not offering any sales or taking any orders for this item. I will not receive any compensation in connection with any sales of this item.