(Last Updated On: September 1, 2020)
If you have an American Girl Doll fan, or any 18-inch doll, you have to check out these 5 Must Haves. While we did receive a product for review, all opinions are 100% our own.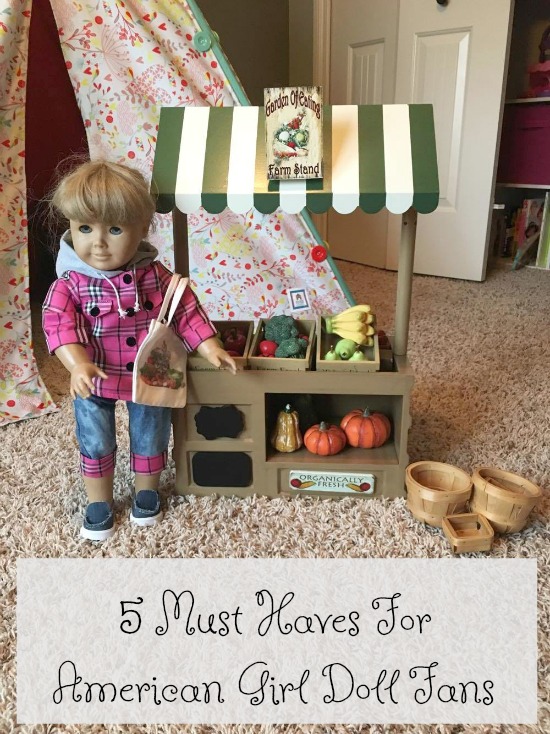 5 Must Haves For American Girl Doll Fans
The holiday season is upon us and if you are like me then you are looking for toys for your kids that are high quality and will last. Toys that can still be played with for yeas to come. I am actually an American Girl doll collector, I have various accessories and dolls from when I was young and they are actually all in mint condition still. As a mom of two little girls one of which LOVES baby dolls, I love the idea of being able to add to my collection so that my daughters can play with them too.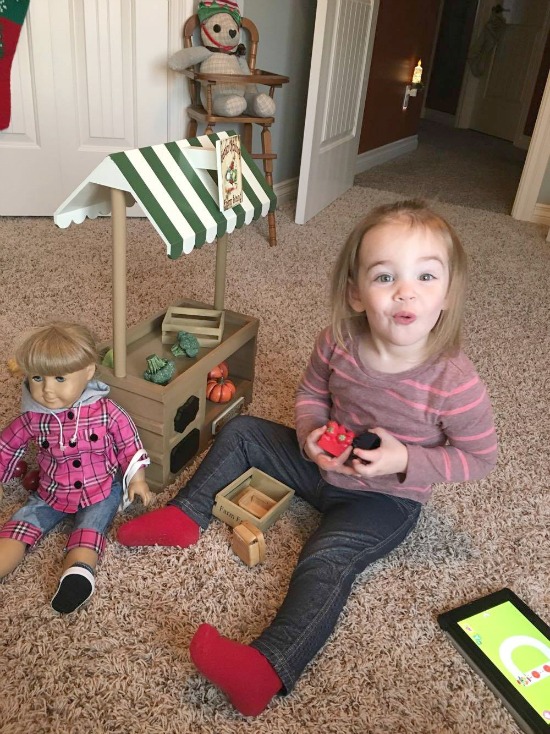 When I heard about The QUEEN'S TREASURES I was immediately pulled into all their adorable accessories, dolls, doll clothes and doll furniture. The quality of The Queen's Treasures products looked amazing online and they are dedicated to making safe, quality products that are well built and will be able to be passed down from generation to generation.
I received the for review recently and I was impressed from the moment I opened the box. Even the packaging was superior! All the fruit and vegetables seem as if they were all hand painted one by one and the doll shoes were in a little shoe boxed with tissue paper as if they were a pair of shoes I would buy. The overall quality is unlike anything I have purchased for my girls before. I am confident that this will definitely be a treasure that my girls will be able to pass down to their children. The years of memories that will be made just make me smile.
(you can browse current: Publix ad, Meijer Ad and Target Ad.)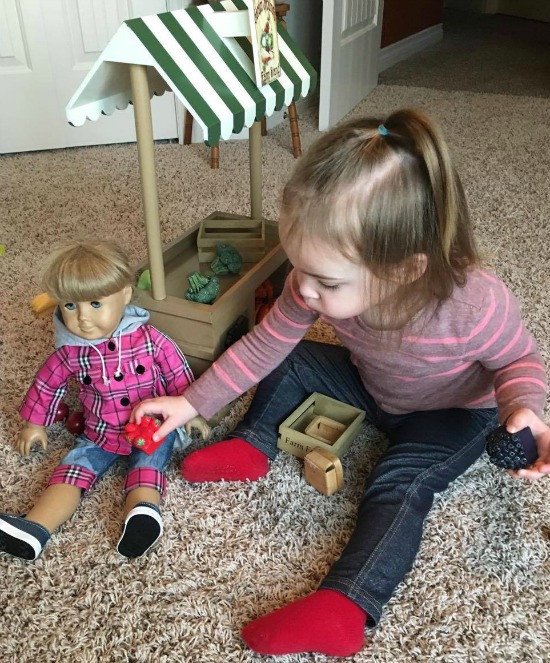 If you have an American Girl Fan at home too, I wanted to share my Top 5 Must Haves for American Girl Doll Fans (and all 18 inch dolls!).
1. Wooden Farm Stand with fruit and vegetables
The Wooden Farm Stand from The Queen's Treasures is the perfect addition to your 18 inch doll collection. Not only is the farm stand cute and well made, it is a great product to teach your little ones to eat their fruit and vegetables. I know my daughter is all about copying, and mimicking right now, so to have a product that has fruit and veggies for your 18″ doll to see that her baby doll LOVES HER VEGGIES AND FRUIT, so should she, but she also gets to learn the names and what all the fruits and vegetables look like, so now when we go into the grocery store or when I'm cooking dinner she recognizes them! As a parent that is so important to me to have healthy eating in my family's life, and if I can have a play farm stand with my daughter and that will help encourage healthy eating that can't make me any happier. The farm stand itself is well built and includes storage cubbies in both the front and back of the farm stand, adorable little farm chalkboard signs your little girl can write her own little sayings on, and little woven baskets for the produce. This farm stand also comes with an outfit and shoes for a 18″ doll.
2. Cute Clothes
Your doll needs play clothes to help with your little ones imagination, with all the different styles they can have make believe in all different areas from fancy dresses to pjs for pj parties to tea party fun.
3. Wardrobe Armoire trunk
For any little girl with all their doll clothes and accessories this is the perfect addition to anyone's doll collection to store away all the clothes in a cute well built doll "closet".
4. Trundle Daybed
All baby dolls must go to sleep right? This daybed can be used as a sofa and used for two dolls for sleep.
5. Child's backpack with doll carrier & sleeping bag
What little girl wouldn't love to be able to take and carry her doll all around with her. This backpack fits 15″ to 18″ dolls. The back pack offers a ample amount of space for your child to store all their goodies and will hold the doll in the carrier part. As a bonus, this one comes with a sleeping bag for the doll, so make for a great addition to your daughters overnight sleepover accessories or just for fun play.
If you have an 18-inch fan in your house, I definitely recommend checking out The Queens Treasure's this holiday season and beyond.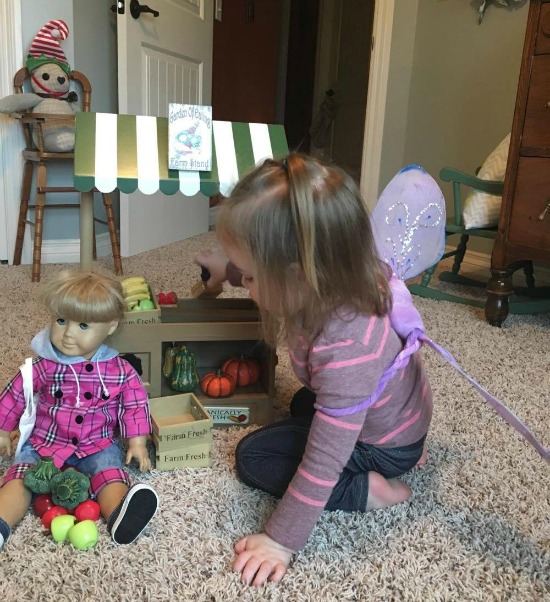 I cannot wait to be able to watch my girls grow up playing with their farm stand knowing that it will outlast their childhood and will be able to be passed down to their children, those are the toys you like to invest in and don't feel bad buying for your kids.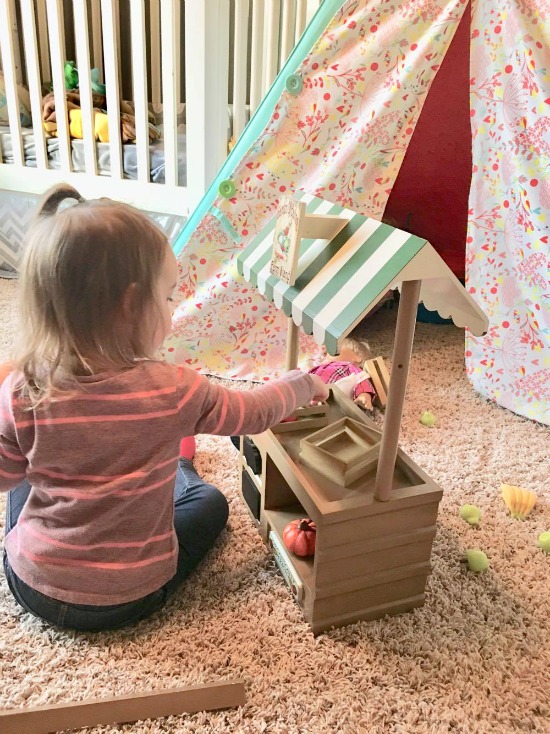 If you are looking to add to your 18 inch doll collection, I have a special The Queen's Treasues coupon code for you.
Use coupon code QUEENS to get an extra 10% off at www.thequeenstreasures.com *that's in addition to the 25% you save when you create an account with your email online!*
The Queens Treasures Coupon code QUEENS is good until 01/01/2018, good for 10% off the lowest price of the entire order…be sure to create an account at the website first to get the 25% off to ensure the get the best pricing 🙂
Be sure to check out The Queen's Treasures on Facebook, Twitter, and Pinterest. While you are at it, follow me on Facebook, Twitter, Pinterest, Google + and Instagram too 🙂