(Last Updated On: September 5, 2019)

MOTORWORKS by Manhattan Toy Company Review + GIVEAWAY
My whole family loves cars…from my dad to my daughter. My son loves to build and play with them…he always has 🙂 When he was younger, I would buy him a $1 toy car at the grocery store so that he would be happy while I got my grocery shopping done. By the time he was 3 I think we had over 200 😉
So when he had the chance to review the stylish MOTORWORKS™ from The Manhattan Toy Company® he was pretty excited. They have actually expanded its award-winning line in 2014 with new models, a car trailer and exciting accessories like the Slingshot Speed Launcher and the Fuel-N-Shine Station.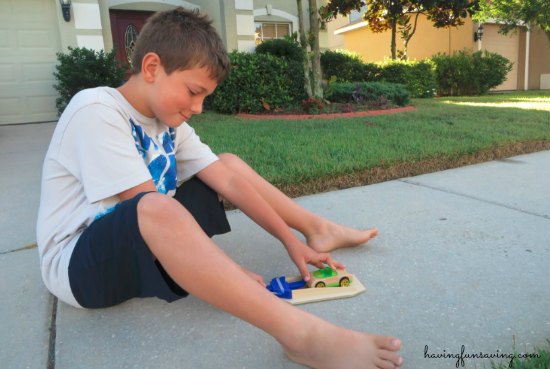 Steven selected the car launcher and the cool-looking TR Convertible. He got it all ready himself and took it outside for a test-run as soon as he could 🙂
The MOTORWORKS line won a Silver award from Parents' Choice last year when the line was first introduced. This year the Slingshot Speed Launcher scooped up a Fun Stuff award from the prestigious organization. The Parents' Choice product evaluation process is lengthy and comprehensive, which allow their judges to really understand and rate a toy's design and function, educational value, long-term play value, and the benefits to a child's social and emotional growth and well-being. So the fact that MOTORWORKS has won this award is a BIG DEAL!
The rest of this beautiful car line is as appealing as ever. From the TR Convertible (the one that Steven has) to the OSX Open Wheel, kids won't be able to resist driving them along the kitchen floor or all over the front yard. And because MOTORWORKS cars are deisgned with a common and convertible chassis; parts from different cars are a snap to mix and match and sticker designs offer endless customization options.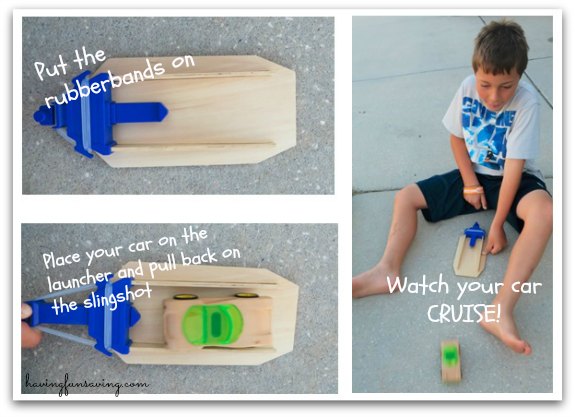 Here is a bit more about the car and launcher that Steven got to review:
Slingshot Speed Launcher • Ages 3+ • $12 Clear the decks and alert the dog. This handsome wooden launch pad is actually a slingshot. Position any MOTORWORKS Street or Speed series vehicles in the narrow slot, pull back the trigger and let it rip. Kids can have fun guessing how far their car can zip along the floor.
TR Convertible • Ages 3+ • $14 How many adjectivees are there to describe this beauty? Made with European beech wood, realistic styling and smooth rolling wheels, this convertible spells fun. Like all MOTORWORKS cars, kids can customize the final design with great snap-fit pieces that can be mixed and matched.
Check out all the Manhattan Toy MOTORWORKS
So, how about a GIVEAWAY? One lucky reader will win the same car and launcher that Steven got!
Here's how to enter:

Disclosure: I did receive the products listed above for review from the above company. No other compensation was received. My opinions are my own and may differ from those of your own. Food Wine Sunshine is not responsible for sponsor prize shipment, the PR company is.