(Last Updated On: June 7, 2019)
Monster Jam is rolling back into Tampa! This time your favorite Monster Trucks will be at Amalie Arena for the Monster Jam Triple Threat Series. Get your Monster Jam tickets now! While I will be able to attend the show for free, all opinions are my own.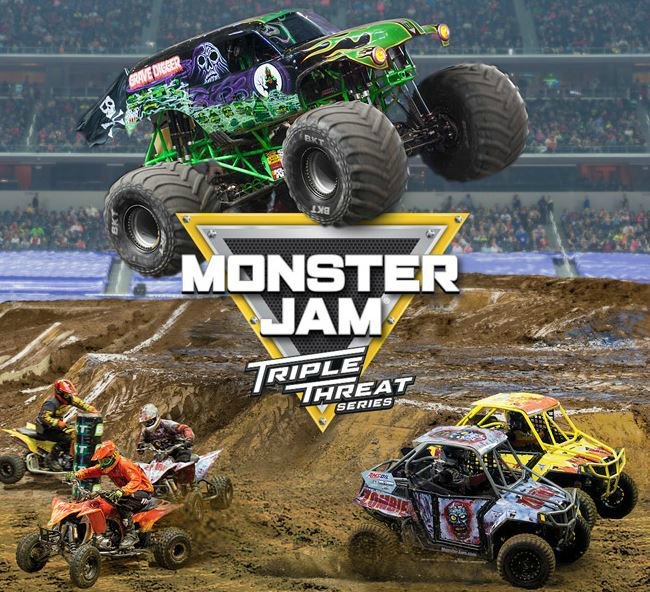 Monster Jam Triple Threat Series Rolls Into Amalie Arena
Monster Jam is one of my family's absolute favorite events. We actually go for my son's birthday every year, so I am excited to see that is it BACK for a second time this year! On August 25th the Monster Jam crew will roll into Amalie Arena for the Monster Jam TRIPLE THREAT series!
The new season will bring motorsport fans to the edge of their seats with adrenaline-charged, highflying, four-wheel excitement that is fun for the entire family and is unlike anything ever seen at the stadium style events.
Show Times for Saturday, August 25, 2018:
1:00 PM show (Pit Party from 10:30 AM – Noon)
7:00 PM show
Note: Pit Party to take place inside the venue on the arena floor.
Monster Jam® Triple Threat Series will be back again this year and feature the eight most intense athletes. Tampa fans will witness a fierce battle for the championship with each competitor using customized highpowered vehicles: Monster Jam Speedsters, Monster Jam ATVs and the famous Monster Jam trucks closer to the action than ever before. This upcoming tour will feature eight of the most talented athletes all competing in individual racing & skill competitions and overall event championship:
1. Grave Digger – Tyler Menninga
2. Max D – Colton Eichelberger
3. El Toro Loco – Kayla Blood
4. Scooby Doo – Myranda Cozad
5. Zombie – Bari Musawwir
6. Soldier Fortune Black Ops – Tony Ochs
7. Megalodon – TBA
8. Monster Mutt Rottweiler – TBA
Note: Trucks and drivers are subject to change.
Unexpected, unscripted and unforgettable, Monster Jam takes center stage in the world's most iconic venues like AMALIE Arena, sporting meticulously manicured dirt tracks created with the sole purpose of pushing these perfectly engineered, larger-than-life trucks to the limit.
Monster Jam is one of the only sports where male and female world-class drivers, some generational rivals, are equals competing for the same championship on the same track. Following racing, just like the stadium show at Raymond James Stadium, Monster Jam fans in every city will have the chance to vote for the truck winner in the donut, wheelie and freestyle competitions by real-time, in-arena fan voting on their smartphones. This tour features two female athletes among the eight total competitors.
Tickets are on sale NOW for the Monster Jam Triple Threat. All tickets are reserved. Pit Party passes are available for purchase in advance as well via the Venue Box Office, monsterjam.com or for Group Sales information, please call Feld Direct 866-248-8740.
Check out Monster Jam on Facebook, Twitter, Instagram and on Youtube. In fact, make sure to check out Food Wine Sunshine on Facebook, Twitter, Pinterest, Google + and Instagram for more Florida Family Fun!