(Last Updated On: June 7, 2019)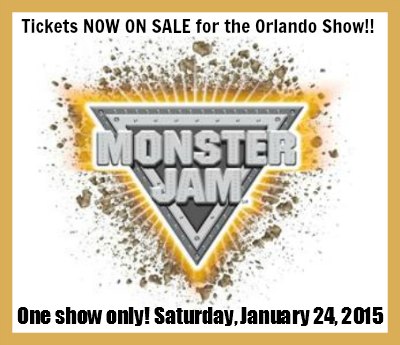 My family and I LOVE the Monster Jam! It's official! MONSTER JAM® will make its return to the Orlando area on January 24, 2015 as one of the first events to be held in the renovated Orlando Citrus Bowl. And tickets went on sale today, August 27th, at 10am – so grab yours while you can!
We go every year, I will admit that the first year we went I was a bit concerned whether or not Sadie and I would like it…and we LOVED it! I was hoarse for t3 days after the show from all the yelling I did – it was a blast! If you haven't been – I definitely recommend it. Actually, every year we give my son the opportunity to have a birthday party or invite a few friends with him to the Monster Jam…and every year he picks the Monster Jam!
Grab your Monster Jam Orlando Tickets
Tickets start at only $15 (subject to facility, convenience, and handling charges).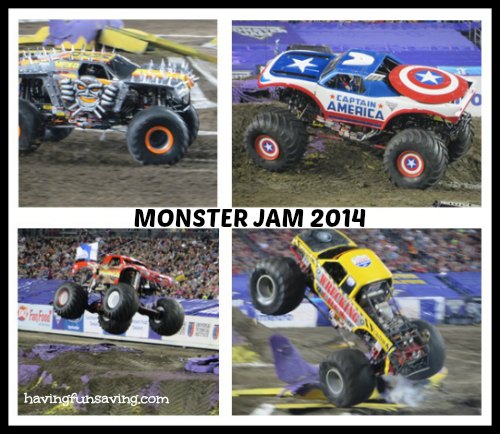 Monster Jam is one of Orlando's most popular and largest single-day stadium events, attracting capacity crowds of over 60,000 fans. Four-time World Champion GRAVE DIGGER and Twelve-time World Champion MAXIMUM DESTRUCTION will compete in Orlando and help launch the new stadium, along with a huge field of the world's best 1,500 horsepower, 10,000-pound Monster Jam Monster Trucks.
The official title of the event is Metro PCS, Budweiser, Circle K, & Your Southern Ford Dealers present MONSTER JAM® brought to you by BKT Tires.
Event Details:
Show Time: One show only: Saturday, January 24, 2015
Gates Open at 5 pm. Opening Ceremonies at 6:30 pm. Racing Starts at 7 pm.
Where: Orlando Citrus Bowl Stadium, 1610 W. Church Street, Orlando, FL 32805
Ticket Information
Advance purchase SuperValue Tickets are ONLY $15. $45 Platinum / $35 Gold Sideline / $25 Corners / $20 Endzone. Tickets are on sale starting 10 a.m. on August 27 at all Ticketmaster outlets, the Amway Center Box Office, or charge by phone at 800-745-3000 or www.ticketmaster.com. Tickets will also be available day of show at the Citrus Bowl. All seats reserved. Subject to facility fee, plus convenience and handling charges. Don't wait – buy tickets in advance as prices go up $5 more the week of show. Get more show information at www.MonsterJam.com (click on "Tickets" and search for Orlando January 24).
Do you love the Monster Jam too? Have fun at the Orlando Show!