(Last Updated On: June 7, 2019)
Disclosure: Our family was able to attend this event for free. Our opinions, thoughts, love of Monster Trucks, the Monster Jam, and all the family fun is 100% our own!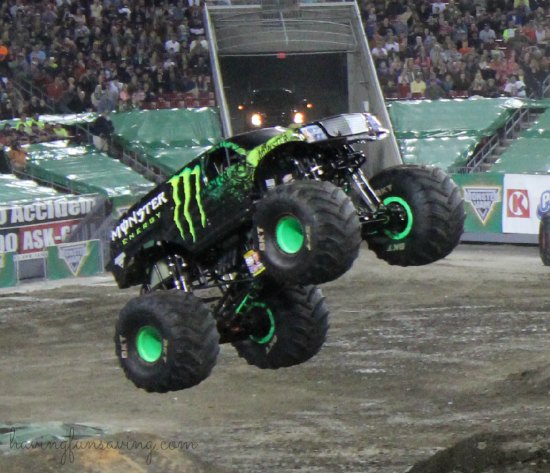 Monster Jam 2015 Is Coming To Orlando!
My husband took our son to his first Monster Jam about 5 years, and ever since then he was hooked. Since the Monster Jam rolls in to Tampa around my son's birthday, the following year we asked him if we wanted a birthday party or if he would rather invite two close friends to the Monster Jam and we would make a fun day of it and his friend's could spend the night.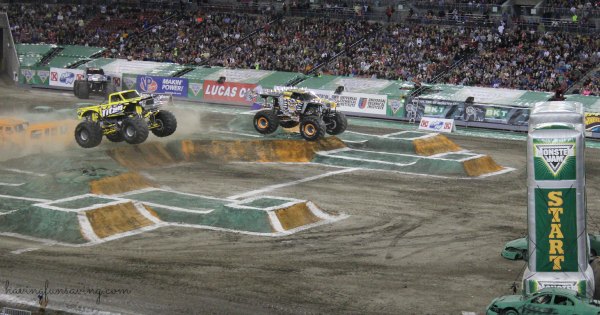 He picked the Monster Jam.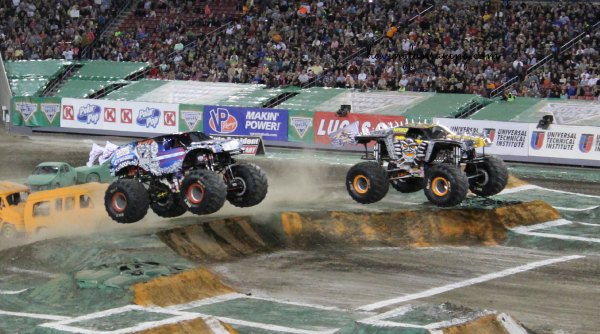 I will admit, I tried REALLY hard to make it a boys' night and suggested that my daughter and I stay home, but my son wanted us to come. So we went. I wasn't overly excited about it, but I wasn't going to disappoint my son.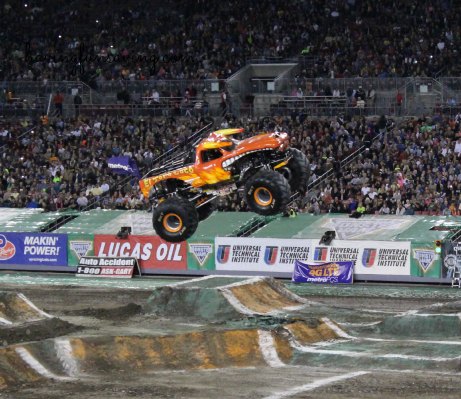 I LOVED IT.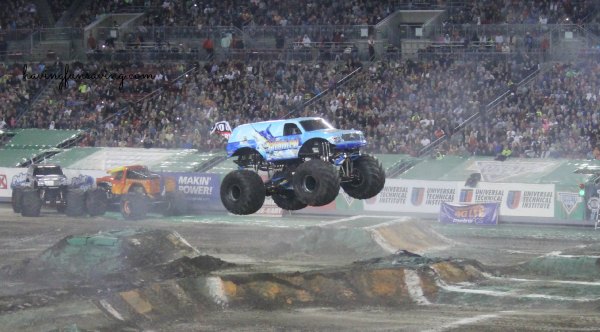 I was actually hoarse for 2 days after from all my screaming 🙂 It was a blast. It is really hard to not get caught up in all the fun and excitement.
This year is the 4th year in a row that my son has picked the Monster Jam over a "party." And this was my 4th year going 🙂 I don't think anyone could convince me to not go at this point. My daughter and I sit next to each other and cheer for our favorite trucks. Hers is definitely Madusa.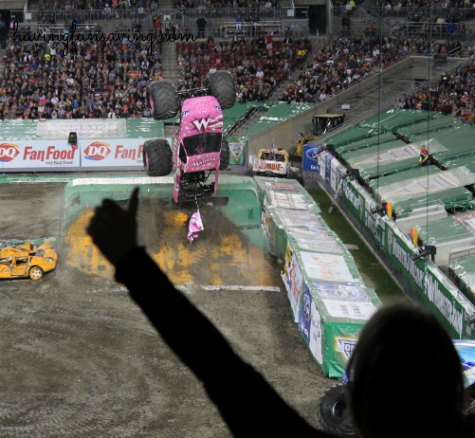 Who can resist a pink Monster Truck who's driver is local?!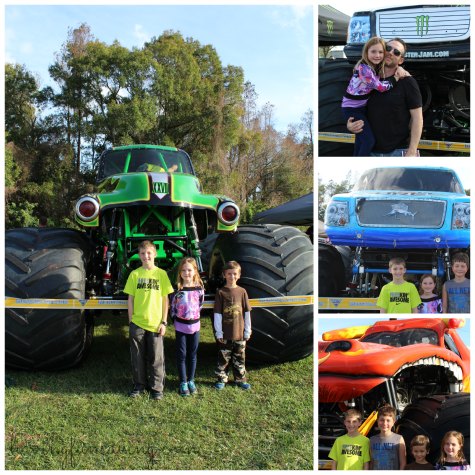 This was the 1st year we went to the Pit Party and it definitely won't be out last. The Party in the Pits is for Preview Fans – you get to go behind the scenes, meet the drivers for autographs and photo ops, and see the monster trucks up close. The Party in the Pits is right outside the stadium and is from 1:30-5 pm.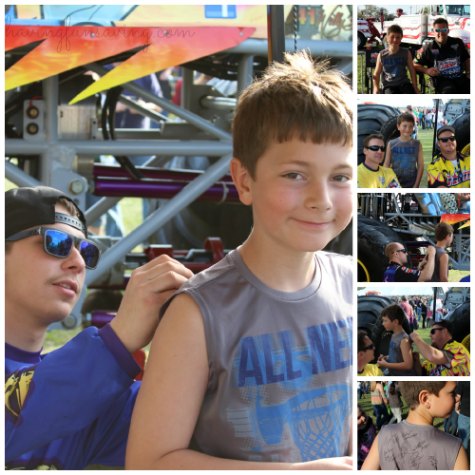 It was awesome being able to get so close to the trucks, get pictures with the drivers…and signatures even! We didn't think ahead to bring paper or anything, so Steven had the drivers sign his shirt. He will tell you now that his shirt is worth over One Million Dollars 🙂 You can purchase a pit pass for only $10 more when buying tickets at Ticketmaster or the Amway Center Box Office. Or, pick up a Free pit pass at participating Orlando area Southern Ford Dealers beginning January 5th (while supplies last). Pit Passes, along with a valid event ticket, get fans into the Pit Area.
When can my Central Florida readers catch the loud, high-flying action?
MONSTER JAM® RETURNS TO ORLANDO ON JANUARY 24TH, 2015
Where can you see the show?
The Annual motor sports spectacle is among first events in new Orlando Citrus Bowl Stadium located at 1610 W. Church Street, Orlando, FL 32805
When is the show?
One show only: Saturday, January 24th
Gates Open at 5 pm. Opening Ceremonies at 6:30 pm. Racing Starts at 7 pm.
How much are tickets?
Purchase Advance purchase SuperValue Tickets are ONLY $15. $45 VIP / $35 Gold Sideline / $25 Corner / $20 End zones. Tickets are on sale now at all Ticketmaster outlets, the Amway Center Box Office, or charge by phone at 800-745-3000 or ticketmaster.com. Tickets will also be available day of show at the Citrus Bowl. All seats reserved. Subject to facility fee, plus convenience and handling charges. Don't wait – buy tickets in advance as prices go up $5 more the week of show. Get more show information at www.MonsterJam.com (click on "Tickets" and search for Orlando January 24th).
The Monster Jam is one of Orlando's most popular and largest single-day stadium events, attracting capacity crowds of over 60,000 fans. A huge field of sixteen monster trucks will compete in side-by-racing and the fan-favorite freestyle competition.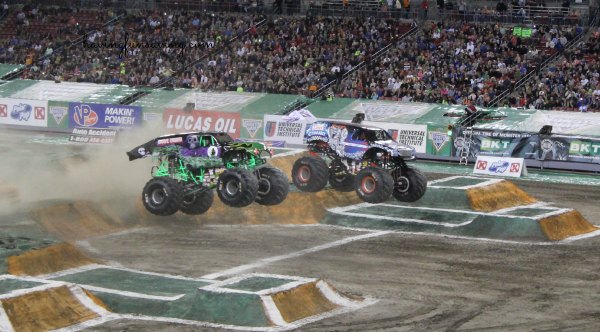 One of the many highlights of this year's competition is participation by all three Team Grave Digger vehicles: GRAVE DIGGER, GRAVE DIGGER THE LEGEND, and the Orlando event champion from 2013 AND 2014, Ryan Anderson driving SON UVA DIGGER. The superstar competitive field will also feature the return of Monster Jam's only eleven-time World Champion, Tom Meents driving MAXIMUM DESTRUCTION. Meents is famous for his all-out driving style and numerous monster truck back flips. We LOVE Max-D!!!!
The event will also feature MONSTER MUTT ROTTWEILER, SCOOBY DOO, GUN SLINGER, BLACK STALLION, OVERKILL EVOLUTION, ICE CREAM MAN, XTERMIGATOR, HIGHER EDUCATION, JESTER and more yet-to-be announced motorsports competitors. The official title of the event is Metro PCS, Circle K, Budweiser & Your Southern Ford Dealers present MONSTER JAM® … brought to you by McDonalds & BKT Tires.
You also have the opportunity to ride in a real monster truck before the show between 1-7 pm. Fans can pick up a Free monster truck ride pass at participating Orlando area Circle K locations beginning January 5th (while supplies last). Ride Passes, along with a valid event ticket, get fans the ride of their life on a real Monster Jam Ride Truck (riders are taken on a 1st come 1st serve basis).
The Monster Jam is an event that you don't want to miss…it's something that the whole family will enjoy!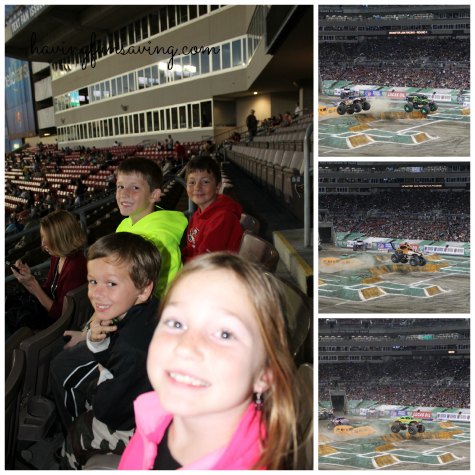 Check out Monster Jam on Facebook, Twitter, Instagram and on Youtube. In fact, make sure to check out Food Wine Sunshine on Facebook, Twitter, Pinterest,, Google + and Instagram for all my other fun pictures and videos from our fun night out in Tampa at the Monster Jam!