(Last Updated On: September 5, 2019)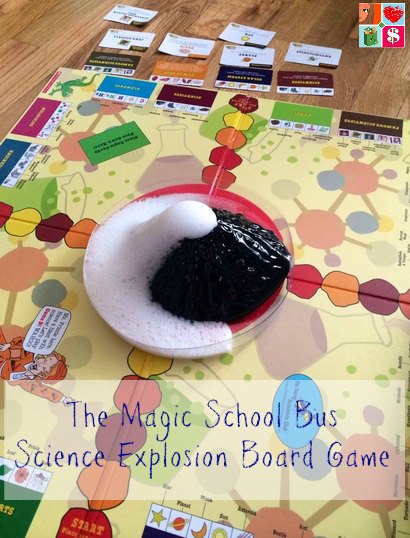 The Magic School Bus Science Explosion Board Game Review
If you have a child at home that loves being on hands and having fun, The Magic School Bus Science Explosion Board Game is for you. With the holidays quickly approaching, it would also make for an excellent holiday gift idea 🙂
My writer, Chelsey, had the opportunity to review this fun game with her family and here are her thoughts:
After receiving 'The Magic School Bus' Science Explosion' game, we enjoyed it for several hours and have played it several times. The double-sided board allows for two different games to be played, both ending with a "science explosion".
As you draw cards and move your game piece around the board, you learn about every field of science; from butterflies and fungi to different types of engineers and scientists. My 6-year-old wasn't the only one who learned; my husband and I found us intrigued by a thing or two as well! Finally, as you collect cards for each of your 'master card' category, the winner erupts the volcano!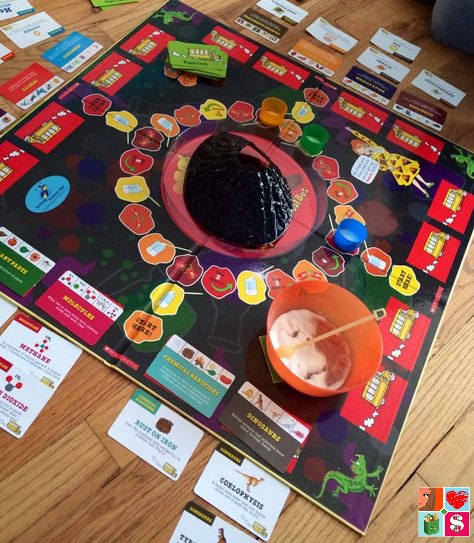 The game includes 80 'topic cards' full of interesting educational content. We really enjoyed learning about different dinosaurs and their characteristics, as well as different chemical reactions such as how rust occurs, or the game itself, combining baking soda and vinegar to create sodium hydrogen carbonate for the volcanic explosion! With either game, the player collects a new card with new information at each turn. As players gallivant around the board, baking soda is added to their buckets. Once all the cards have been collected for the players 'master cards', they get to add their baking soda to the vinegar that is inside the volcano!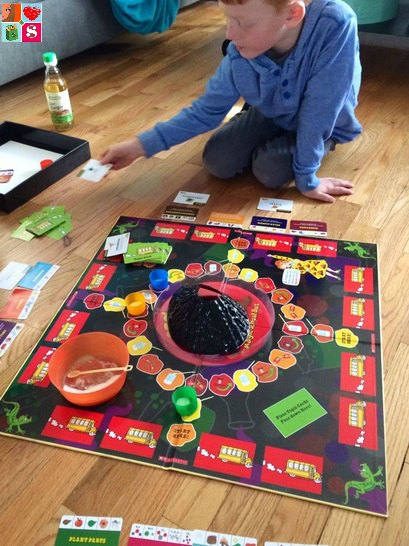 After playing several times, and shuffling the game cards, we realized they were getting a bit banged up and bent. The cards are pretty thin paper; thicker paper would be more durable especially considering it's a child's game. Also, the volcano itself came folded into quarters. It took great effort to keep it unfolded. A thicker and heavier plastic volcano would make the game a bit more durable. It understandable that this is for storage and box design purposes, but either a shorter volcano or a deeper box would solve that, I believe.
All in all, we loved the game. We have already played numerous times, and I believe we will continue to use it as our children grow older and begin to understand the science fields and topics. We love the simplicity of only needing to supply our own vinegar and baking soda.
How do you get these cool kits for your home? All the Clifford kits can come each month directly to your home if you wish to order the company's mail-order subscription series and be sure to check on Amazon.
Be sure to check out The Young Scientists Club on Facebook, follow them on Twitter, and subscribe on Youtube. While you are at it, follow Food Wine Sunshine on Facebook, Twitter, Pinterest, Google + and Instagram too 🙂