(Last Updated On: April 13, 2020)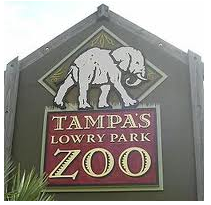 Lowry Park Zoo Tampa – Free Birthday Admission
Lowry Park Zoo no longer offers FREE Birthday Admission, you can see all their current offers HERE.
I wanted to let you guys know about a special BIRTHDAY offer from Lowry Park Zoo. Did you know that you can visit for FREE on your birthday?? Yep, you sure can – how FUN is that?!
Every birthday should be wild! Let Tampa's Lowry Park Zoo make it a birthday to remember. The birthday guest will enjoy FREE daytime admission into the Zoo to celebrate with 1,000 animal friends. Guest must present acceptable proof of birth date: driver's license, birth certificate, passport or military ID. Offer must be redeemed on the individual's actual birthday with the exception of Thanksgiving and Christmas. Not combinable with other offers or discounts.
Here is a bit more about the zoo:
Tampa's Lowry Park Zoo is operated by the Lowry Park Zoological Society, an independent 501(c)(3) charitable organization committed to excellence in education, conservation and research. The Zoo is accredited by the Association of Zoos and Aquariums (AZA), and has been named the No. 1 zoo in America by both Parents magazine (2009) and Child magazine (2004). The Zoo is located at 1101 W. Sligh Avenue in Tampa, one mile west of I-275 (exit 48) and is open seven days a week, from 9:30 a.m. to 5 p.m. daily, with extended hours on select nights during special events. The Zoo is closed on Thanksgiving and Christmas Days. Daytime admission includes amusement rides. Parking is free. For more information, visit LowryParkZoo.com.
Here is the pricing information:
Adults (Ages 12-59) – $27.95
Seniors (Ages 60+) – $25.95
Youth (Ages 3-11) – $20.95
Children Under 3 – FREE
Happy BIRTHDAY, and enjoy your free admission at Lowry Park Zoo!