(Last Updated On: August 27, 2019)
No spoiler LITTLE Movie Review. Regina Hall gets the unique opportunity to wake up as her 13 year old self and see how she can be a better person today in the movie LITTLE. While I was able to see a press screening at no cost to me, all opinions are my own.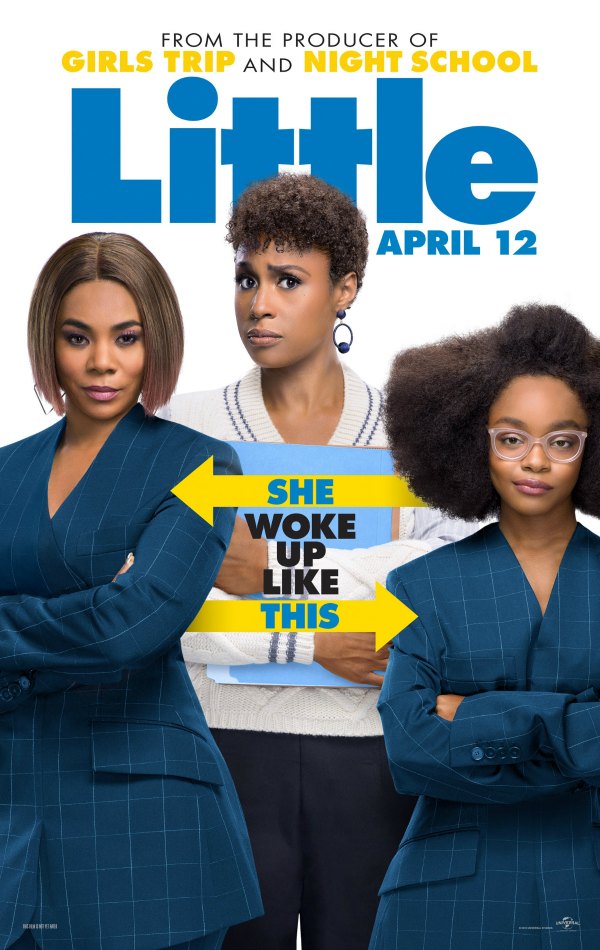 LITTLE Movie Review
The movie LITTLE starring Regina Hall, Issa Rae, and introducing Marsai Martin is in theaters now. It is a tale of body switch, which we have seen before, but there is a bit of a twist. We see Jordan (Regina Hall) has a powerhouse executive who mistreats her friends and employees, who wakes up one day as her 13 years old self. And of course, this magical swap happens just before a do-or-die presentation that Jordan has at work. I believe the body switch happens to teach her about the importance of friendship, not bullying, and trusting people.
Even though the movie LITTLE shows that Jordan became a very successful executive by being a "bully", it also shows that she was unhappy and her magical swap journey is to find that happiness and make a few friends along the way. As a 13 year old girl. I know I would not want to go back to being 13, it's a hard age! Middle-schoolers can be tough, and Jordan has to experience it twice! As a parent, I appreciate that Jordan realizes to use this experience to do good by others.
Issa Rae plays Jordan's long-suffering assistant April, the only one in on the secret that her daily tormentor is now trapped in an awkward tween body. The movie is rated PG-13, there are a few small swear words, some sexual innuendoes and there is social drinking. I do agree with the rating, and I did take both my teen kids to see it. Neither were uncomfortable at any point, and I did take the opportunity to discuss bullying and the importance of friendship on the way home.
Little is an irreverent new comedy about the price of success, the power of sisterhood and having a second chance to grow up — and glow up — right.
Here is the official LITTLE movie trailer:
Here is a little more and the Cast and Crew of the movie LITTLE:
Cast: Regina Hall, Issa Rae, and introducing Marsai Martin
Director: Tina Gordon
Screenplay: Tracy Oliver and Tina Gordon
Story: Tracy Oliver
Producers: Will Packer, Kenya Barris, James Lopez
Executive Producers: Marsai Martin, Josh Martin, Regina Hall, Preston Holmes
Will Packer, blockbuster producer of Girls Trip, the Ride Along franchise, and ten movies that have opened No. 1 at the U.S. box office, including Night School, No Good Deed and Think Like a Man, brings an all-new perspective to the body-swap comedy.
Little is directed by Tina Gordon (writer, Drumline) with a story by Tracy Oliver (Girls Trip) and a screenplay by Oliver and Gordon, based on an idea by teen actress Martin. The film is produced by Packer and his producing partner James Lopez and by Kenya Barris (Girls Trip, Black-ish), and is executive produced by Preston Holmes (Night School), Hall, Marsai Martin and Josh Martin.
Do you plan on seeing the movie LITTLE? Have you ever wanted to go back to when you were 13 years old?
Find Food Wine Sunshine on Facebook, Twitter, Pinterest, and Google + for more fun things to do in Florida.