(Last Updated On: September 5, 2019)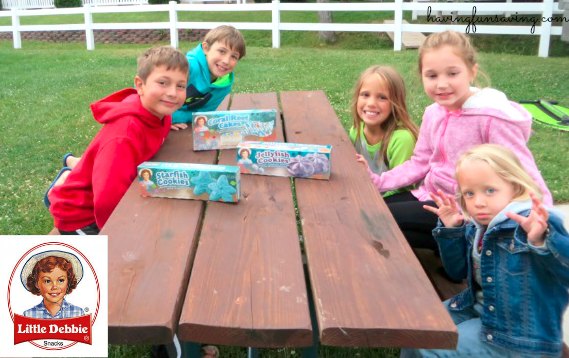 Little Debbie Beach Themed Snacks – The Perfect Summer Treat
Summer means fun, playing with friends, and enjoying yummy treats! And the name that we all know and love is Little Debbie.
Have you seen their new, beach-themed products? Yep, Little Debbie introduced FIVE new products for summer—Starfish Cookies, Seashell Brownies, Jellyfish Cookies and Coral Reef Cakes in both vanilla and chocolate.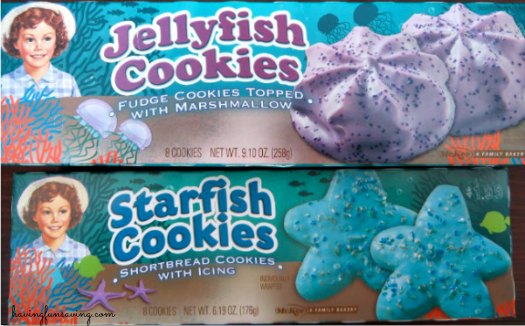 I will admit, when I received mine for review I was a bit nervous…I LOVE Little Debbie Cakes and having that many in the house…well, I was afraid I would eat them all myself! Thankfully, my kids definitely did NOT allow that to happen 😉
We actually took several boxes with us camping and had a blast sharing ours with friends and cousins.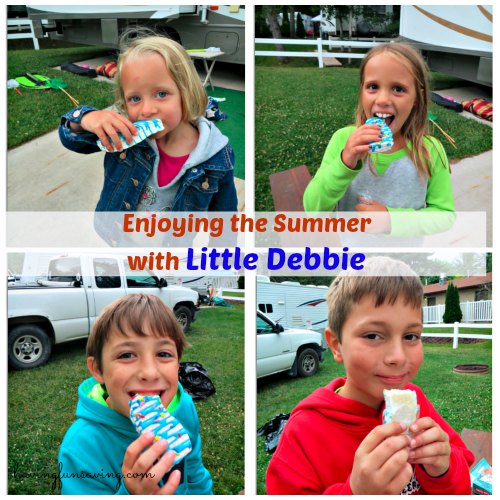 I officially have the camper that has "the yummy treats" 🙂 Just in case you didn't know, Little Debbie has been making "yummy treats" for over 50 YEARS!
Here is a bit of background info on how Little Debbie got started:
In 1960, McKee Foods founder O.D. McKee was trying to come up with a catchy name for their new family-pack cartons of snack cakes. Packaging supplier Bob Mosher suggested using a family member's name. Thinking of what could be a good fit for the brand, O.D. arrived at the name of his 4-year-old granddaughter Debbie. Inspired by a photo of Debbie in play clothes and her favorite straw hat, he decided to use the name Little Debbie® and the image of her on the logo. Not until the first cartons were being printed did Debbie's parents, Ellsworth and Sharon McKee, discover that their daughter was the namesake of the new brand.

The first family-pack was produced in August of that year and consisted of the original snack cake, the Oatmeal Creme Pie. Family-packs were one of the first multiple-item baked goods available with individually wrapped products. The cost per carton was only 49 cents. By combining a quality product with outstanding value, Little Debbie® quickly became a member of America's households. After its initial introduction, more than 14 million cakes were sold within 10 months. While the Oatmeal Creme Pie was the original Little Debbie® snack cake, there were 14 different varieties by 1964 including the ever-popular Nutty Bars® Wafer Bars and Swiss Cake Roll.

Since 1960, Little Debbie® snacks have remained a value leader. Currently, they sell for less than other leading brands while providing quality products. More than 75 varieties are available. Little Debbie® snacks are available in all 50 states, Canada, Mexico and Puerto Rico, as well as on U.S. military bases throughout the world.
Make sure to look for the summer FUN Little Debbie boxes the next time you are at your favorite retailer. I would like to be able to tell you which ones my kids liked best…the Starfish Cookies, Seashell Brownies, Jellyfish Cookies or the Coral Reef Cakes, but they really loved them all. The Coral Reef Cakes was the first box to be emptied, but the others were all close behind 🙂
And at the great price of about $2 a box – you can give your kids a yummy treat and not worry about breaking the bank! I know that's something all us parents can appreciate!
Disclosure: I received no compensation for this publication. Food Wine Sunshine did receive products from review from the above company. My opinions are my own and may differ from those of your own.