(Last Updated On: September 4, 2019)
This is a sponsored post with Mums the Word Network and Doctor on Demand. All opinions are my own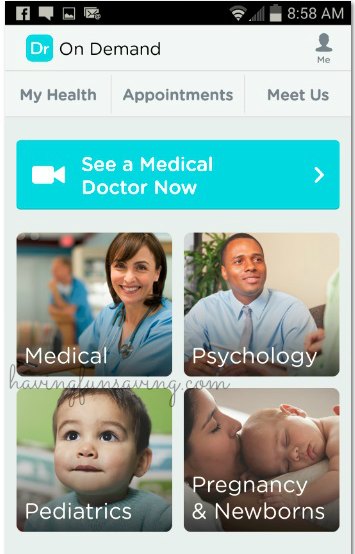 Let Doctor on Demand Help With The 10 Perils of Summer
I love Summer! No more rushing out the door and asking if the kids grabbed their lunch boxes, no more stressing about bedtimes and homework. It also means lots of playing outside, smiling, and having fun! And that means we are bound to experience some boo-boos.
I recently signed up with Doctor on Demand to help me through the questions that are sure to pop up this summer. Are you ready for the 10 Perils of Summer?

10 Perils of Summer
Bee Sting – Ouch! Bees, wasps, hornets and other stinging bugs are sometimes unavoidable.
Sunburn – Protect your skin from the sun, and avoid the most severe UV rays between 10am-4pm.
Concussions – A concussion can result from a blow to the body or head, such as a fall from a swing set.
Poison Oak & Ivy – In the woods everything is green and leafy and… poisonous? Some plants really make you itch.
Jellyfish – They're not really fish, and they don't attack. But their tentacles pack a painful and potent venom.
Tick bites – Lyme disease and other complications can arise from a nasty little tick bite. Ask a doctor.
Sunstroke – Kids and seniors are at higher risk for heat exhaustion and sunstroke. Be aware.
Sports Injuries – After a long winter, we're in a rush to get outdoors. Sometimes leading to a trip and fall.
Burns – Accidents can happen when we're around campfires or BBQ grills. Get treatment right away.
Kids bumps and bruises – Sometimes it's a minor scrape, but it may be a more serious bruise. Let's have a look.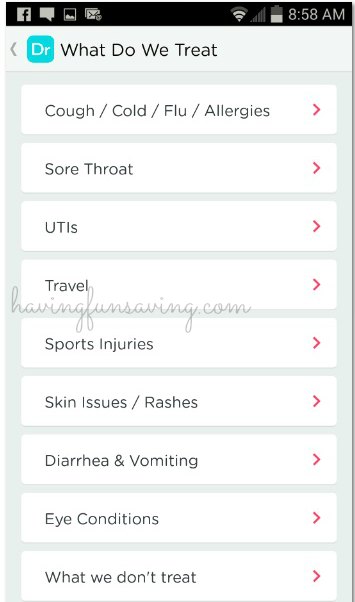 Yep, stuff happens. But thankfully the doctors at Doctor on Demand are always just a few taps away, no matter where you are this summer. That means you have access to doctors while traveling, boating, at the pool, on playdates, you name it…they have you covered!
Ready to check out Doctor on Demand for yourself? Well, I have a coupon code that will get you your first "visit" for FREE!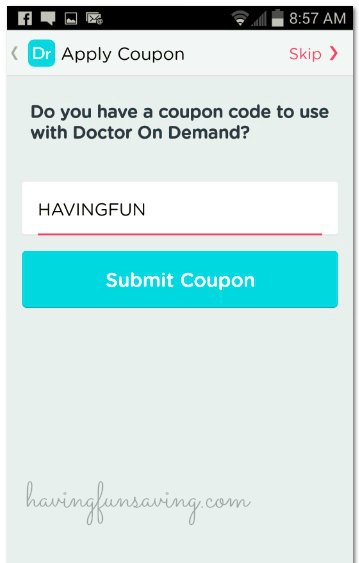 Once you download the app on Google Play or iTunes, you will fill in some basic information. It took me about a minute to fill in my name and birth date, etc. Then it will prompt you for a COUPON CODE if you have one.
Use Doctor on Demand Coupon Code HAVINGFUN to get your first visit FREE! – code expires on 7/15/15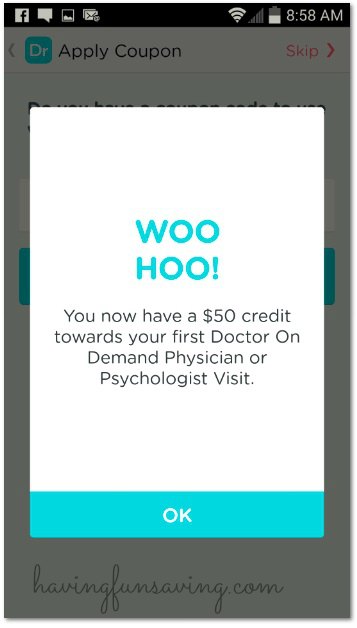 You never know when you may need it 🙂 At the moment, my family is healthy and content, but you never know what tomorrow will bring, so I am happy I signed up and can get in touch with a doctor ASAP if needed.
Let Doctor on Demand help you through the 10 Perils of Summer!
Be sure to follow Food Wine Sunshine on Facebook, Twitter, Pinterest, Google + and Instagram for more tips, fabulous recipes and more!