(Last Updated On: July 3, 2019)
The LEGO Movie World is NOW OPEN at LEGOLAND Florida Resort! Let your imagination soar in LEGO Movie World at LEGOLAND Florida.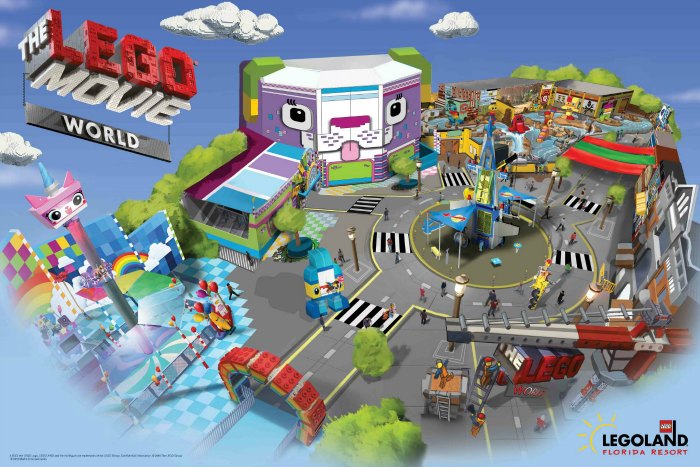 LEGOLAND Florida Opens THE LEGO MOVIE WORLD
LEGOLAND Florida opened a whole new world…complete with three new rides!! 2019 is going to be the most awesome yet at LEGOLAND here in Florida. Open now, THE LEGO MOVIE WORLD, created in partnership with Warner Bros. Consumer Products, features three family-friendly marquee attractions, inspired by the characters and themes of the worldwide blockbuster THE LEGO MOVIE and THE LEGO MOVIE 2: The Second Part.
THE LEGO MOVIE WORLD marks the largest expansion in LEGOLAND Florida Resort history. The creative masterminds from Merlin Magic Making, the global creative and delivery division of parent company Merlin Entertainments Group, re-created downtown Bricksburg with its lovable characters, creative eating spaces and authentic city scape where guests can experience Emmet's Super Suite and many other surprises!
Not only will guests feel like life-size LEGO minifigures in the heavily-immersive land, but they'll also be able to enjoy some of the world's most-advanced ride technology.
Have you ever fancied a flight aboard a Triple Decker Couch? Aspired to ascend the heights of Cloud Cuckoo Land? Fantasized fighting against a DUPLO® alien invasion? LEGOLAND® Florida Resort delivers all this and more at THE LEGO® MOVIE WORLD where guests can step into THE LEGO MOVIE universe and onto the streets of Bricksburg.
"THE LEGO MOVIE WORLD at LEGOLAND Florida Resort is the only place in the world that you can experience the pure wonder and imagination inspired by THE LEGO MOVIE universe," said Rex Jackson, general manager of LEGOLAND Florida Resort. "We've been hard at work, building brick-by-brick, to create state-of-the-art experiences that bring THE LEGO MOVIE to life."
THE LEGO MOVIE Masters of Flight: Hop aboard Emmet's Triple Decker Flying Couch! This flying theatre attraction whisks guests away on an action-packed adventure on a suspended ride with a full-dome virtual screen, giving the sensational feeling of flying alongside some familiar and some new faces like Sweet Mayhem, a character set to debut in the upcoming feature THE LEGO MOVIE 2: The Second Part. The one-of-a-kind experience is the first attraction at a major theme park in the United States that embeds a 180-degree turn in the ride experience.
Unikitty's Disco Drop: Enter through the rainbow portal to join the fun with Unikitty and her many personalities. This ride swoops guests to the tiptop of Cloud Cuckoo Land, then drops, spins and bounces them back down to earth, creating a thrilling and fun experience.
Battle of Bricksburg: Calling all Master Builders! DUPLO® aliens have invaded Bricksburg to come and play! Riders are challenged to stop DUPLO® aliens from invading and stealing LEGO bricks by spraying water at targets.
Finish off the day in downtown Bricksburg, the home of Emmet's Super Suite, a character meet-and-greet experience where guests can hang out with Emmet and all of his friends inside his apartment, the Taco Tuesday Everyday eatery, and The Awesome Shop, filled with take home memories. The downtown area will also include a space-themed playground structure inspired by Benny's spaceship, plus special photo opportunities.
The fun doesn't stop in the park. Enjoy the ultimate vacation (or slumber party) just steps away at LEGOLAND Hotel in a new THE LEGO MOVIE WORLD themed room. Designed with familiar scenery and beloved characters from the movie, no detail is left untouched. Adults can relax in a room inspired by Emmet's bedroom, while kids dream of spaceship adventures in the children's room, modeled after Benny's Spaceship. No matter where you stay or how you choose to spend your day, awesome awaits at THE LEGO MOVIE WORLD.
Also available on specific event dates, guests can purchase an "Access to Awesome" pass which provides early theme park admission to experience THE LEGO MOVIE WORLD attractions prior to park opening (8:30 a.m.-10 a.m.).
No matter where you stay or how you choose to spend your adventure, awesome awaits at THE LEGO MOVIE WORLD!
You can check out our most recent visit here. Need a great deal on tickets? Head here.
Have you been to LEGOLAND Florida? What was your favorite part?
Stay social with all the LEGO awesomeness by following LEGOLAND Florida on Facebook, Twitter, Instagram, and YouTube.
Follow Food Wine Sunshine on Facebook, Twitter, Pinterest, and Google + for more fun things to do in Florida.