(Last Updated On: September 5, 2019)
Disclosure ~ Post sponsored by LeapFrog as a LeapFrog Mom Squad Ambassador. All playtime opinions are my own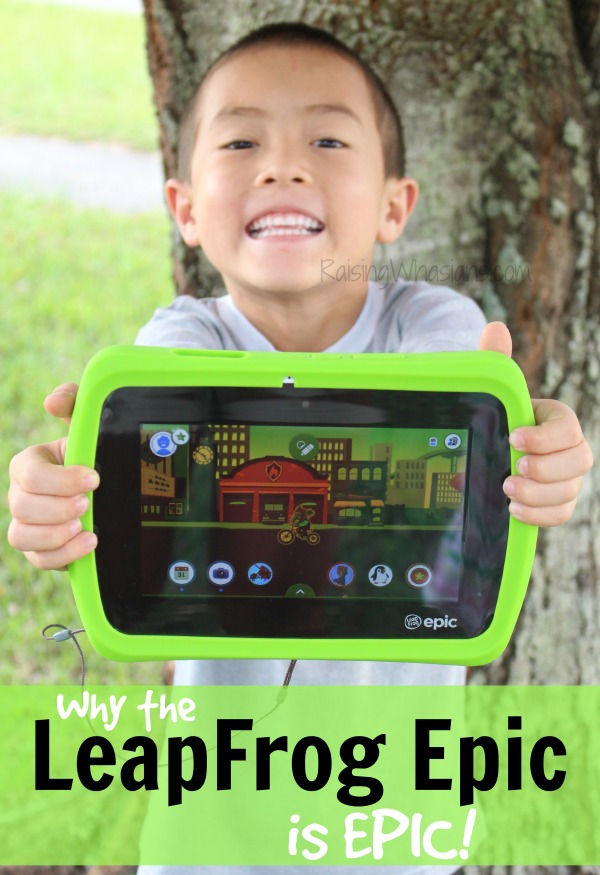 Why The LeapFrog Epic Tablet is EPIC | Full Review
Hey there, it's Christie from Raising Whasians! I'm back guest posting today to tell you all about the brand new LeapFrog Epic Tablet and why your kids will be BEGGING you for the latest toy from LeapFrog. What, another tablet? Now before you give me those skeptical stares, hear me out! The new LeapFrog Epic definitely stands up to the name. It's no LeapFrog LeapPad Platinum! Check out what makes this tablet the next generation of play for your kids with full review, comparisons and of course, play!
Let's be honest, parents. When I opened my latest box of LeapFrog goodies, I was the new tablet and was shocked. I mean, I just received a perfectly awesome LeapPad Platinum. Why would I ever need another tablet? But then we explored. We played. And we learned. And the adventure begins on the homescreen.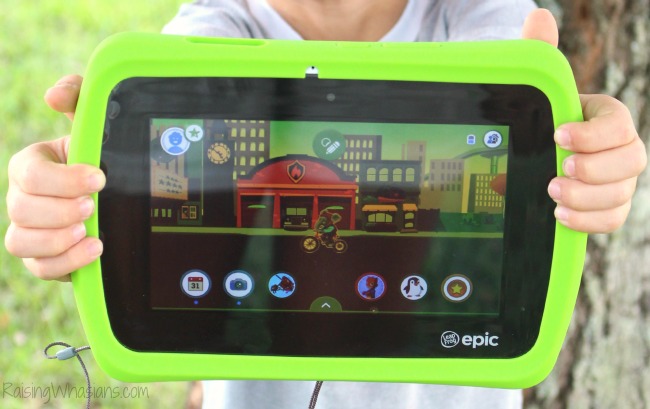 First EVER Playable Homescreen
I love how LeapFrog steps up their game (pun intended) every single time. And in a first of it's kind, LeapFrog is introducing the first ever playable homescreen. Right on the main screen of the tablet that's full of apps already, is a WORLD of fun and exploration. Your kids will love bringing their own customizable town to life with movable animated character stickers, night and day experiences, weather changes and exploring a new surprise everyday. Plus there's multiple scenes for them to interchange with to fit their style, mood and unique personality!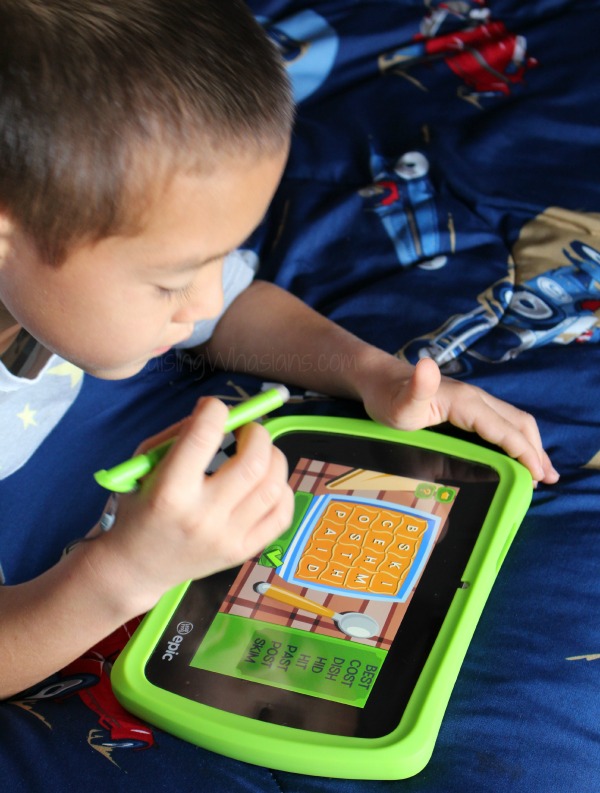 Exclusive Kid Friendly Apps
You want to talk apps. Let's talk apps. The new LeapFrog Epic comes with 20+ included apps, ready to download onto your tablet with a few clicks. Popular games such as Stretch Monkey, an amazing Art Studio and photo editor and more for hours of play are already included with your Epic.
Plus with access to more kid-favorites such as Fruit Ninja and Doodle Jump (sold separately), your kids do not have to miss out on their fave games! eBooks, games and 2,600+ skills are at your child's fingertips!
Safe Web Browsing
One of the biggest concerns I have as a parent is giving my son access to Wi-Fi. The online world can be full of potential dangers! But with LeapFrog, all apps have been pre-screened. All web content is kid-safe and LeapFrog approved. All apps are certified with no in-app purchases or annoying ads. And Parents, you are in control!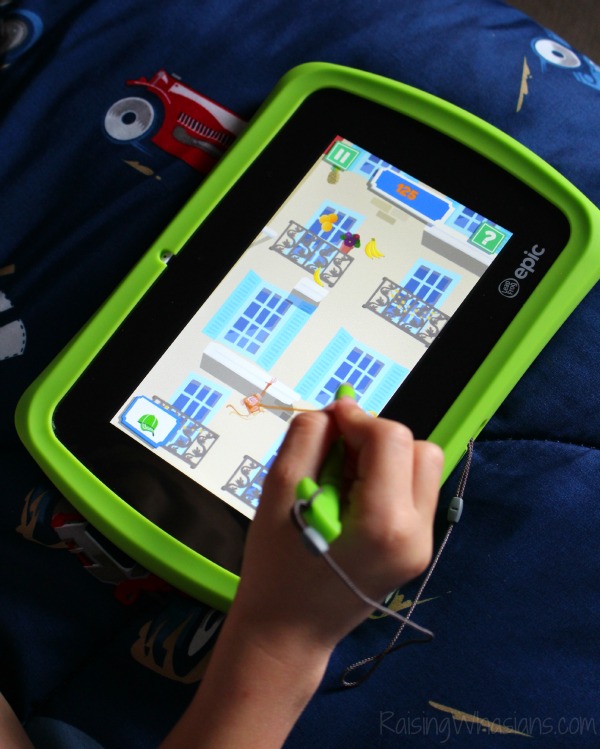 Parent Controls
Parents, this tablet is definitely thinking on your level. The Parental controls on the new LeapFrog Epic is in one word, amazing (because I couldn't use epic again). Within the tablet we can manage what, when and how long our child plays. We can customize the controls for up to 3 different profiles and give our child restricted and unrestricted access to certain websites. This tablet works with parents to provide the best possible experience for kids and adults, with easy to navigate and use menus and control options too. No crazy guess work!
I love how easy the Epic was to set up too. From start to finish we were up and running within 10 minutes, including set up of profiles for each of my kids! YES!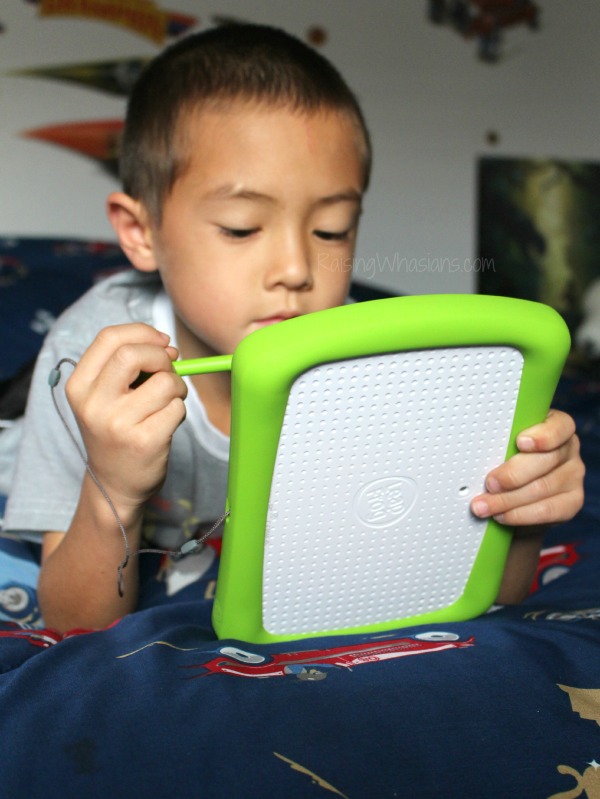 Included Extras You'd Expect from a LeapFrog Tablet
One of the things I love most about LeapFrog, is how the technology is constantly wowing us. With even more features and more included extras with your LeapFrog Tablet, this is more than just a toy. It's an investment for many years of safe play! Check out all that's included with your new LeapFrog Epic:
HUGE 7 inch touchscreen with bright colors and graphics
16 GB of memory + slot for a micro SD card
Wi-Fi Compatible
2 MP Cameras on front and back of tablet
Attached stylus
Android 4.4 based operating system
Quad-core processor
Included AC adapter & USB cord
Long battery life with rechargeable lithium ion battery
Included rubber edge protector
A few things to keep in mind with the LeapFrog Epic. This tablet is NOT compatible with your LeapFrog cartridges. So if you're looking to bring your old LeapFrog games along, make sure to have your LeapFrog LeapPad Platinum or other compatible LeapFrog device ready. The Epic is larger than the LeapPad Platinum and definitely "feels" more like a real tablet, which my 7 year old son loves. Recommended for ages 3-9 and an MSRP of $139.99, the new LeapFrog Epic tablet is ready for holiday gifting! The technology and fun your kids love, the quality from LeapFrog that parents expect, the new LeapFrog Epic has surpassed my expectations as the next generation of learning tablets for kids.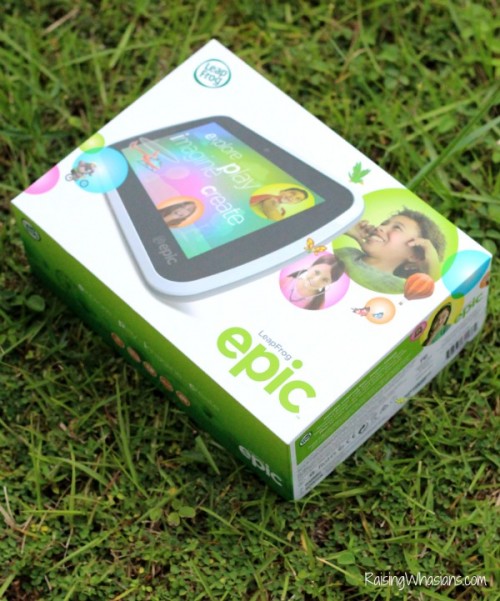 What do you love about the new LeapFrog Epic Tablet?
Want to stay connected with Christie and her family? Be sure to follow Raising Whasians via Facebook, Twitter, Google, Instagram, Pinterest and YouTube for more of your favorite giveaways!