(Last Updated On: September 5, 2019)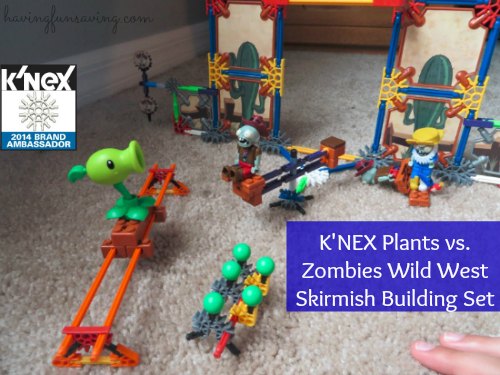 K'NEX Plants vs. Zombies Set Review + GIVEAWAY
I have told you guys before that I am a K'NEX Brand Ambassador – and that makes me a super cool mom 😉 My son loves to build and create. And I love that when he is building with K'NEX he is using his problem solving skills, following directions on his own, using his imagination, and that he gets great pride in himself when he is done!
School has been out here in FL for a few weeks, and Steven had some buddies over and he thought it was the perfect time to have some fun with the K'NEX Plants vs. Zombies set! They all worked together to build the set and them they had fun with the peashooter 🙂
K'NEX are great any time of year, but I am really liking them this summer – they are the perfect solution to the "I'M BORED!" moments!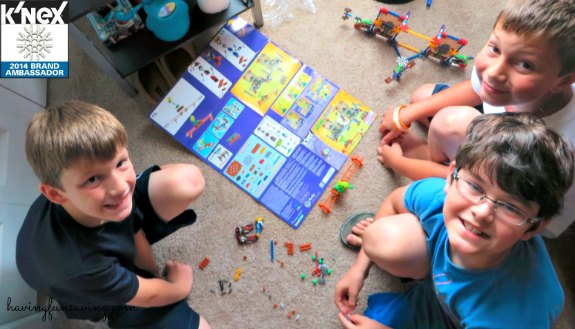 Are your kids familiar with the Plants vs. Zombies app? Well, with this Plants vs. Zombies Wild West Skirmish Building Set from K'NEX they get to bring it to life! As Crazy Dave uses a time machine to travel back in time, you find your self in the Far Future instead! You must use plants must defeat Zombies to save your brains. This building set includes K'NEX rods and connectors (All Rods and Connectors are Made in the USA!) to build a Wild West scene, Peashooter tracks and launchers.I love that the set has 4 figures – Peashooter, 2 Cowboy Zombies and a Prospector Zombie.

This set is recommended for kids ask 5 and up. All the boys pictured are 9 and up and loved it 🙂
Where do you find this fun K'nex Plants vs. Zombies Wild West Skirmish Building Set? Well, right online, on Amazon, and of course at your favorite retailers like Toys R Us.
Make sure to follow K'NEX on Facebook, Twitter, Instagram, Pinterest, and YouTube.
While you are at it – stay up to date with me too 🙂 Find Food Wine Sunshine on Facebook, Twitter, Pinterest, and Google +.
Now, how about a GIVEAWAY?
That's right – thanks to the fabulous folks at K'NEX one lucky reader will WIN this Plants Vs. Zombies Set!
Here's how to enter:
Disclosure: I received no compensation for this publication. Food Wine Sunshine did receive products from review from the above company because I am a K'NEX Brand Ambassador. My opinions are my own and may differ from those of your own.