(Last Updated On: September 4, 2019)
Eating out with the whole family can be expensive, that's why we love Steak 'n Shake's Kids Eat Free offer. Kids Eat Free All Day Every Day! While this post is sponsored, all opinions and our love for Steak 'n Shake are our own.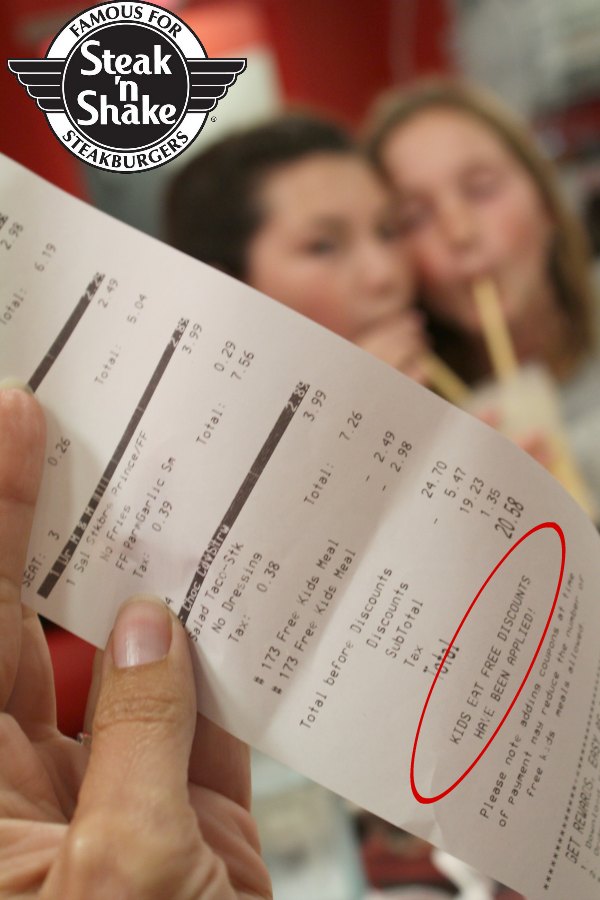 Kids Eat Free All Day Every Day at Steak 'n Shake
My kids love going out to eat. While, I love the quality time it gives us and the night out of the kitchen, I hate the bill that comes at the end of the meal. To feed a family of four can be pretty costly, especially when your kids beg for dessert ;). I know that some places have Kids Eat Free Promotions, but the days and times that they are available don't always fit into our schedules. You know, when baseball practice is, gymnastic class, homework, etc. So, while I appreciate the Kids Eat Free promotions, sometimes they just don't work.
Or do they?
What if there was a restaurant that expanded Kids Eat Free to All Day Every Day?
Well, that's exactly what Steak 'n Shake has done! Kids can eat FREE all day every day (ages 12 and under). Kids can order their favorite Kids Plate for FREE any time during the day, any day of the week, with a qualifying purchase.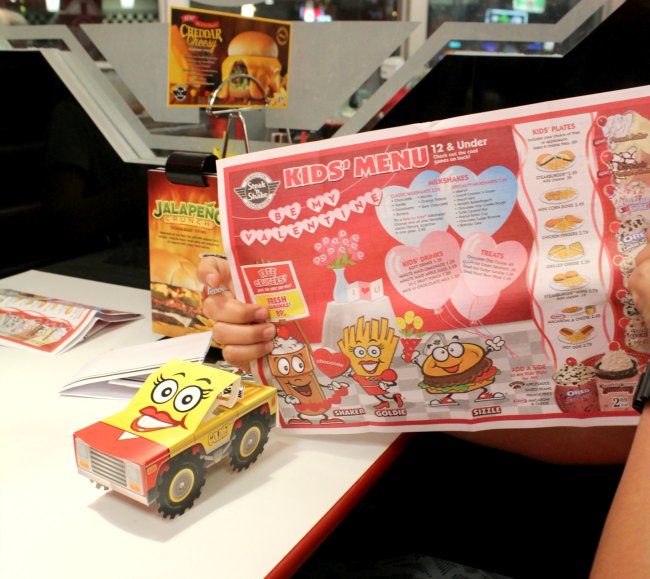 I love the flexibility of the offer, because LIFE HAPPENS! In fact, I told the kids yesterday that I would take them out to dinner right after school, at 4:30, so they could get home and do their homework. Then I had a friend call me that needed to talk, and before you knew it we weren't leaving until after 6:00. But that's okay…the kids still got to order whatever they wanted and I was still the fun mom for taking them out. Being the fun mom doesn't have to cost a fortune thanks to Steak 'n Shake.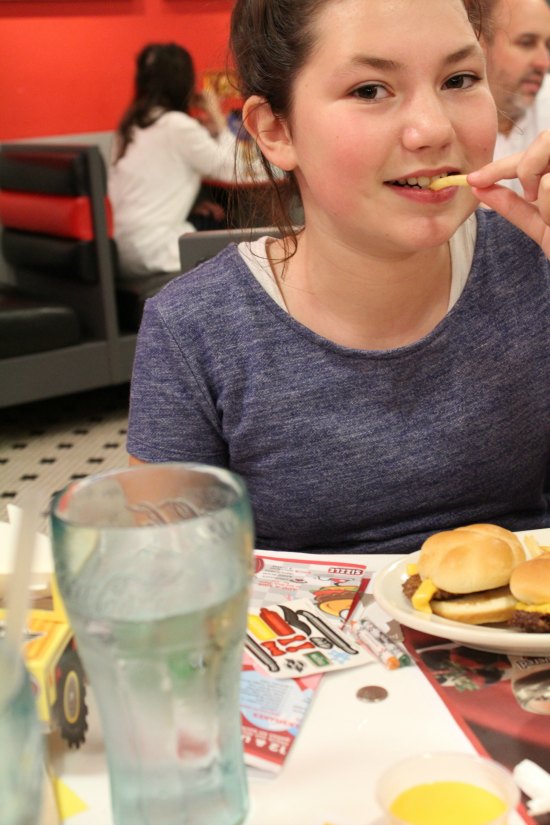 I ordered the Taco Salad and the kids enjoyed steakburgers KRAFT® Macaroni & Cheese.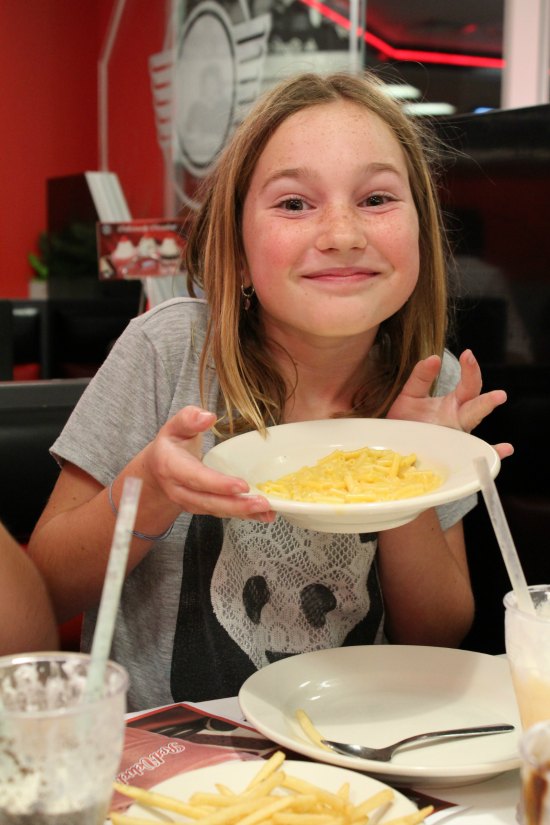 Of course we all had to have a hand-dipped milkshakes. You simply can't resist a Steak 'n Shake hand-dipped milkshake! Chocolate covered Strawberry for me please 🙂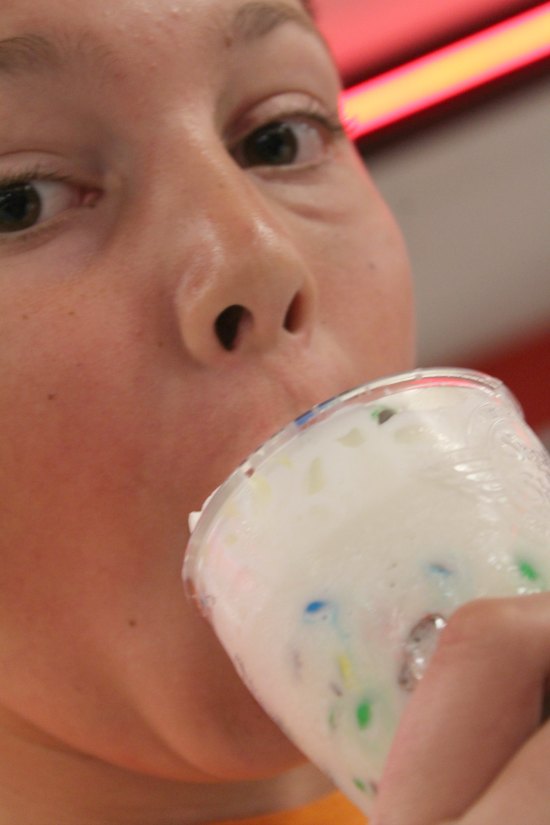 There are several delicious options for kids and they are served with a choice of fries or applesauce.
Here are the Kids plate options:
Steakburger™
Mini Corn Dogs
KRAFT® Macaroni & Cheese
Steakburger™ Minis
Hot Dog
Grilled Cheese
Chicken Fingers
The Kids Eat Free All Day Every Day promotion at Steak 'n Shake is available at more than 400 participating restaurants across the country. So, grab the family and head to your local restaurant and take advantage of this dine-in only offer.
Find a Steak 'n Shake near you
Why does my family love Steak 'n Shake?
They have proudly served premium Steakburgers and hand-dipped milkshakes since 1934, so they have mastered it by now 😉 . The restaurant prides itself on being a family tradition, beloved by kids and adults alike. Plus, they understand that us parents like a break from the kitchen, and appreciate a break on our wallets! Parents and kids can enjoy their meals and family bonding time with the added benefit of it being a free meal for the kids.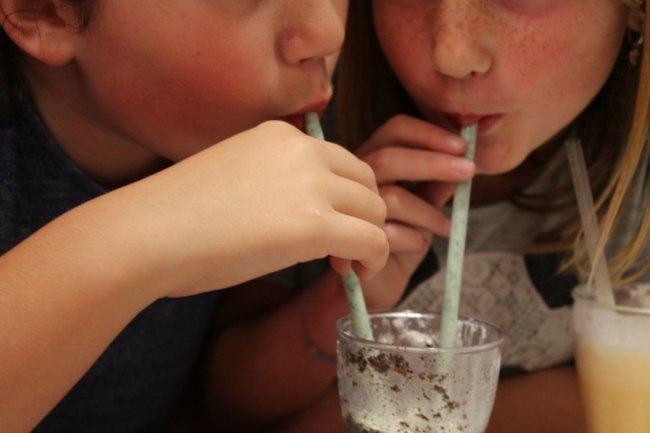 Here are all the money-saving offers available at Steak 'n Shake:
Kids Eat FREE – one free Kids Plate to children 12 and under for every $9 spent.
Half Price Happy Hour — Weekdays from 2-5 pm and am all drinks and shakes are ½ price, including any size Iced Tea or Sweet Tea for only $0.50.
24 Meals Under $4 menu is offered all day and every day.
Check out the full Steak 'n Shake menu
Do you like to take advantage of Kids Eat Free dining?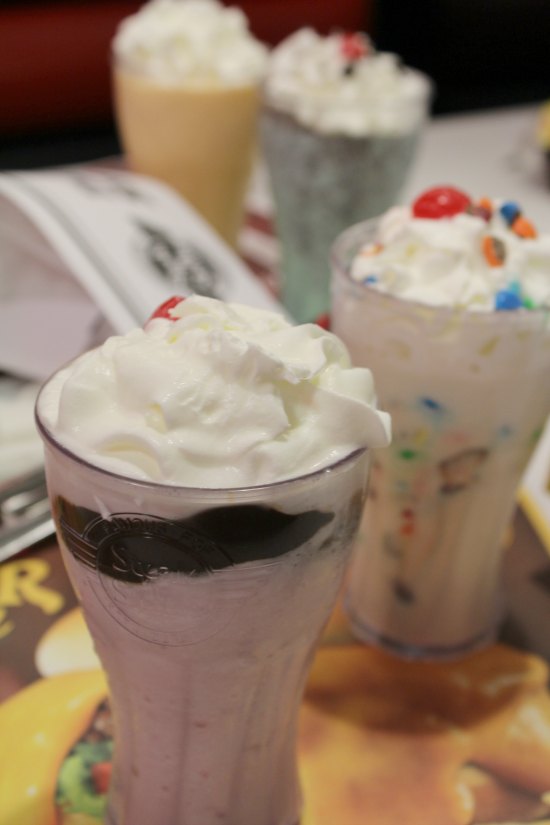 Stay Social with Steak 'n Shake to stay up to date with the latest deals and meals by following on Facebook, Twitter and Instagram
While you are at it make sure to check out Food Wine Sunshine on Facebook, Twitter, Pinterest, Google + and Instagram for more fun things to do in Florida, recipes, and more.