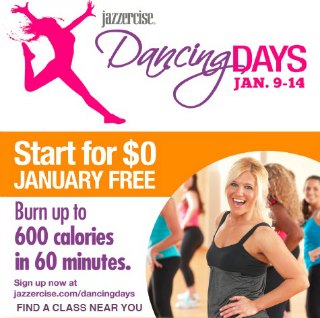 Jazzercise Classes Sale – Start for FREE Thru 1-14-14
It's January. It's a New Year. Did you make resolutions? I don't really make them in the formal sense, but I do have goals. And I will say that #1 is getting back into my exercise routine! I did the Disney Wine & Dine Half Marathon in November, took a week to relax…then BAM the holidays hit and everything was all thrown off.
The kids go back to school tomorrow and I am very excited to get back to working out. I feel better about ME. The time that I spend working out is really the only ME time I give myself in a day. All the other hours are spent working, cooking, cleaning, and having fun being a mom. I NEED that 1 hour of ME time.
Since I know this is very important to me, I thought you guys would like to know that Jazzercise is having a FUN sale starting 1/9.
It's $0 to start when you sign up for $43 EFT and NO Joining fee with a 12 month commitment. Or you can pay a $29 joining fee with $48 EFT and 6 month commitment. No monthly payment comes out on either one until Feb. 1st.
You can go into your local Jazzercise location or sign up for Jazzercise online.
I go to the location in Lutz, FL…Here is the schedule…there are a BUNCH of class options to fit every schedule.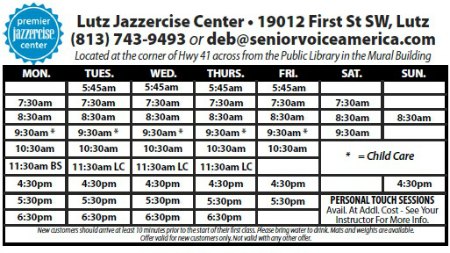 If you have any questions about Jazzercise, you can also feel free to email me – I would be more than happy to help out in anyway possible. Email me at havingfunsaving at yahoo (dot) com.
Have fun saving….and exercising at Jazzercise!