(Last Updated On: August 9, 2019)
JALAPENO POPPER DIP Recipe
I have another FUN recipe to share with you guys this afternoon. The folks over at French's emailed me one that I am sure to love…JALAPENO POPPER DIP.
So if you're looking to score big points with friends and family at your Big Game Party, try French's® new Jalapeno Popper Dip.
I love that this one requires only five simple ingredients, including 100% natural French's Mustard and fresh jalapenos, flavor fans give French's Jalapeno Popper Dip high scores for both taste and convenience. With every spirited bite, it's easy to see why this is a must-have recipe for any game day menu.
"The beauty of this dip is that it can be served hot or cold and packs a lot of flavor," says Timo Oluschinsky, Senior Brand Manager for French's Mustard. "The profile is bold yet it appeals to a broad audience; one seeking adventures in taste, but not overpowered by a single ingredient." The combination of jalapenos and French's Mustard, blended with the cream cheese, results in an exciting flavor experience that pairs well with crackers, chips and even fresh vegetables.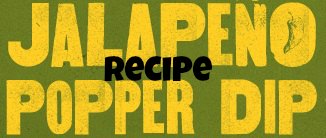 Jalapeno Popper Dip
Author:
Prep time:
Total time:
Ingredients
1 pkg. (8 oz.) cream cheese, softened
1 cup mayonnaise
1 cup shredded Mexican blend or cheddar cheese
¼ cup French's® Classic Yellow® Mustard or French's® Spicy Brown Mustard
4 jalapenos peppers, seeded and diced or 1 can (4 oz.) diced jalapenos, drained
2 tbsp. Panko bread crumbs, toasted (optional)
Instructions
Combine all ingredients except bread crumbs in a medium bowl.
Sprinkle bread crumbs over dip just before serving.
Serve with tortilla chips.
Notes
For a hot dip, turn into 1-quart ovenproof dish; top with bread crumbs. Bake at 375°F for 20 minutes or until hot.
Actually, Jalapeno Poppers are one of my absolute favorite appetizers so this is a recipe that I will not only serve for game gatherings, but just for weekend FUN!
Find more recipes over on Frenchs.com
Disclosure: The folks at French's shared this recipe and information with me. I did receive a coupon and a fun grilling set to get me grilling 😉 No other compensation was received. All opinions are 100%.