(Last Updated On: July 3, 2019)
The holidays are quickly approaching, if you are making your list and checking it twice, these 7 Holiday Shopping Tips help you stay on budget and have fun! While this post is sponsored, all opinions are my own.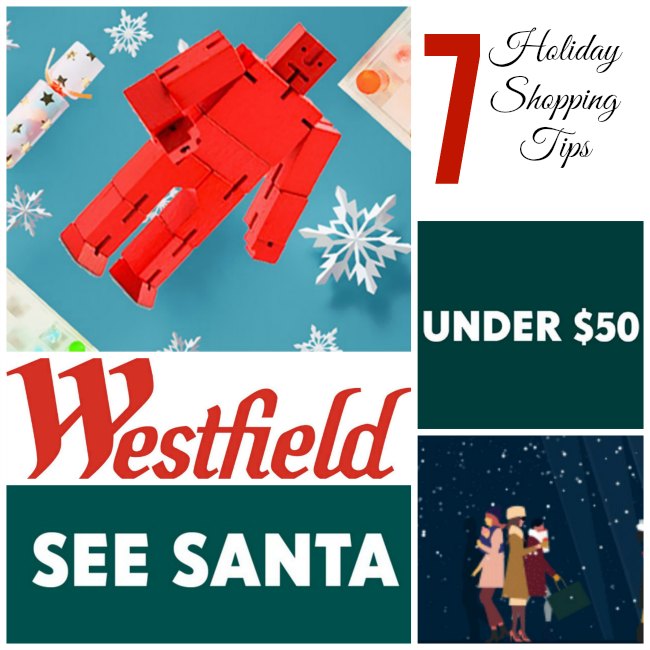 7 Holiday Shopping Tips
+
Why I Will Be Shopping at Westfield
I don't want to scare you, but the holidays are just around the corner. If you are like me, you have a general idea of what you of what need to buy, but you haven't actually pin-pointed it yet and definitely haven't bought everything. I am not stressing out just yet, as we still have a little bit of time, but I am deal-hunting. I don't see any point in buying something at full-price! This gives me the ability to shop smart, not get buyer's remorse, and get more off of my holiday shopping list.
As the biggest holiday shopping day of the year quickly approaches, I wanted to share a few holiday shopping tips to hopefully help you plan and save.
7 Holiday Shopping Tips
Pay Cash – This will prevent you from spending more than you have
Your know limits – If you can't pay cash, pay attention to how much you are putting on your credit cards
Start shopping early – if you know some gifts or even stocking stuffers that you get every year, start getting them as early as possible
Make a list – and stick to it. Write down who you are buying for and the gift ideas for them. Be sure to update your list as you buy things, you don't want to double-buy for people!
Do some online research – Looking for a new camera? Laptop? Watch? Be sure to look online at reviews and prices at different locations so you know you are getting what you want for the best price.
Shop the sales – A lot of places start their holiday sales now before Black Friday.
Consider DIY – You don't have to be super crafty to make something special for the holidays. These Christmas Mason Jars and Wine Cork Reindeer are two of my favorites.
So, where does this Tampa girl get her smart-shopping done? At Westfield Shopping Malls. I love that they are actually starting their holiday deals early, so I don't have to worry about the crowds and craziness of Black Friday if I decide to sleep in.
Know why else I love shopping at Westfield? Not only can I get my shopping done all in one place, they also helped me with my holiday shopping planning.
Let Westfield help you with your holiday shopping planning too!
Not sure what to get everyone on your holiday shopping list? Westfield has you covered! Westfield has a gift ideas for hosts, techies, for those that love a bit of bling, kids and more.
Trying to find prices within your budget for everyone on your list? Westfield has you covered their too, they have gift ideas listed online at all price points.
Looking for ways to give back? Look for the Westfield supports St. Jude Children's Hospital. So, while you are shopping, be sure to keep that in mind, St. Jude does wonderful things for families.
Are you starting to see a theme here? Westfield is your one stop place to shop this holiday season! Not only will Westfield Shopping Malls start their deals early, on November 20th, but you can bring the family for some holiday fun at each of the centers too!
Learn more about the holiday festivities at Westfield
Westfield Shopping Center Locations:
Westfield Brandon
Westfield Citrus Park
Westfield Countryside
What are some of your holiday shopping tips? Will I see you this holiday season at Westfield?
Make sure to check out Food Wine Sunshine on Facebook, Twitter, Pinterest, Google + and Instagram for more fun things to do in Florida, recipes, and more.