(Last Updated On: September 5, 2019)

HearBuilder by Super Duper Publications Review – Amazing Learning Tool for Children
The school year is over half way over now and I can tell you, that my kids least favorite thing to do is homework. The worst is when they get frustrated and then I get frustrated. There have been times, I am embarrassed to say, that I have left the table crying because I could not understand why I wasn't "connecting" with the kids on a homework problem.
My family is the most important to me, and I would do anything in the world for my kids. So, seeing them struggle on something like school work is heart breaking! Or, when they are doing great, but have absolutely NO interest in the subject, doing homework, or really trying to excel. I know I'm not the only mom out there that has heard "It's so boring!".
So, when Super Duper Publications came to me with the amazing opportunity to review The HearBuilder Collection I was very excited. A program that is fun, keeps your child interested, gives rewards, and teaches them all at the same time…YES PLEASE 🙂
Check out the 90-second video introduction to what HearBuilder is and how it works.
Each year kids head to school ready to grasp a new level of knowledge from simple math and spelling to more complex reading and writing. But for kids who learn differently — and that is a very broad base — basic skills like following directions or grasping the phonics in phone (f-o-n) or brew (b-r-u) have yet to be mastered.
Put another way, imagine attending a birthday party and you hear: put your right hand in, put your right hand out, you put your right hand in, and you shake it all about! For children who struggle with following directions, this innocent game can bring tears. This is where The HearBuilder collection from Super Duper Publications comes into play. It is where kids play a fun computer game while mastering skills like remembering and recalling information. I had no problem at all getting Sadie to play the games. I told her that a new computer game can in the mail for her and she ran right upstairs to the desktop. I don't think getting her to "learn" has ever been that easy 😉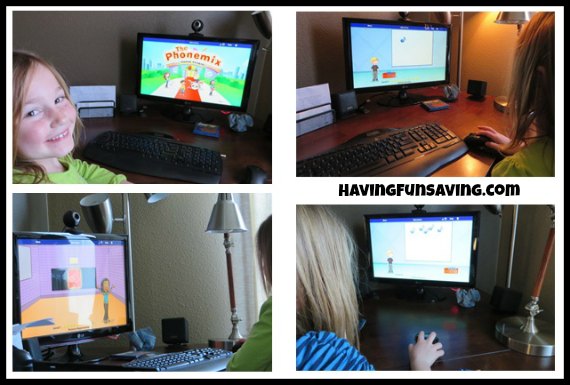 As a parent, I love that The HearBuilder Collection is available as a CD or online subscription at a variety of price points based on the needs of you and your child or maybe your organization. HearBuilder addresses four important early skills areas of learning – reading, listening, memory and comprehension. Best of all, the games, like the one where a child embarks on a secret mission with Recall Agents Kim and Joey to save Memory Town from Dr. Forgetsits; are sure to hold a child's interest while challenging them to master these all-important skills!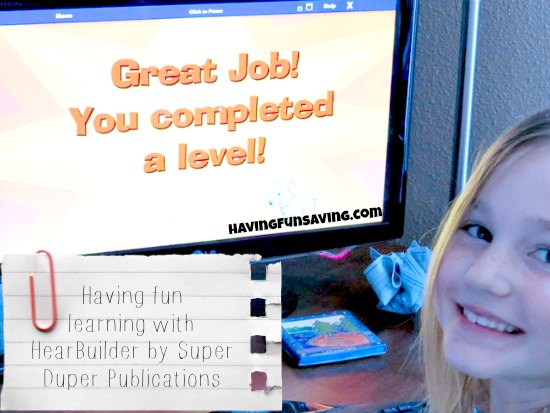 Each of the HearBuilder programs offers multi-level activities that gradually increase in difficulty, track progress and provide detailed progress reports. Perhaps most important, an alert can tell grownups when a child is struggling at a particular point. How amazing is that?! That way we know what areas may need a bit more attention.

Here is some information about each program….
HearBuilder Following Directions:
Develop essential listening skills as they learn 40 basic concepts.
Become Master Toy Makers while building Toy Central factories.
Learn to follow five different types of directions: Basic, Sequential, Quantitative/Spatial, Temporal, and Conditional.
HearBuilder Phonological Awareness: – Sadie has a lot of fun with this one, she likes that it works with music
Practice nine activities to help them hear the sounds in words, syllables, and sentences.
Earn instruments and band members to form the rock band The Phonemix.
Move from basic activities (Sentence Segmentation, Syllable Blending, Syllable Segmentation) to more difficult ones (Rhyming, Phoneme Blending, Phoneme Segmentation/Identification) to the hardest tasks (Phoneme Deletion, Phoneme Addition, and Phoneme Manipulation).
HearBuilder Auditory Memory:
Practice memory strategies as they recall numbers, words, specific details, and multiple sentences.
Embark on special missions with Recall Agents Kim and Joey to save Memory Town from Dr. Forgetsit.
Learn memory strategies for answering WH questions.
HearBuilder Sequencing: – The Fun House is FUN – make sure to check that one out!
Practice skills such as reading left to right, understanding details, predicting, and identifying important parts of stories.
Go to the Sequencing Fun House, earn tokens to use in the Arcade, and become Sequencing Superstars.
Put 120 illustrated scenes in order, starting with basic 2-step sequences and progressing to 6-steps.
I love that each of the four subject areas can be purchased separately on CD or you can buy the whole collection…depending on what your child needs. You can buy the Home or Pro versions for the full set on CD, and the very reasonable online subscription price of $59 a year for those families who do not need a physical CD.
Not sure which program is right for you and your child? All of the programs and games have free demos on the site so everyone can try them out!
Make sure to check out the Super Duper website, check them out on Facebook, follow them on Twitter, subscribe on Youtube and check out their Pinterest board!
While you are at it – stay up to date with me too 🙂 Find Food Wine Sunshine on Facebook, Twitter, Pinterest, and Google +.
Disclosure: I received no compensation for this publication. I did receive products from review from Super Duber Publications. My opinions are my own and may differ from those of your own.