(Last Updated On: September 4, 2019)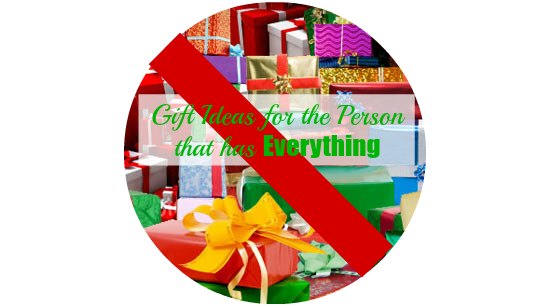 5 Gift Ideas For The Person That Has Everything
I know we all have people on our holiday shopping list that you just don't know what to get for them. As we get older, the material "things" that we need get fewer and fewer. But that doesn't mean that you don't want to get those loved ones something to show them you care this holiday season. So, you ask…"What would you like for the holidays this year?" Or, you don't ask and you end up buying something just to buy something.
I go through this battle every year when I try to think of something to get my parents. So, I thought I would share some of my favorite ideas to get those on your holiday shopping list that just don't need anything.
Gift Ideas for Those That Have Everything:
Gift cards to their favorite restaurant – you know it will get used!
Gift card or reservation made to a Bed and Breakfast or Hotel – I do this for my parents every few years 🙂
Make a donation to their favorite charity in their name – Check out the Holiday Donation Card Options from St. Jude
Plan a Spa Day, manicure, or pedicure – this is a splurge that many don't do for themselves but definitely will enjoy
Give the gift of TIME – For example: Offer to shovel the snow or cut the grass
If you have other gift ideas for those that have everything – please feel free to share them, I would love to add them to my list!