(Last Updated On: August 27, 2019)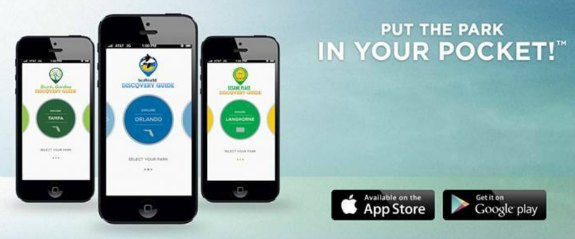 Get The SeaWorld & Busch Gardens App – Put The Park In Your Pocket
I thought I would let you guys know that going to your favorite Central Florida Theme parks just got a bit easier. Yep, SeaWorld Entertainment, Inc. just launched an Enhanced Mobile App for SeaWorld, Busch Gardens and Sesame Place parks.
New features include interactive park maps, one-touch purchasing, contextual messaging and games!
The SeaWorld, Busch Gardens and Sesame Place Discovery Guide mobile apps offer new features for a more personalized and interactive experience during a park visit, and can be downloaded free from the Apple or Google Play app stores.
Each park's Discovery Guide app will save you time and increase your enjoyment as you navigate through the park using GPS-enabled interactive maps, access real-time updates of show schedules and events and receive broadcast park notifications. These combined features are unique to the theme park industry and address the desires of today's connected customer.
The multi-year focus on digital innovation includes the recent introduction of mobile ticketing and responsive Web design, among the first in the theme park industry. The investments go beyond new technology, but also extend to park operations for a guest experience that is more interactive and connected.
Features include:
• Planning: Up-to-the-minute ride wait times and show times, ride-height filters, car finder function and insider park tips help make the most out of a visit. The interactive map provides a walking path showing clear starting and ending points with estimated walking time.
• Easy purchasing and upgrades: This summer, a mobile wallet will be added with one-touch purchasing. This allows guests to make spur-of-the-moment upgrades to skip lines with Quick Queue or add the All-Day Dining Deal. Later this year, new functionality will even allow guests to pre-order meals on the go for easy pick up at select locations.
• Push notifications: Starting next month, guests inside the park will be alerted automatically on their mobile device with offers and discounts only for app users, such as tours or culinary specials. In future releases, guests will receive contextual notifications, based on interests particular to each guest.
• Gaming: The 50th Celebration Scavenger Hunt follows a growing trend in gaming and is available at all three SeaWorld parks. Guests collect badges as they visit locations throughout the park to earn valuable in-park rewards. New games for additional parks will be added in 2014.
• Sharing: Fun photo frames used to showcase photos taken in the parks can be easily shared on social channels.
The new mobile apps offer a more personalized and interactive approach using technology that's easy to access from a device guests already use every day.
Mobile app users will be automatically notified to upgrade to the new Discovery Guide when more new features are launched throughout the year.
For more information about the new Discovery Guide mobile apps, check out the video here.