(Last Updated On: September 4, 2019)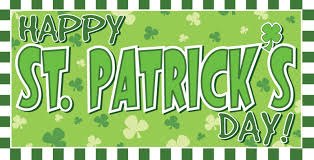 Frugal Family Fun – St. Patrick's Day Fun
Since St. Patrick's Day is today, I thought we would do some FUN crafts and snacks to celebrate. Do your kids do anything special at school to celebrate? Do you do anything fun at home like make the toilet water green? My kids make cute traps for Leprechauns at school!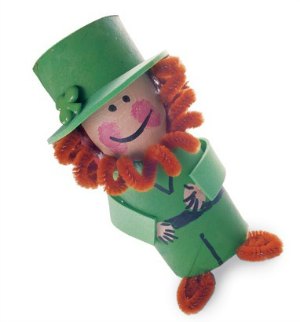 How to make this cute little Leprechaun Craft!
What You Need:
Toilet paper tube
Green craft foam
Acrylic paints: green, skin-tone, pink, and brown
Black permanent marker
Tacky glue
4 brown pipe cleaners
Decorative button
What You Do:
First trace around the end of a toilet paper tube onto a piece of green craft foam.
Draw a 2 1/2-inch circle around the first circle, then cut them both out to create a hat top and brim and set them aside.
Using acrylic paints, paint the paper tube green. Add a skin-tone face and hands, plus rosy cheeks, as well as a band of brown paint around the back for hair.
Once the paint has dried, use a permanent marker to draw on facial and clothing details, then use tacky glue to stick on 3 coiled brown pipe cleaners: 2 in the back for hair and 1 around the face for a beard. For feet, fold another pipe cleaner in half, then tightly coil and pinch the ends, as shown.
Place the folded pipe cleaner inside the tube and glue the feet to the edge. Glue on the hat top and brim and a 5 1/2- by 1/2-inch strip of craft foam for arms.
Finally, glue a decorative button to the hat brim.
There are a bunch of St. Patrick's Day themed events going on around my town for FREE – I'm sure there are in your neck of the woods too – The easiest thing to do is to search "Free Family St. Patrick's Day activities in XXXX) and you'll be surprised by all the local goodies you'll find!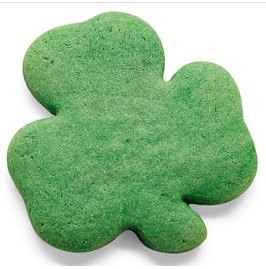 Need a sweet snack to help celebrate? I found adorable shamrock cookies 🙂
Shamrock Cookies
Prep time:
Cook time:
Total time:
Ingredients
2 3/4 cups all-purpose flour
3/4 tsp. baking soda
1/2 tsp. salt
1 cup butter at room temperature
1 cup sugar
1 large egg
1 tbsp. vanilla extract
Green food coloring
Instructions
Measure the flour, baking soda and salt into a medium-sized bowl.
Stir well and set aside.
In a large bowl, cream the butter and sugar with an electric mixer for about 1 minute. Add the egg and vanilla extract and mix until well combined.
Gradually add the flour mixture to the butter and sugar, mixing well after each addition. The dough should be stiff.
Add several drops of green food coloring.
Knead the dough until the color is evenly distributed. (Make sure children wash their hands immediately after kneading–food coloring can be messy.)
Gather the dough into two balls, flatten into disks beginning at the edge of the dough and working toward the center.
Cover with plastic and chill for at least 2 hours or overnight.
After the dough has chilled, place one half on a large piece of plastic wrap, cover with another piece of plastic wrap and then roll until it is 1/4-inch thick.
Lift off the top sheet of plastic wrap and cut out shamrocks, beginning at the edge of the dough and working toward the center.
Place each shamrock on an ungreased baking sheet.
Heat the oven to 350 degrees.
Bake for 8 minutes or until the edges begin to lightly brown.
Remove to a rack to cool.
Decorate them with green candies or frosting if desired
I know I have said a couple times that Family Fun is one of my favorite websites – that's where the goodies were found for today's FUN too!
Have a safe and FUN St. Patrick's Day!
Don't forget to check out the FREE, FUN weekend activities for the month of March! Be sure to follow Food Wine Sunshine on Facebook, Twitter, Pinterest, Google + and Instagram!