(Last Updated On: September 4, 2019)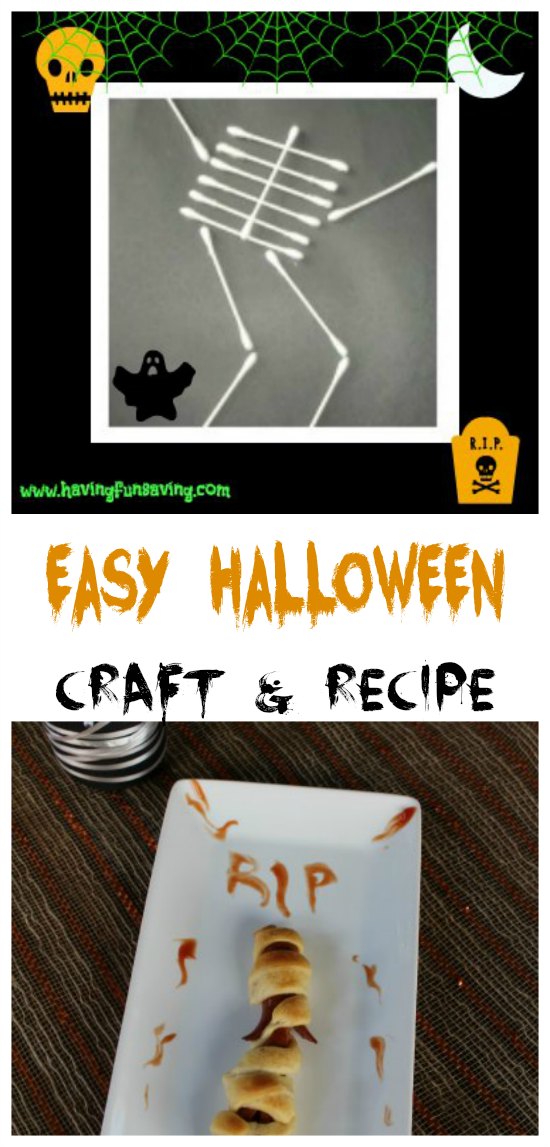 Frugal Family Fun – Halloween Craft & Recipe
Halloween is just about here, so I thought I would share a FUN craft and recipe this week that the whole family can do and it will get the kids even more excited about the upcoming FUN!
My kids love making this Skeleton Craft each year – and I like it because it's easy and doesn't make a huge mess 😉 Not to mention – they are super cute!
What You Need:
Q-tips
Black construction paper
White paper (optional)
Black marker (optional)
Scissors
Glue
What You Do:
Glue 6 Q-tips on the black paper to make the skeleton's ribs.
Glue 1 Q-tip perpendicular over the ribs to act as the backbone. Have the Q-tip lie flush with the last rib, but poke up longer than the top rib, to act as the neck bone
Glue 4 whole Q-tips for the arms and legs
Cut 6 whole Q-tips in half, or make them even shorter if you like. Glue them in place. Now give your skeleton some fingers and feet!
For the head – you can do several things…Use a white crayon and draw one on the back paper, make one on white paper, cut it out and glue it on the black paper, or grab a cotton ball and use the marker to give it a face and glue the cotton ball on for a head!
If you are looking for some delicious Pumpkin recipes…check these out: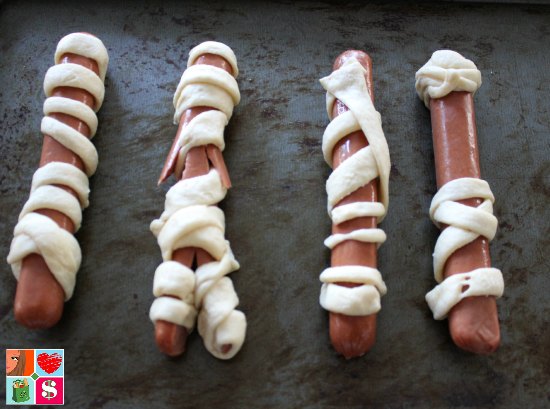 I'm sure everyone has had a Mummy Dog! We actually haven't made them this season yet, but plan too 😉 We usually make Santa ones for Christmas and I have to say that Mummy Dogs are MUCH easier. And we all know that I am all about easy in the kitchen!
What You Do:
1 can (8 oz) refrigerated crescent dinner rolls
Hot dogs (you can easily make 8 with one can of crescent dough – but make as many or as little as you would like!)
Cooking spray
Mustard or ketchup, optional
What You Do:
Heat oven to 375°F.
Unroll dough and separate, now press perforations together to make two larger rectangles
With knife or kitchen scissors, cut each rectangle lengthwise into thin pieces (you can get about 40 strips of dough).
Wrap pieces of dough around each hot dog stretching dough slightly to completely cover hot dog. Making your Mummy Bandages! About 1/2 inch from the top of each hot dog, separate "bandages" so you can make a face.
Place wrapped hot dogs on an ungreased cooking sheet and spray dough lightly with cooking spray.
Bake 13 to 17 minutes or until dough is light golden brown and hot dogs are hot.
You can use mustard or ketchup to draw eyes and noses on the face.
Don't forget about the Halloween Party ideas and the Halloween Pumpkin Milk Jug Craft I told you guys about!
Be sure to check out all the delicious recipes on Food Wine Sunshine and follow me on Facebook, Twitter, Pinterest, Google + and Instagram.