(Last Updated On: August 27, 2019)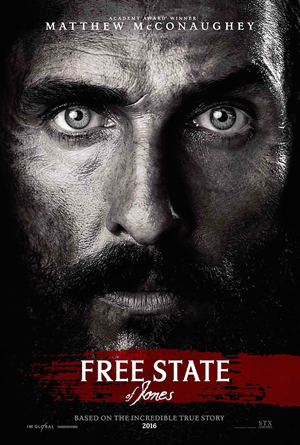 Free State of Jones Movie Review
Matthew McConaughey's latest movie FREE STATE OF JONES released in theaters on Friday, June 24th. We had the opportunity to watch a screening of the movie, it is based on a true story, and stars Academy-Award winner Matthew McConaughey as Newt Knight, a Southern farmer who became a leader that inspired a rebellion.
Set in the civil war era, this film brings to life the trial and tribulations that the soldiers and servants endured on a daily basis to defend their "rights". The film questions the validity of those rights through several characters eyes with Newt Knight leading the charge against "slavery". The movie was a stunning and vivid depiction of the plight from Slavery to Freedom and a must see for all who take our liberties for granted. No matter what your political affiliation, this movie should motivate each and everyone to vote this coming election and stop taking our liberties for granted.
Here's a bit more about the movie:
Knight rallied those who believed that, no man ought to tell another man what he's got to live for – or what he's got to die for. He and his men fought for freedom, equality, and the ideal that, no one can own a child of God.

The film explores the issues of class inequality and race relations that permeate the south during the Civil War. It also tells the story of men and women during this tenuous time who have a strong faith in God, but are dealing with a moral struggle in regards to that inequality and the laws they are forced to follow.
Free State of Jones is a Must See Election Year Movie.
Be sure to follow Food Wine Sunshine on Facebook, Twitter, Pinterest, Google + and Instagram for more tips, recipes and more!