(Last Updated On: August 27, 2019)
Busch Gardens Summer Camps are filled with fun, learning, and more for your kids. Register now for your kids' favorite Summer Camp at Busch Gardens.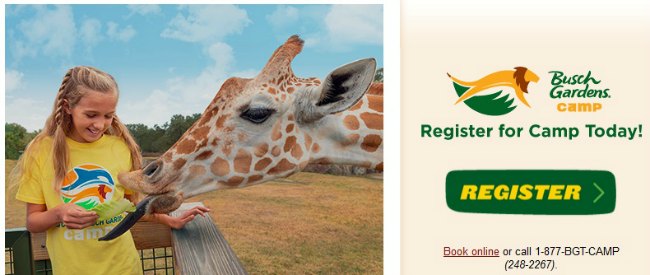 Explore More At Busch Gardens Summer Camps
Are you looking for a summer camp that offers MORE. That let's your child explore, have FUN, learn, and get to create memories that will last a lifetime? Well, then look no further than Busch Gardens.
For more than 25 years, Busch Gardens Tampa has provided children with inspiring, exciting and educational experiences with some of the best Tampa summer camp options found anywhere! They have the perfect variety of Summer Day Camps to fit your student's grade level and interest!
Learn more about Busch Gardens Tampa Summer Camps
Here are the Camps available for each grade level:
Grades K through 1
Critter Kids – Get up-close with animals that burrow, climb, swim and fly.
Wildlife Warriors – Discover what makes animals unique and what you can do to help animals in your backyard.
Super Storytellers – Discover the wondrous history of animals from far-away places through the storytelling adventures.
Grades 1 through 2
Colorful Communicators – Learn how animals use camouflage to find friends or stay hidden from predators.
Habitat Helpers – Explore animals and the creature comforts they need to call an environment home.
Planet Patrollers – Travel Busch Gardens in search of animals from around the world.

Grades 3 through 4
BioBuddies – Meet animals from the land and the sea, with a day trip to SeaWorld.
Super Sleuths – Get to the bottom of how the park operates with a week of thrills, splashes, and shows.
Zoo Chefs – Make lunch for a lemur and feed a giraffe as you learn what it takes to feed all the animals.
Grades 5 through 6
Adventure Apprentices – Discover the behind the scenes secrets it takes to keep Busch Gardens running smoothly.
Creature Researchers – Learn the skills it takes to be a wildlife researcher by observing a variety of animals.
Splash Seekers – Enjoy Busch Gardens, Adventure Island, and SeaWorld as you discover the thread that ties them all together.
Grades 7 through 8
Junior Zookeepers – Discover what it's like to work with exotic animals.
SEA Trekkers – Explore Busch Gardens, splash through Aquatica and spend the night at SeaWorld.
Thrill Seekers – Learn team-building skills as you experience the thrills.
Grades 9 through 12
Counselor in Training – If you are looking for something fun to do this summer, that will provide you with valuable career experience, then the Busch Gardens Counselor in Training program (CIT) is the summer camp program for you. This week-long program offers you a real opportunity to learn from the best. Our expert educators will share their experience and knowledge with you on topics from child development to zoo careers and environmental awareness. You'll complete a specialized orientation and participate side by side with our camp counselors during our summer day camp programs. Application required
Have your children been to a Busch Gardens Camp before? My kids are going for the 1st time next week and are so excited!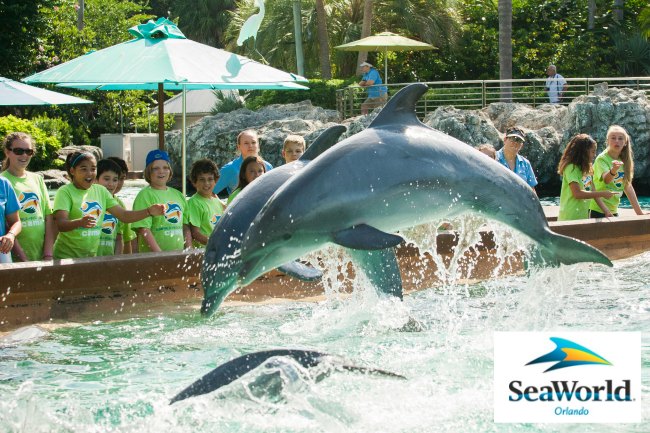 Live closer to Orlando? Don't forget about the Summer Camps at SeaWorld Orlando!
Check out Busch Gardens on Facebook , Twitter and Instagram to stay up to date with all the thrilling Florida Fun!
While you are at it make sure to check out Food Wine Sunshine on Facebook, Twitter, Pinterest, Google + and Instagram for more Florida fun, recipes, and more.