(Last Updated On: September 17, 2019)

Easy Baked Salmon with Honey Citrus Glaze
Salmon is one of my favorite fish, it is not only amazingly delicious when it's cooked right, it is also very good for you. We definitely have our favorite salmon dishes, like my Maple Glazed Salmon, but I am always on the look out for recipes that I think we would enjoy. I recently read a recipe on Fresh from Florida that was for Honey-Glazed Grouper, so I did a few modifications and made the Baked Salmon with Honey Citrus Glaze that I am sharing with you all today 🙂
Before I share the recipe, I wanted to share just a few of the health benefits to adding salmon to your meal plan.
Why is Salmon good for you?
Salmon is rich in Omega 3, which is a type of essential fatty acid. It promotes healthy joints and skin, reduces the risk of heart disease and some say it even improves heart function.
Salmon is PACKED with Protein. It actually contains over 50% of the daily required intake of protein per 4-ounce serving. Protein can help you feel full longer, give you energy and ease those hunger pangs.
Salmon gives you lots of essential vitamins, like vitamin B-12, niacin, B-6 and thiamin and pantothenic acid.
Not only does salmon have vitamins, is it filled with minerals. It contains selenium, which may fight heart disease, cancer, and more according to the National Institutes of Health Office of Dietary Supplements.
If that isn't enough reason for you to try salmon, then just trust me when I tell you, there are recipes out there that you will like! My husband leans towards the ones that are a bit sweet, that's why I wanted to try this Honey Citrus Glaze on my salmon.
Where do you get GOOD SALMON, make sure it's from a store you trust and remember, fish should NEVER SMELL FISHY. I get all my fish and seafood from Anderson Seafoods and the quality is unlike anything I have found elsewhere. I strongly recommend the folks at Anderson Seafoods.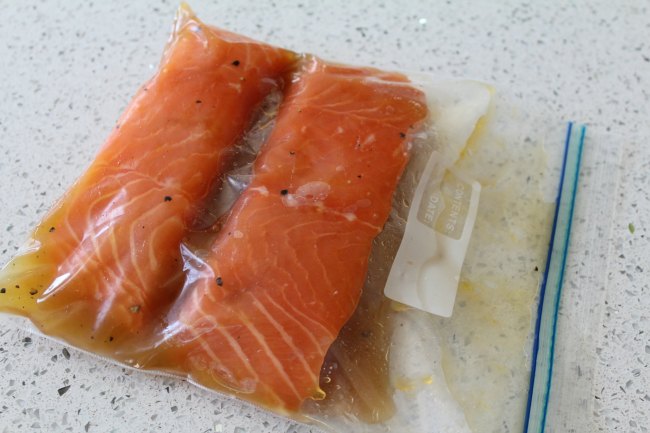 Now, here is my Easy Baked Salmon with Honey Citrus Glaze, be sure to Print It and Pin It so that you can make it again and again.
Easy Baked Salmon with Honey Citrus Glaze
Author:
Prep time:
Cook time:
Total time:
Salmon is not only good for you, but when prepared right, it is absolutely delicious. Enjoy this Easy Baked Salmon with Honey Citrus Glaze.
Ingredients
1 tablespoon honey
2 tablespoons peach habanero jam – I got this from my local farmers market, you can EASILY substitute orange marmalade
1 tablespoon orange juice
1 teaspoon low sodium soy sauce
dash of salt and pepper
2 fillets of salmon
Instructions
Mix the glaze together and pour it into a ziploc bag
Add the salmon to the bag
Let in marinate in the refrigerator for at least 2 hours, overnight is fine too
Preheat oven to 400 degrees
Place a piece of aluminum foil on a baking sheet that will be long/big enough to wrap around the salmon and cover it
Place the salmon and honey citrus marinade onto the foil
Completely cover the salmon, making a "foil packet"
Bake for 20 – 25 minutes or until the salmon is flaky and cooked through

I hope you enjoy this Easy Baked Salmon with Honey Citrus Glaze as much as we do!
Looking for another Salmon Recipe?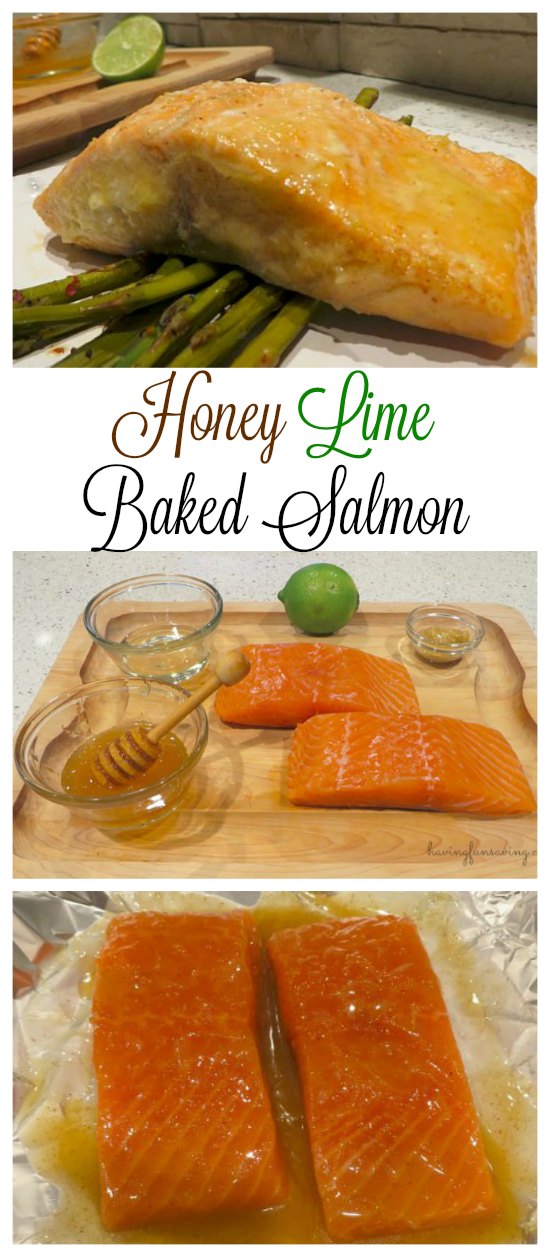 Be sure to check out all my delicious recipes and follow me on Facebook, Twitter, Pinterest, Instagram, and Google +.
What is one of your favorite salmon recipes?