(Last Updated On: August 16, 2021)
Grab your favorite essential oils and make this DIY Natural Facial Cleanser today. You can avoid the pricey store bought cleansers and the harsh chemicals when you make your own homemade facial cleanser.


DIY Natural Facial Cleanser
I am going to admit it, I am still very new to essential oils. I have used essential oils in my DIY Linen Spray and in my Homemade Body Butter, but I had no idea of all the uses. I simply thought of the as an easy way to add scents to homemade goodies. Of course, essential oils can definitely do that, but they can do SO much more. Plus, they are natural and chemical free. When I started to learn about essential oils, I was a bit taken back by the prices, I mean some can be pretty darn expensive! So, I put off learning more about essential oils yet again. Then I discovered Simply Earth.
Simply Earth is a purpose-driven company, they sell the same 100% pure essential oils that you're used to at more economical prices. They also donate 13% of all of their profits to help end human trafficking.
So, not only are they a company that understands that we like to save a buck when we can, they also give back to those in need, but they make using essential oils easy. For those of us that are new to essential oils, or those that have already mastered the art of creating with essential oils, the Essential Oil Recipe Box by Simply Earth is for you.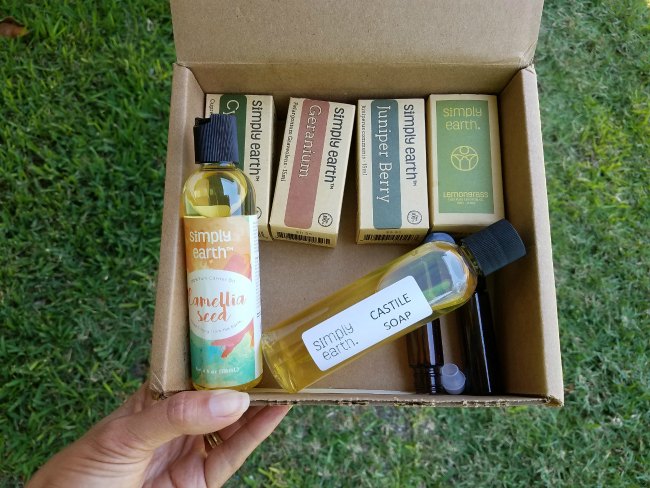 What's an Essential Oils Recipe Box?
There are so many creations and recipes that essential oils can be turned into. And Simply Earth gives you some great ideas! Each month you get 5-7 recipes and 4 essential oils + extras for the price of one bottle from some other brands. In the end, they are better for your environment and safer for use because their without all those harsh chemicals.
What type of "recipes" are in the Simply Earth Subscription Boxes?
Garbage Pail Pods
Tub and Tile Scrub
Furniture Polish
Makeup Remover
Under Eye Serum
Natural Shampoo & Body Wash
Natural Facial Cleanser
And those are just a few from the last two month's boxes. As you can see, each month has a theme, it's creating made easy. I love it!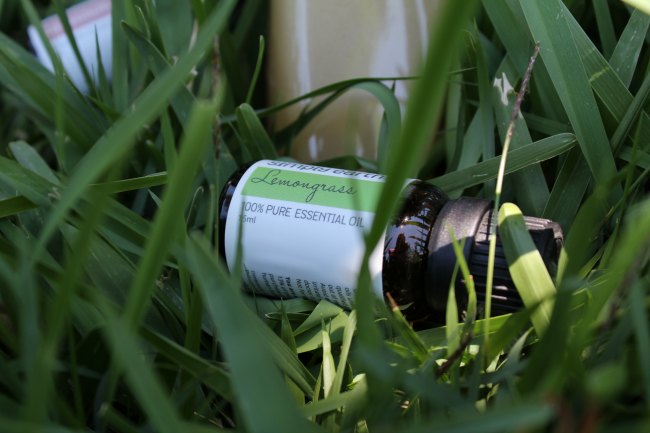 Today, I am going to share the Natural Facial Cleanser Recipe. My kids are to the age they are washing their faces themselves (even though I have to remind them) and I have no desire for them to be using soaps that are unnatural and end up burning their eyes more than wash their faces. Plus, I like to use a natural soap for that exact reason, I don't need to be putting stuff on my face and around my eyes that I can't pronounce either. I know that all natural and organic cleansers can cost a pretty penny at the store, so I love this Natural Facial Cleanser Recipe, it smells great, it's easy to make, there are no harsh chemicals, it doesn't cost a fortune at the store, and if you run out, you can make another batch in just minutes!
Now, here is the Natural Facial Cleanser Recipe that came in my Simply Earth Subscription Box. Be sure to Print It and Pin It so that you can make it again and again.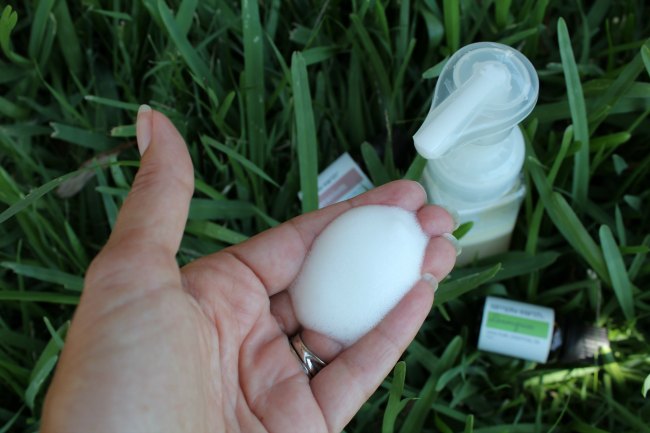 Natural Facial Cleanser
Stay aware from the harsh chemicals and ingredients that you can't pronounce. Grab your essential oils and make this DIY Facial Cleanser today.
Print
Pin
Rate
Ingredients
1

cup

filtered or boiled water

1/4

castile soap

5

teaspoons

Camellia Seed Oil

10

drops Geranium Essential Oil

2

drops Lemongrass Essential Oil

2

tablespoons

raw honey
Instructions
Add the ingredients in the order listed and stir together gently.

Put the mixture into your foaming soap dispenser

Wash your face and enjoy!
Notes
1 or 2 pumps is all you need, castile soap is very concentrated.
Use once or twice daily.
You can find foaming soap dispensers at your local dollar store or reuse one that you bought at the store for your handsoap.
This DIY Natural Facial Cleanser Recipe will make enough for 1.5 - 2 hand soap bottles.
I hope you enjoy this DIY Natural Facial Cleanser as much as we do!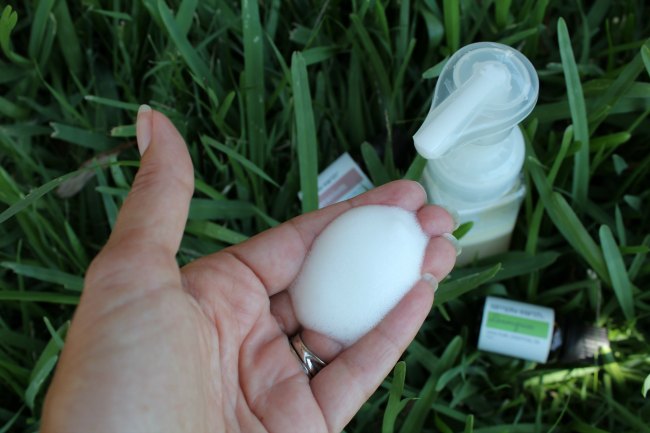 I love that Simply Earth makes it easy to live your life as naturally as possible, there is no guess work on what essential oils to use, or how much, you are given everything you need on a monthly basis to start transforming your home into a natural home.
Do you use essential oils? Have you made your own beauty products with essential oils?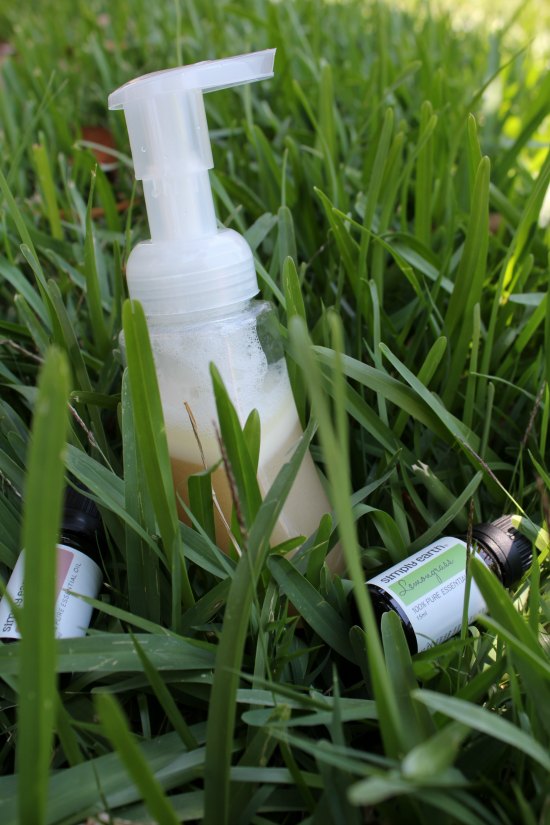 While I did receive products for review, all opinions are 100% my own.
While you are at it, be sure to check out Food Wine Sunshine on Facebook, Twitter, Pinterest, and Instagram for more helpful tips, DIY, recipes, and more.