(Last Updated On: August 27, 2019)
While I was able to attend a premier showing of The Nutcracker and the Four Realms Review, all opinions are my own.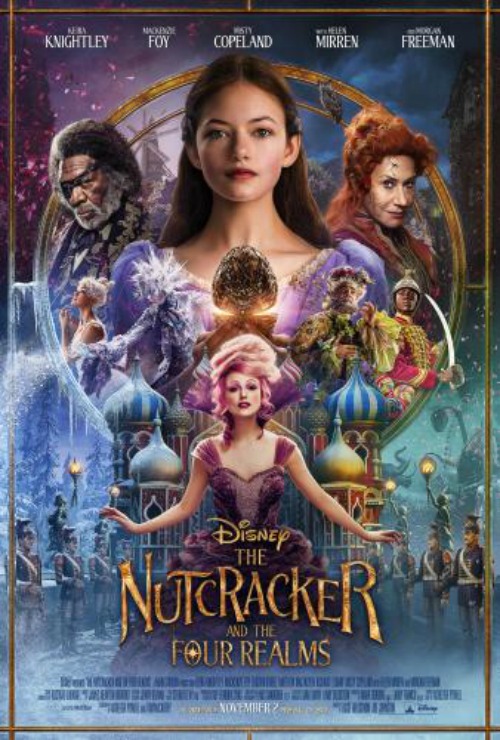 Disney's The Nutcracker and the Four Realms Review
I remember watching the Nutcracker when I was a little girl, it's a classic tale that Disney has sprinkled a little fairy dust on to make this story come to life yet again. In Disney's The Nutcracker there is a tale of a young girl that misses her mother so much, she has to do some exploring to realize that she is also missing what is right before her, it is not The Nutcracker that you know, but it will be one that you will enjoy and appreciate the beauty.
I saw Disney's The Nutcracker and the Four Realms with my daughter on it's opening night and right away I was concerned if I could make it through the movie without crying. The moment there is a focus on the fact that her mother has passed, my heart broke. Thankfully, Clara (Mackenzie Foy) goes on a journey that helps her "connect" with her mother, her family, and a mysterious parallel world.
All Clara wants is a key, a one-of-a-kind key, that will unlock a box that holds a priceless gift from her mom. At a lost of how to open the gift, she goes to her godfather that gives her a little direction with a golden thread. The golden thread is presented to her at godfather Drosselmeyer's (Morgan Freeman) annual holiday party and it leads her to the coveted key—which promptly disappears into a strange and mysterious parallel world.
It's there that Clara encounters a soldier named Phillip (Jayden Fowora-Knight), a gang of mice and the regents who preside over three Realms: Land of Snowflakes, Land of Flowers and Land of Sweets. Clara and Phillip must brave the ominous Fourth Realm, home to the tyrant Mother Ginger (Helen Mirren), to retrieve Clara's key and hopefully return harmony to the unstable world. Starring Keira Knightley as the Sugar Plum Fairy, Disney's new holiday feature film "The Nutcracker and the Four Realms" is directed by Lasse Hallström and Joe Johnston, and inspired by E.T.A. Hoffmann's classic tale.
And for those that expect a bit of ballet, Disney doesn't disappoint 😉
The Nutcracker and the Four Realms Official Trailer:
Disney's The Nutcracker and the Four Realms is in theaters now.
Did I cry? Yes. Did my daughter and I enjoy the movie? Yes. Do I think my husband and son would have enjoyed it as well? Yes, there was enough mystery and a little bit of drama to keep the whole family entertained.
Do you plan on seeing The Nutcracker and the Four Realms? What is one of your favorite Disney movies?
Find Food Wine Sunshine on Facebook, Twitter, Pinterest, and Google + for more fun things to do in Florida.