(Last Updated On: March 31, 2015)
Disclosure: This post is sponsored by the fabulous folks at Color Me Rad – I am a proud Tampa Bay Blogger Partner!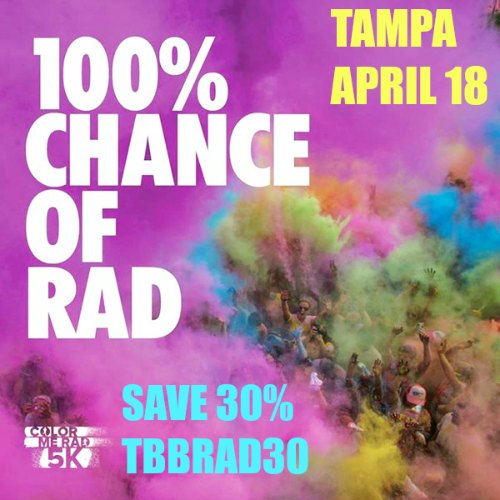 Discount Code for Color Me Rad Race Tampa #TBBRAD
Color Me Rad is coming to Tampa Bay! Are you ready for some RAD color and lots of fun?! Well, get ready because on April 18th the Color Me Rad 5k will be here 🙂
This year, the event will include three additional color stations featuring the new "Color Me Rad Color Gel". Yep, I said GEL! Wowsa!
Use Color Me Rad Discount Code TBBRAD30 – to save 30% on your entry fee!
WHAT is the Color Me Rad 5k?
Start out as clean as a newborn babe, and throughout the run, our volunteers will coat you with liquids, powders, and gels of blue, green, pink, purple, and yellow until your face, shirt, and body come out silkscreened like a tie-dyed hippie on the other side. Each section of the run adds a new explosion of color to your clean, painter's palate until you cross the finish line into a final blitzkrieg of color.
What Do You GET?
All participants will receive: 5K entry, new 2015 Tour t-shirt, a pair of killer knee-high socks, a color pack, and free photos from professional photographers.
WHEN is the Color Me Rad Race?
Saturday, April 18th, 2015 from 9:00 am to 12:00 pm
Where is this RAD 5k?
Florida State Fairgrounds
4800 U.S. 301
Tampa, FL 33610
Have fun saving on your Color Me Rad Race Entry Fee – I'll see you there!