(Last Updated On: June 7, 2019)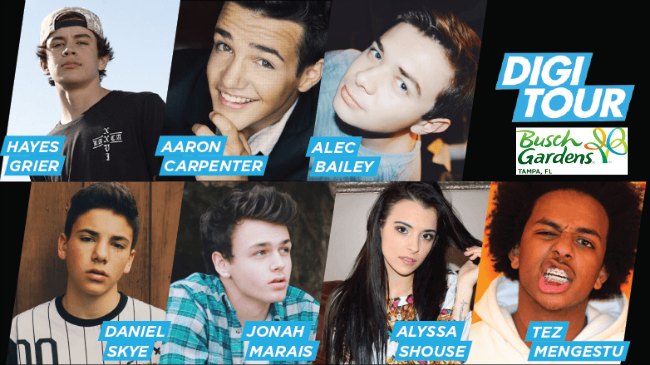 DigiTour 2015 Comes to Busch Gardens Tampa
Tampa are you ready?! SOCIAL MEDIA'S BIGGEST STARS COME TO BUSCH GARDENS! No, I won't be performing lol 😉

Vine and YouTube Sensations Come Together for One Night of Epic Performances
When is the DigiTour coming to Busch Gardens?

On Saturday, May 16 Busch Gardens® Tampa will host DigiTour Presents: United26 Tour, bringing some of the biggest YouTubers and Vine stars together in one location. From 6 p.m. to 7:30 p.m., seven social media stars will take the stage to entertain thousands of fans:
Who will be performing in the 2015 DigiTour?
Hayes Grier
Hayes Grier started making Vines with his older brother Nash, but since striking out on his own he has climbed to the top 50 of the Vine Charts. At just 14 years old, he has more than 3.5 million followers on Vine, 3.5 million followers on Instagram and 2.5 million followers on Twitter. He is a rising star in the social media world, and right now he is touring the world with his brother and friends to perform live and meet his loyal fans.
Aaron Carpenter
Aaron Carpenter is a 16-year-old media sensation. After posting his videos and photos online, he captured the attention of his loyal fans with his charisma and sense of humor. He has gained more than a million followers and fans across the nation. He is currently balancing touring the United States, performing and meeting his devoted fans, working on his music and developing his acting career.
Daniel Skye
When 14-year-old singer/songwriter Daniel Skye sent out a Tweet that he would be performing at a local mall, hundreds of screaming girls came out to greet him. Dedicating the last two years of his life to singing and learning how to play guitar, Daniel has amassed a considerable amount of popularity online, with over one million followers on his social media channels. Although still young in age, Daniel already has performed at major venues across the U.S. on tours such as DigiTour, Sunsation Tour and others.
Alyssa Shouse
When Alyssa Shouse started her YouTube channel she never imagined that it would attract the attention of pop-star Jason Derulo. After making a music video with him and being featured on MTV, she went on to pursue her musical career as a singer/songwriter. At the age of 19, she went on her first tour during summer 2014, covering 30 cities and has since continued writing music and performing throughout the U.S. Alyssa hopes to inspire young girls to feel confident and happy with who they are through her motivational messages and music.
Alec Bailey
Alec Bailey is a singer/songwriter from North Carolina who plays the guitar and piano. Since sharing his music on Vine in April 2014, he has amassed more than 563,000 followers. After the Grammy Award-winning The Eli Young Band heard his music, they were so impressed that they shared it on Twitter and Facebook. Alec is very passionate about music and looks forward to sharing it with his fans around the world at live shows and events.
Jonah Marais
Jonah Marais is the hardest working 16-year-old around. He was born and raised in Stillwater, Minnesota and started off broadcasting online for a mere audience of five people, until more and more users started watching. Now he's leading his own hometown shows, selling out thousands of tickets. His fan base has tripled within the past year and he is currently working on original music and touring around the country with his friends.
Tez Mengestu
Tez Mengestu is a 17-year-old performer, from Cornelius, NC. He has amassed a significant social media following thanks to his hilarious antics and videos and aspires to be in films and radio shows, as well as pursue a modeling career.
In addition to these awesome performances, Busch Gardens will have food trucks and other dining options on Gwazi Field throughout the event. Anyone else love food trucks? I know I do!
Want to get closer to the stars of the DigiTour?
Take advantage of the VIP experience, which offers an exclusive pre-show meet & greet, early entrance 1 hour before Gwazi Field opens, an official limited edition tour poster, a VIP commemorative laminate badge and lanyard, and crowd-free merchandise shopping.
Check out the DigiTour Presents: United26 Tour
Be sure to check out Busch Gardens on Facebook , Twitter and Instagram. Need passes? Check out Busch Gardens online.
While you are at it make sure to check out Food Wine Sunshine on Facebook, Twitter, Pinterest, Google + and Instagram for more Florida fun, recipes, and more.