The Daytona Turkey Run is going on November 22-25 and is a family fun event that features more than 6,000 vintage, classic and custom, muscle cars, race cars and trucks! And so much more. Read on to see all the event details and enter to win a ticket giveaway! While this post is sponsored by the Daytona Turkey Run, all opinions and our love for classic cars are our own.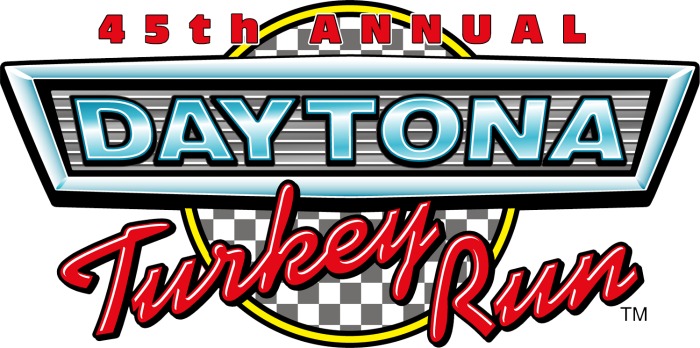 Daytona Turkey Run Event Information

This year marks the 45th Daytona Turkey Run, this family fun event welcomes fans of all ages to celebrate their love of classic cars. The Daytona Turkey Run is the largest combined car show and swap meet in the U.S. is a four-day show that kicks off at 8 a.m. Thanksgiving day at the Daytona Speedway, and it runs through Sunday, November 25th.
My son LOVES classic cars, he gets that from my dad. It's just in his blood. He can name the make and model of most classic cars, sometimes even the year and engine type. He has been to the Daytona 500 four times now and is really hoping that we can go again in 2019. He has car posters hung up all over his room and his career goals are to own a mechanic shop chain one day. Needless to say, he would absolutely LOVE the Daytona Turkey Run, but you don't have to be as big of a car nut as him to enjoy all the fun and happenings going on this Thanksgiving weekend.
Here is what you can look forward to at the Daytona Turkey Run:
Headlining the 45th Daytona Turkey Run is a fun, supersized event showcasing the original Batcopter N3079G from the Batman TV series. The 1966 Batmobile and 1966 Batcycle will also be on display.
Experience first-hand what it feels like to be in the middle of a fast-paced Mecum auction through simulations and hands on activities! Eeeekkk! This is a dream for my dad and son!! How fun!!
Enjoy the Hops & Hoods Craft Beer Festival. Keep the party going and sample more than 120 different craft beers from 48 different breweries. Saturday, Nov. 24th from 12pm-4pm. Samples are 4 for $5 or 10 for $10 and can be purchased in advance at www.turkeyrun.com or inside the show. Must be 21 years of age.
Kids will have a blast in bounce houses, an obstacle course, inflatable games and more in the Little Gobbler's Play Zone. All Play Zone activities are free of charge.
The Daytona Turkey Run is open to the public and features more than 6,000 vintage, classic and custom, muscle cars, race cars and trucks on display and for sale, as well as a massive swap meet in which vendors sell and trade hard-to-find auto parts and accessories. There is also an Artisan Alley with fashion and art and a full midway of delicious food vendors.
The 45th Daytona Turkey Run is presented by White Diamond and is sponsored in part by Mecum Auctions and Spectrum. Admission is $15 Thursday through Saturday and $10 on Sunday with free parking. Children under 11 are free. Show hours are 8 a.m. to 4 p.m. Thursday, Friday and Saturday, 8 a.m. to 2 p.m. Sunday. Free parking is available at the Daytona Speedway all four days.
For more information about the Daytona Turkey Run, visit www.TurkeyRun.com.
Will you be attending the Daytona Turkey Run this year? Have you been to the Daytona Turkey Run before?
Stay social with the Daytona Turkey Run at Facebook, Twitter and Instagram.
Be sure to check out Food Wine Sunshine on Facebook, Twitter, Pinterest, and Instagram for more fun things to do in Florida, recipes and more.