(Last Updated On: September 5, 2019)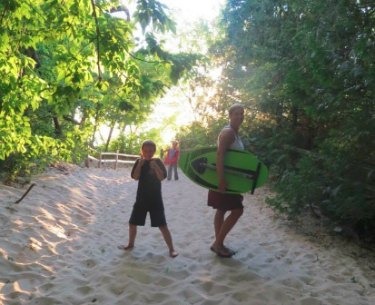 D6 SurfSkimmer Review – Beach FUN For Kids
I have a really FUN review to share with you guys today. We just got back home from a nice long trip visiting family, friends, and doing some camping up in Michigan. One of my favorite places to spend some time is Lake Michigan….
That's me and the kids on our way down to the beach with the the new D6 SurfSkimmer.
The D6 SurfSkimmer is the first of its kind product with Gripper Technology and an easily removable handle. It's the perfect skimboard or bodyboard for an entry level action sports fan.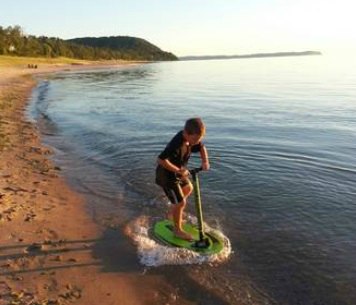 The handle easily comes off so each of the boards has the ability to act as a traditional skimboard or bodyboard. While the big kids are out there shredding, now the little guys and girls can join the fun in a safe way with the removable handle…making us moms and dads feel good!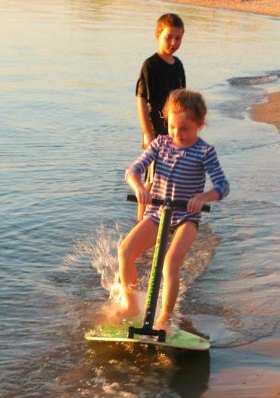 Steven is 8 and Sadie is 6 and they both had a blast on the D6 SurfSkimmer. Steven got the hang of it pretty quickly, he watched the YouTube video himself on it and was ready to roll 🙂 Sadie watched Steven a bunch of times and asked for his help and this was her first attempt! Doesn't she look awesome?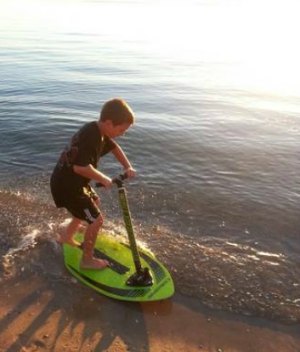 The kids had a blast and they were both much more comfortable since the bar was there, it gave them both a sense of extra security. And you can see the grip there on the board – that black strip – it was FABULOUS! It really kept the kids from slipping all over. Neither one of them fell off…unless of course it was planned 😉 In no time though, Steven was off trying to do tricks. I loved watching him actually….He was the popular guy at the beach that night!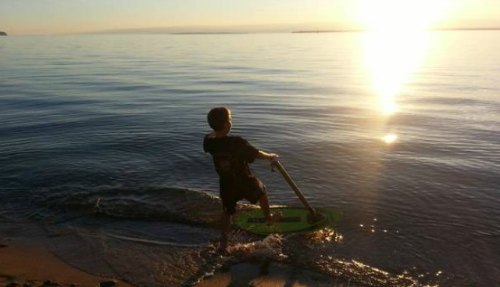 Have FUN with the D6 SurfSkimmer…Steven enjoyed it into the sunset 🙂
Make sure to visit D6 SurfSkimmer on Twitter, Facebook , and YouTube. Where do you find it? Well, you can buy it right online or on Amazon.
Disclosure: I received no compensation for this publication. I did receive products from review from D6 SurfSkimmer. My opinions are my own and may differ from those of your own.