(Last Updated On: July 3, 2019)
Costco is opening two new locations here in Tampa Bay. In February there will be a Costco in Wesley Chapel and in West Tampa. Join now and save!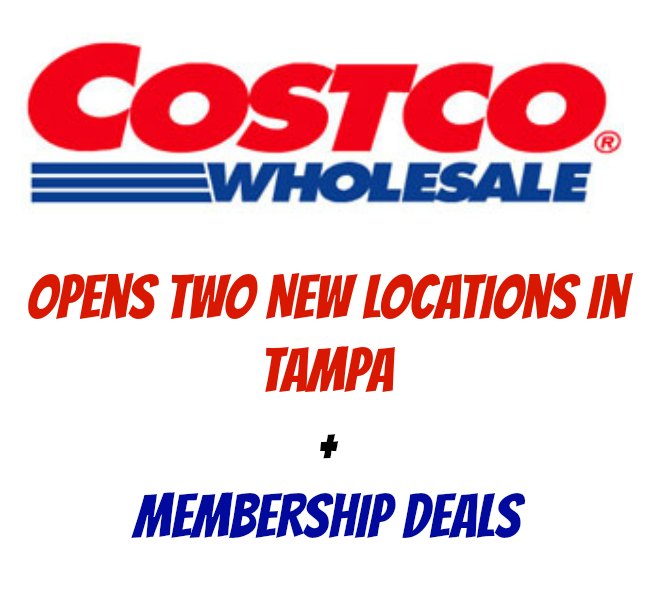 Costco Opens TWO New Locations in Tampa
+
Membership Deals
Have you heard the exciting news? Tampa is not only getting one, but TWO new Costco locations! One will be right by out new outlet malls in Wesley Chapel, and the other will be in West Tampa off of Linebaugh. That is TWO new locations to get amazing deals, beautiful produce and MORE…all at great prices!
If you can't wait to get your membership, that's GREAT because if you grab your membership BEFORE they open, you can get some great deals!
Here are the Coscto Membership Deals available at the NEW locations opening in Tampa Bay:
New Executive Members will receive a $40 Costco Cash Card and $55 in coupons – Cost of this membership is $110
New Gold Star and Business Members will receive a $20 Costco Cash Card – Cost of this membership is $55
These great offers are exclusive to the West Tampa and Wesley Chapel locations and do include TWO cards to the same address.
Join before these Costco Tampa locations open and save!
Find a Costco location near you
Who else is excited for the new Costco Tampa locations?
Find Food Wine Sunshine on Facebook, Twitter, Pinterest, and Google + for more fun things to do in Florida.