(Last Updated On: July 1, 2019)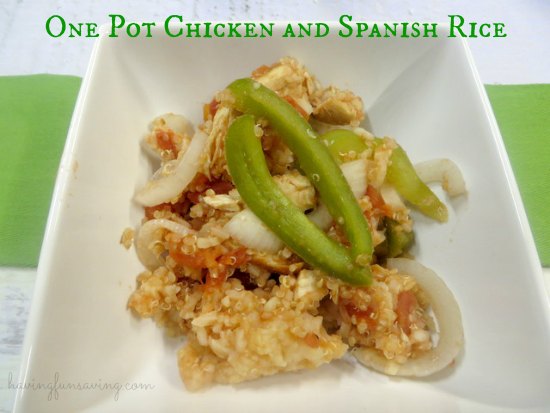 Chicken & Spanish Rice Recipe – One-Pot Dish
I received some amazing new kitchen tools for my kitchen drawer from Good Cook and I recently used a few of those to help make this delicious Chicken and Spanish Rice dish…and the best part is that you only dirty one pot!
Chicken & Spanish Rice Recipe – One-Pot Dish
Author:
Prep time:
Cook time:
Total time:
Ingredients
1 tablespoon olive oil
1 pound boneless, skinless chicken breasts
salt and pepper
1/2 medium onion, sliced
1 green bell pepper, sliced
2 cloves garlic, finely chopped
1 cup dry white wine – I used Chardonnay
1 cup chicken broth
1 28-ounce can diced tomatoes, with juice
1 cup long-grain white rice – I used 1/2 cup quinoa and 1/2 long grain rice
Instructions
Heat the oil in a large pot
Sprinkle the chicken with salt and pepper
Cook the chicken until golden brown and remove
Slice chicken into 2 inch pieces
Add peppers, onions and garlic into pot and saute for 3-5 minutes – until they are crisp-tender
Add tomatoes (with juice from can), wine and chicken broth into the pot
Bring to boil
Stir in rice
Add chicken in a single layer
Cover, and reduce heat to medium-low for approx 20 min (until rice is tender) – do not stir while cooking
Enjoy!
I loved all the colors in this dish too…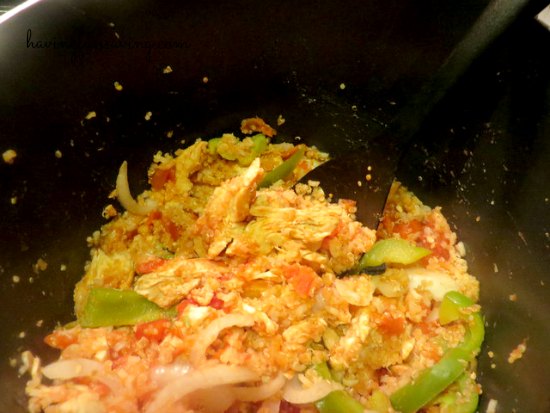 Now, I mentioned earlier that I got to use some fun kitchen tools from Good Cook, and I will have to say that I have officially found my new favorite can opener! I was using it to open my can of tomatoes and I thought there was no way it was working…it was too easy and I didn't actually "see" it cutting. I went all the way around and TADA, not only it my can top come off, but there were NO SHARP EDGES! They were rounded. I was amazed!
This is the Safe-cut Can Opener by Good Cook.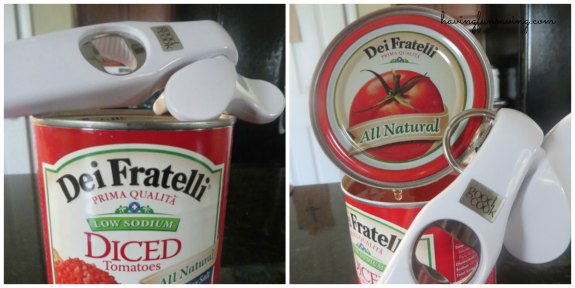 I also enjoyed using the Pot Clip Holder, it was the perfect item to help me keep the kitchen less messy and my one-pot dish cooking perfectly.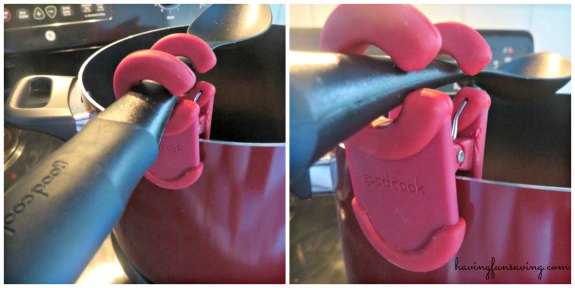 Here are all the items that are in my Kitchen Drawer from Good Cook:
SMART Ice cream scoop -Looking for your favorite ice cream scoop? Look no further – this one even has teflon non-stick coating!
Flip Measuring spoon – Just ONE measuring spoon that always works as 1/4 tsp, 1/2 tsp, 1 tsp, and 1 tbsp! That means you don't need a bunch of other measuring devices in your kitchen drawer 🙂
Safe-cut Can Opener – I know I already told you guys about this one, but I thought you would like to know that it also doubles as a bottle opener, cap twister, and tab puller.
Egg Separator – No more messes when you just need those egg whites – plus this one is professional-grade and dishwasher safe!
Pot Clip Holder – This one is also dishwasher safe.
What can YOU do with these 5 essential cookware items: an egg separator, a can opener, an ice cream scoop, a measuring spoon, and a pot clip? Just think of all the FUN possibilities 🙂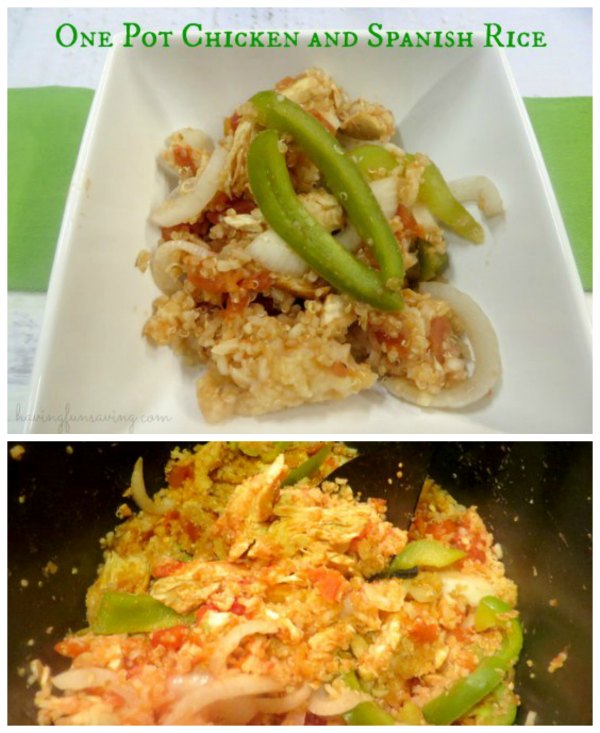 Be sure to follow Good Cook on Twitter to stay up to date with every thing that is Good Cook!
And while you are at it, make sure to stay up to date with me for more fun recipes, reviews and more on Facebook, Twitter, Pinterest, and Google +.