(Last Updated On: September 5, 2019)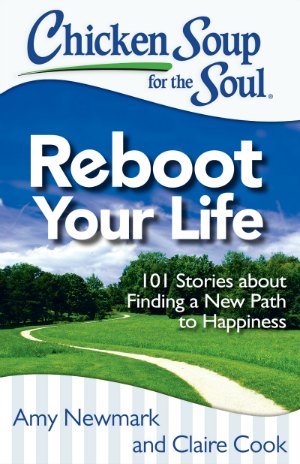 Chicken Soup For The Soul – Reboot Your Life Book Review
Have you ever felt like you needed a "do-over"? Like you are stuck and need a PUSH to figure out what why life seems to be passing you by and you are missing it? Well, by having the opportunity to be a Chicken Soup for the Soul Soup-er Blogger I had the opportunity to review the book Chicken Soup For The Soul – Reboot Your Life and it is all about inspiring us to reboot our lives. Find that smile, find that happy place, find YOU.
You will find stories like Claire's in the book….
Claire Cook was sitting with a group of parents at her daughter's swim practice when she realized she needed to change her life. "I was in serious danger of living out my days without ever once going for it. Without even trying to achieve my lifelong dream of writing a novel." So Claire started writing a book in her minivan, on a lined pad, while her daughter swam. Claire published her first novel at age 45, followed by the bestseller Must Love Dogs. At 50, she walked the red carpet at the Hollywood premiere of the movie based on her book! Now she's a bestselling author of twelve books. "Not many days go by that I don't … remind myself that this is the career I almost didn't have," she writes in Chicken Soup for the Soul: Reboot Your Life. "Anything can happen. It is never, ever too late."
You'll feel empowered to take chances, follow your dreams and reboot your own life as you read the 101 inspiring stories by people, just like you, who did just that in Chicken Soup for the Soul: Reboot Your Life. I don't know about you, but I have this wonderful ability to tell myself You can't do that, so reading stories from people just like me that DID do that is really eye-opening.
Within these pages, you'll find the tools and the advice you cam use to solve your problems, encourage positive thinking, help you to find your purpose, and inspire you to follow your dreams or maybe even start over. The 101 role models in this collection of revealing personal stories will help you change your life, and become the person you are meant to be.
Chicken Soup for the Soul is "changing the world one story at a time.®"
Where do you get the book Chicken Soup For The Soul – Reboot Your Life? Actually, it's on sale on Amazon right now for only $12.41…the Kindle edition is just $8.89 🙂
Are you ready to be inspired to reboot your life?
Disclosure: I did receive this book for review. No other compensation was received. All opinions are 100% my own.