(Last Updated On: September 1, 2020)
Thank you to El Monterey for sponsoring today's post and inspiring me to celebrate little victories throughout the day only moms can understand.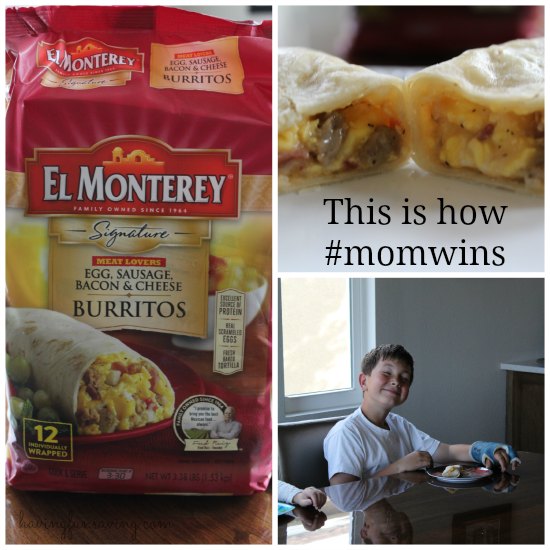 Celebrate The Small Victories With El Monterey

Being a mom is the hardest job in the world…at least I think so. There are so many moving parts to a home and family! Don't get me wrong, I also think being a mom is also the most amazing job in the world too. Where else can you work and be surrounded by people that love you unconditionally?
BUT….I have days…you know THOSE days where everything seems to be due at the same time, the science fair projects, the home work, and then you realize that the kids have to be at the bus stop in 15 minutes and they haven't even had breakfast yet!
How do can you make those days a bit easier? Well, I started making El Monterey Signature Breakfast Burritos. They take just 3.5 minutes from microwave to plate and the kids love them!
I love that they have real ingredients, so I don't feel guilty feeding them to the kids. That is a small victory in my book!
Some of the other small #momwins victories that I have learned to celebrate are:
I can actually SEE my kitchen counter
The laundry that has been in the dryer for 3 days, is now finally folded
I remembered to make the kids' lunches
The trash went out on time
My shoes matched when I went to the bus stop
I managed to exercise 4 times this week
Feeding my kids meals that I can feel good about…like #elmonterey breakfast burritos.
Ruiz Foods, America's best-selling brand of frozen Mexican food, has more than 50 years of experience helping families put flavorful meals on the table for breakfast, lunch and dinner. I think we can trust them to bring us quality food 😉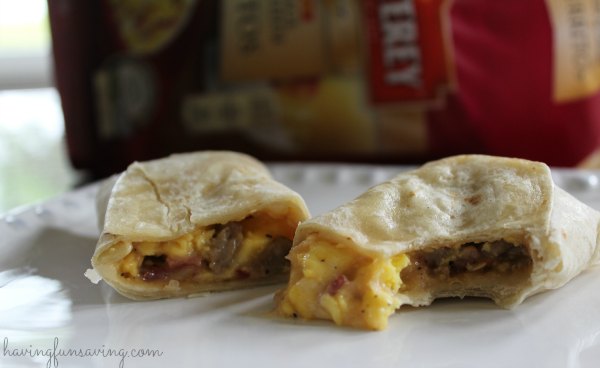 El Monterey Signature breakfast burritos are packed with real ingredients like scrambled eggs, cheddar cheese and sausage wrapped in fresh-baked flour tortillas. They are available in four flavors and a variety of sizes, including single-serve, 4-count and 12-count.
You can find El Monterey breakfast burritos in the freezer aisles at major retailers nationwide, including Walmart, Kroger, Hy-Vee, Meijer and many more. I found mine at Walmart 🙂
Before you head to the store though, make sure to grab this $1 off coupon!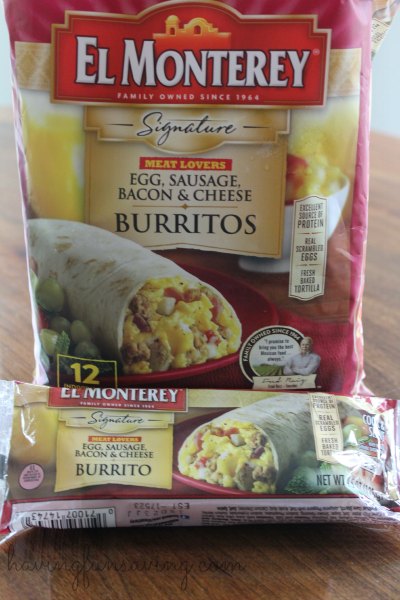 Here are the varieties to keep a look out for at your store:
Egg, Sausage, Cheese and Potato Breakfast Burrito
Egg and Bacon Breakfast Burrito
Egg, Sausage and Cheese Breakfast Burrito
Egg, Cheese and Jalapeño Breakfast Burrito
Meat Lovers Breakfast Burrito – this is the one we got 🙂
Be sure to follow El Monterey on Facebook, Twitter, and Pinterest to stay up to date with everything delicious. You don't want to miss a single bite 😉
In fact, make sure to check out all the delicious recipes on Food Wine Sunshine and follow me on Facebook, Twitter, Pinterest, and Instagram too.