(Last Updated On: August 27, 2019)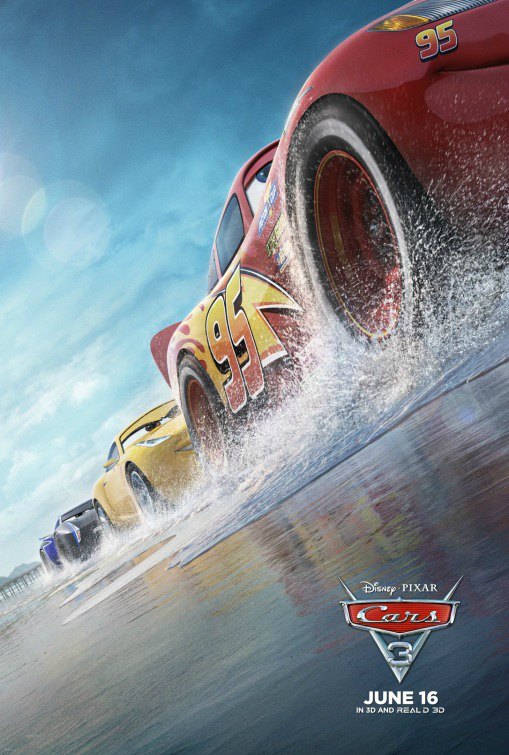 Cars 3 Movie Review – From A Dad and Son
The movie Cars 3 races into theaters nationwide Friday, June 16, 2007! Are you excited? My son has been talking about this movie for MONTHS. Which I was slightly surprised about because he is 12 now and in middle school, so I wasn't sure if his all time favorite movie (Cars) would still be of interest to him. But it is! He has been a car-lover for as long as I can remember, and he actually builds his own remote control cars now! So, when I told him we got invited to a press-screening of the Cars 3 Movie he was beyond thrilled. He went with my husband, it was a dad-son night out, perfect for Father's Day week 🙂
Here's what my husband had to say and about the Cars 3:
My son and I had the opportunity to screen the new Disney-Pixar film Cars 3 that opens in theaters nationwide Friday, June 16, 2007. It has been nearly 6 years in the making for this new installment in this highly successful animated series and it does not disappoint. It was nice to see Disney-Pixar embrace the original movie in this series and focus its efforts on the nostalgia of RACING and the inevitability of growing old. My son loves cars and racing, so this was something that we could both relate to. Lightning McQueen (voice of Owen Wilson) struggles to stay relevant in an ever changing world in which technology and the up and coming youth make it harder and harder for him to compete. He must train differently to get back in the game or learn to focus his energy in a different way that will still make him happy. To get back in the game, he will need the help of an eager young race technician, Cruz Ramirez (voice of Cristela Alonzo), with her own plan to win, plus inspiration from the late Fabulous Hudson Hornet and a few unexpected turns. Proving that #95 isn't through yet will test the heart of a champion on Piston Cup Racing's biggest stage!
I am sure this will resonate with all of those parents out there sitting next to their loved ones, we all transform ourselves from students to mentors. I know it did for me.
My son gave the Cars 3 movie "Two Thumbs Up" and has even asked to see it again. He laughed, he smiled, he lost himself in the world of racing and I got to see that little boy that we took oh so many years ago to see the first Cars movie.
Cars 3 is directed by Brian Fee (storyboard artist "Cars," "Cars 2"), produced by Kevin Reher ("A Bug's Life," "La Luna" short) and co-produced by Andrea Warren ("LAVA" short), "Cars 3" cruises into theaters on June 16, 2017.
Will you be racing to the theater this weekend to see Cars 3?
Be sure to follow Food Wine Sunshine on Facebook, Twitter, Pinterest, Google + and Instagram for more tips, fabulous recipes and more!